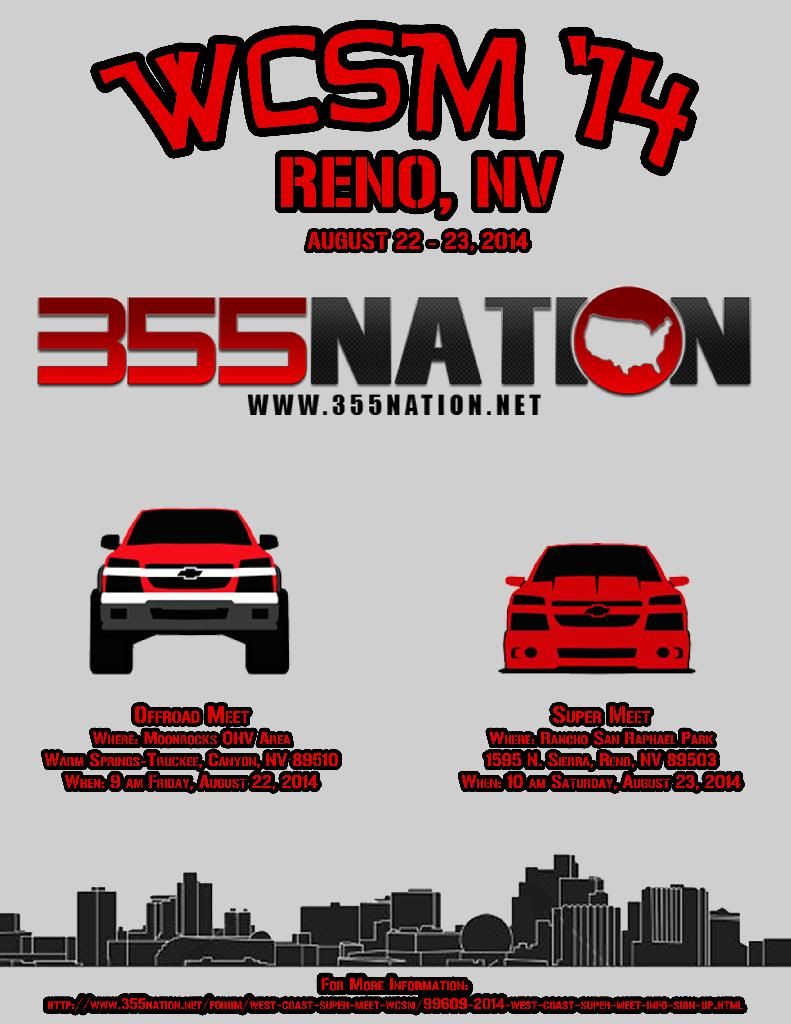 Well its that time again, time to start planning on going to the Annual West Coast Super Meet.
August 22-23, 2014
This year Reno, Nevada will host 355 members and their trucks for a weekend of wheeling, barbecuing, cruising, and shenanigans!
Use hash tag #WCSM2014​
Friday we will be offroading out at the world renowned Moonrocks ohv area. Im working on getting a prominent off road magazine to cover this event as well as inviting my local 4x4 buddies to come out and hang out with us.
http://goo.gl/maps/74Fl7
Rancho San Raphael Park will be our official location for the main meet on Saturday. This regional park has a large parking lot and covered dining area. We will be at the Chinese Pagota.
http://maps.google.com/?cid=9725301228774930042&hl=en&gl=us
No alcohol, bring chairs or pop up shades as needed. We will have a caravan over to the park about 10am
Western Village Hotel and Casino will be providing the accommodations for those from out of town. I fought to get the best rate I could for you guys.
http://goo.gl/maps/trZQl
Thursday night is $39 Friday and Saturday are $69. Please be advised that this rate is subject to a 13.5% tax and an additional $10 per occupant over 2 per room (up to 4 per room) Rooms are two queens, non smoking. Im working on getting some comps or drink tokes for those in attendance or a raffle prize.
Here's the contact info and group code needed to get this rate.
Call 1-800-648-1170 by July 30, 2014 reference the group code LMTC514 and/or West Coast Super Meet
After the meet on saturday I have planned to gather all those interested to cruise up to Lake Tahoe for a photo shoot around sunset.
http://goo.gl/maps/OzEhs
Event sponsors in no particular order:

Attendees:
1. xkmacx86 +1
2. officer woo +1
3. KbullM +1
4. GregDAP
5. Raidrz +1
6. Djsonic
7. AceX +1
8. DBNissan +1
9. nameless +1
10. No friends at 200mph
11. Golfnutty +2
12. xXxCoconutxXx +1.5
13. Sarge
14. Portland ORado
15. dents-n-dings +1
16. coreyd & mrscoreyd
17. tysrado3 +1
18. WalkinMtn +1
19. dirty +2 & "Tickle"
20. DERRAJZQ8
21. robBob +1
22. 07canyon (on NorCal355)
23. Espedito
24. izzy209 (on NorCal355)
25. BigR +1