I've been looking for a turbo to run on my 2900 that is going in my lakester and also for a 2900 if I put one into my '48 GMC. They would of course be different as the engines would be built differently and the needs are different.
Anyway I've looked at a number of turbos, but of course not all of the ones out there that might work. I've plotted their compressor maps with data from Borg Warner's MatchBot program for a lower elevation and also the density altitudes we see on the salt in a couple cases.
Here is an example of one...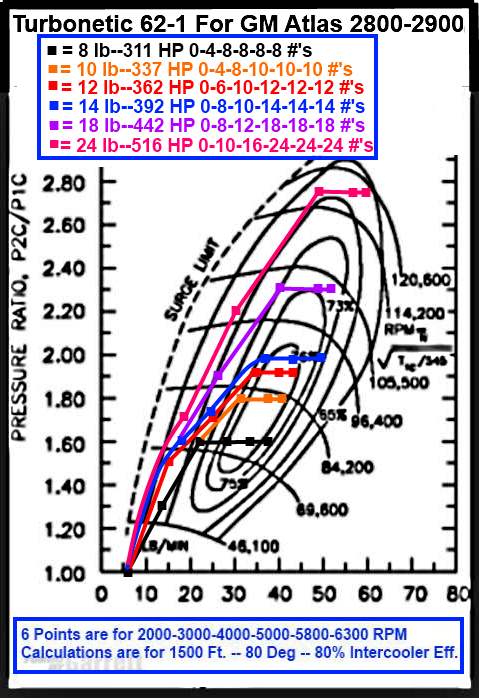 I have a number of other plots on the page and also other info such as this...
The Turbonetics 62-1 above is also a very interesting turbo as it looks very nice down low at 8 lbs. of boost and has the potential possibly of over 500 HP. It is offered with turbines in the .58 to 1.30 A/R size so picking one with the A/R to best suit your needs is a good possibility. The 10998 at Summit has a .68 A/R and the 10996 has a .81 A/R for instance. You can find the turbo for less than $800 in the plain journal models and around $1200 if you feel you need one with ceramic bearings. Turbonetics has a lot of options with these turbos and other ones in their line. The 62-1 turbo at 500+ HP is moving into the next category -- Strip/Strip, but this next one for sure is with close to 600 HP potential.
...for the different turbos.
Here is a link to the page...
Atlas 2900 Turbo Compressor Maps I
I've also done the same for 4200's....
Atlas 4200 Turbo Compressor Maps I
There is also info there that will hopefully help someone in picking a turbo for their motor such as look at HP goals not boost goals and how the same 400-500 HP turbo isn't necessarily a good match for any engine wanting 400-500 HP.
If you have a turbo on your motor now and would like me to run the numbers for it I'd be glad to if there is a compressor map available for it. I could add the results to the 2800/2900 or 3500-3700 page if you wanted the info made public or keep it private and just get the results back to you.
I'm also working on a page for the 3500-3700 engines and will post the link to it soon,
Sumner