The Skinny:
Bought a new cam for the truck, and will be installing it soon. I just wanted to start a thread to make sure I have all my ducks in a row. Parts required, tools needed, tips 'n tricks, whatever insight you've got would be much appreciated!
The Crew:
Me: This will be the first time I tap into the internals of an engine. I understand how everything works, but assembly/disassembly is all going to be a learning experience.
My old man: Knows his shit, but is mainly familiar with small/big blocks, and tearing into this LS based motor is going to be a learning experience for him as well.
Bill: He's a mod over at PerformanceTrucks, is very knowledgeable, and has done cam swaps before, however, his time is precious, and I want to get this all done in one shot, as to not waste a bunch of his time.
The Location:
The shop my dad works at has lifts, air, blah blah blah. The only thing that may not be there is any specialty tool needed specifically for LS based engines (spring compressing tool?).
Parts I have:
Comp 224R cam (224/224, .581/.581, 112 LSA: 4-224112R
GM Three-bolt Timing chain upper sprocket: 28-12586481
ARP cam bolt kit: 46-134-1003
Precision Race Components .625" Single Beehives: 199-PRC1518
Texas Speed 7.40 Pushrods: 25-7400-1
ACDelco Timing Chain Dampeners: ADO-12588670
ARP Balancer Bolt Kit: ARP-234-2503
Fel-Pro Timing Cover Gaskets: FEL-TCS45993
Fel-Pro PermaDryPlus Valve Cover Gaskets: FEL-VS50504R
Loctite Threadlocker 242 Medium Strength: LCT-37418
Loctite RTV 598 Black Silicone Gasket Maker: LCT-37467
Loctite Copper Anti-Seize: LCT-37533
Also ordered a spring install tool as seen in this thread: $35
http://ls1tech.com/forums/tools-fabrication/317675-tim-s-valve-spring-tool-now-available.html
Parts I need to aquire:
5/16" Dowel Rod (2) 26" or longer
I've been reading up and have soaked up a lot of information from this link
LS1Howto.com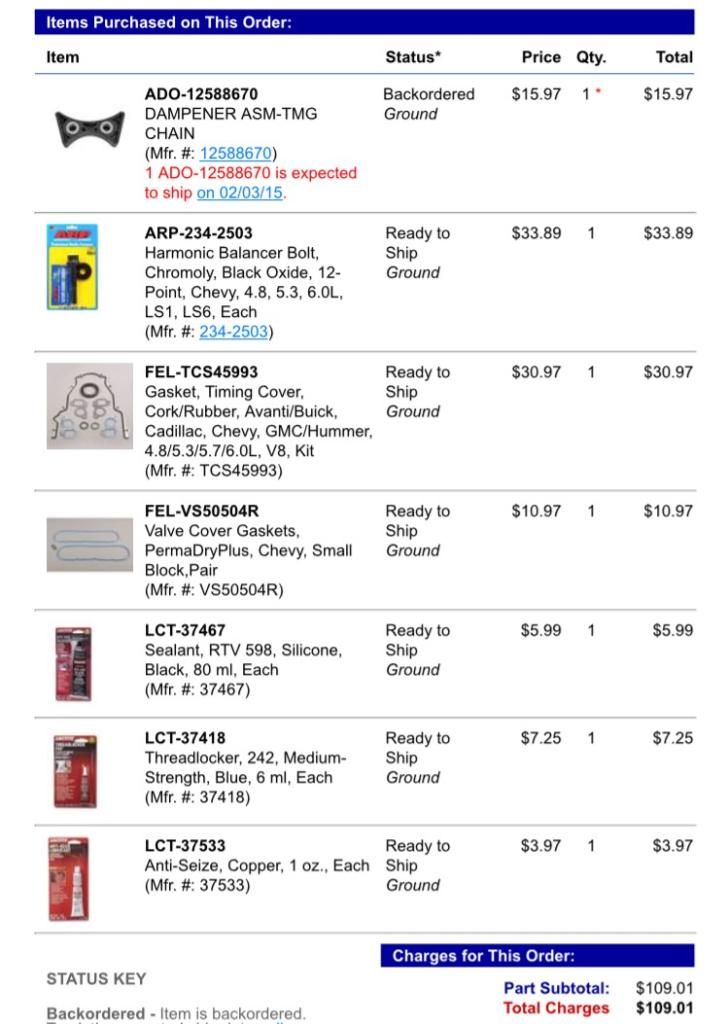 I'm sure there are tons of little details that will pop up along the way. The idea behind this thread is to iron them out before I even turn a bolt. So, for those of you who have taken the time to read this, post up anything that catches your eye, or recommendations, tips, ideas, you name it! Your help is much appreciated.
I will also be adding to this thread as the process takes place, as an aid to future members also looking to make moar powah!
For those of you who opened this thread and thought "TLDR", here is a picture for your optical stimulation....