"Snowflake" is about as attractive as a mud fence as she stands now.
'08 standard-cab, 3.7 I-5, automatic, white.
We all know that a man needs a motor toy of some sort... car, truck, motorcycle, boat, airplane, whatever.
I've waited years to be able to own a toy..
And my '05 crew has seen many hard miles and needs a rest.
So my intention is to build a fun cruiser with a huge trunk that'll be good-to-go for the daily commute, etc also.
I gotta have a little weather-tight secure cargo space, pretty-much always, whenever wherever.
So a practical toy means something in which I can lock away some personal gear and that means a hard tonneau.
I've spent many highway miles in my '05 crew since I rolled it off the dealer lot, daydreaming about an IRS. I had thought to install some manner of IRS on my '05, but recently I decided to pursue a 2-door toy.
My situation has never allowed me to have more than one vehicle at a time, regardless of cost.
If you had given me a 2nd vehicle I would not have been able to keep it, as I'm single and was away from home most of the time working.
A month ago that changed.. and I'm way overdue for some fun.
<ETA a real photo...>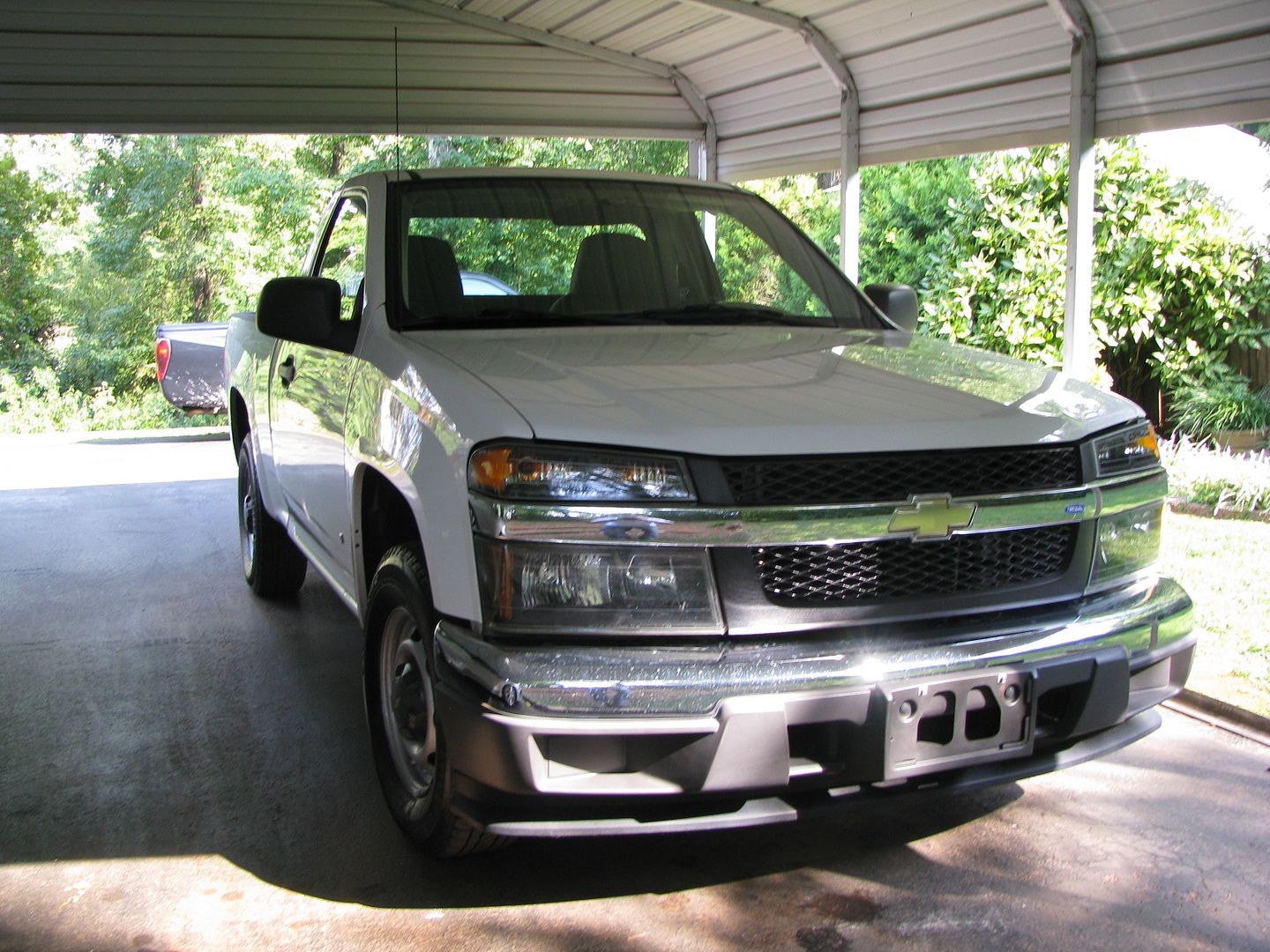 She's liveried like a basic work truck.
She spent her entire life so far on a military base, army reserve in Tennessee issued to non-comm officers as a runaround. Damn thing ain't much larger than a golf-cart anyway, right?
So why post today?
'cause I'm celebrating:
I spoke with Dave Held at Team 321 in Florida.
321HotRod Independent Rear Suspension (321)960-5945

[email protected]
Dave builds these totally custom independent rear suspension assemblies as a weld-in assembly ready to roll. He'll install any variation of a *ord 8.8-inch diff.
(I gotta have a good limited-slip for a 355 toy..)
This is his basic display model:
He displays some customer projects here:
321HotRod Independent Rear Suspension (321)960-5945

[email protected]
I plan at this point if possible to use The Street Machine Manufacturing Company's driveshaft-mounted disk parking-brake, $250.
It'll bolt onto the pinion hub between the diff and the driveshaft.
Dave at Team 321 had never seen the SMMC parking brake kit, but he told me it should greatly reduce the cost of his IRS assembly.
And it'll reduce unsprung weight at the (rear) wheels also, which will improve handling and ride quality.
I'm expecting that IRS assembly out the door ready to be welded in for possibly $4000 or so, after he factors out the cost of parking brakes he isn't providing in this assembly.
Compare that to the cost of a 355 rear disc conversion, a fresh set of ZQ8 leafs, blocks, and QA1 or Belltech shocks, and it seems pretty reasonable to me.
I'm going for a very basic gloss black finish on that rear end assembly.
Couldn't care less about chrome, etc.
Now if I can only find a shop to take this on..
Dave told me he has a list he'll send my way.
I intend to relocate the battery to the rear, to help balance out the front end and get all that high-mounted mass off the left wheel/tire.
Then I'll need to tub the front wheel-wells, mildly.
I don't intend to get into the weeds, but..
Combined with a QA1 front conversion, I'm expecting something that will put a smile on my face and be a practical everyday driver also.
I doubt I would take this on if not for the knowledge I've gained from 355 Nation.net.
:salute:
ETA: I had posted "Mike Held at Team 321..".
Correction, and sincere apology to the man, its DAVE Held, not
Mike
.
Going way too many directions at once here working to finance this thing..
.