Discussion Starter
•
#1
•
As many of you know, I'm a Collision Technician. And if the rest of you didn't know....well, I'm a body man. lol Since the average person, and even most enthusiasts, don't really know the in's and out's of body shops and repair procedures, I've been thinking for a while now how cool it would be to take you guys through a job I'm doing, complete with pics.
Well, we got in a 05 ZQ8 Crew hit down the side and they gave it to me. So what better time than now since it's a 355!
The estimate is written for.....
Buff out the grille
Replace some grille clips
New fender
New fender flare
New splash shield
New door skin
Repair the door shell
New mirror
New belt moulding
New handles (ft and rear)
Repair rear door
Remove and install rear door parts so we can paint the door
Repair rocker panel
So here we go!
Here it is.....
After removing the fender (didn't have my camera that day) I can now access where the door shell is bent in and use my trusty 12lb slide hammer to straighten it back out.
It's easier to do that when the door is on the vehicle. Now that that's done, I can take it off. The hinges on our trucks are a 2 piece set up. All you have to do is take out the 10mm bolt in the center of both hinges and lift up on the door and they come apart. Also, there's the 10mm door check bolt and unplugging the harness at the post. But the hinges are nice because when re-installing, there's no guess work or fitment involved since you didn't change the position of the hinges, which makes my job ALOT easier.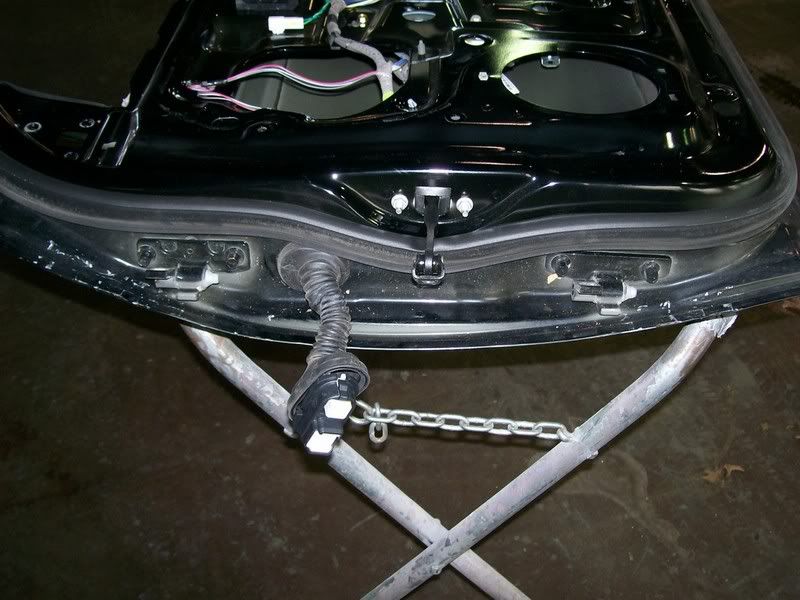 ***NEW DOOR SKIN***
There's 4 ways to repair a door. Just fix it (bondo), Door Skin (just the outer "skin"), Used door, or New door shell. In this case, the door was too bad to fix, but not bad enough to call for a complete new door. So it was written for a skin. Skins are pretty easy after you've done a few and you can roll through them rather quickly. They pay decent but you're not raking in the dough on them. Still easier than door skin-in-a-can (bondo! LOL)
After removing basically everything except the window regulator and harness, you decide where to splice the skin at. Now, some guys will put the whole skin on, but it's just a matter of preference. I like splicing...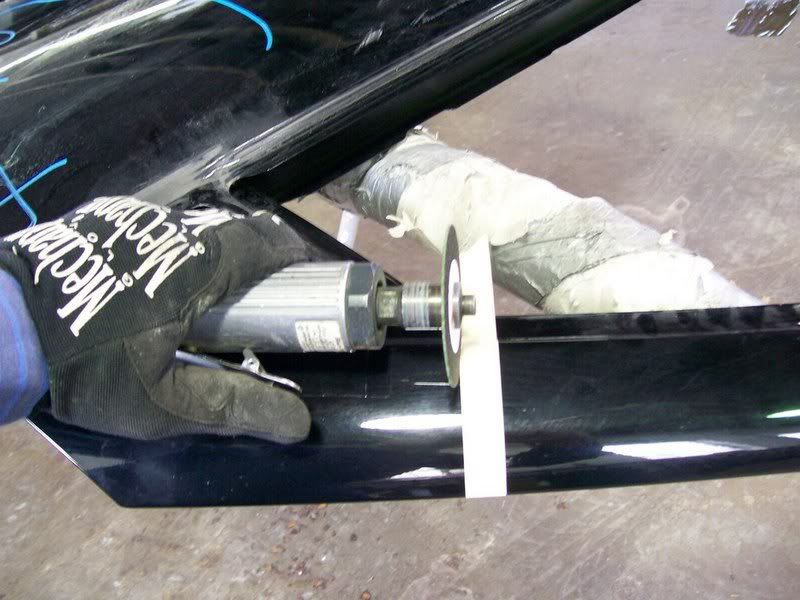 Next is you have to grind the edge of the door to split it apart and peel the skin off. You can see the part that's bent over splitting away from the skin.
After you get it split, you have to run something in between the skin and the shell to slice through the factory glue. I have this special tool that you use with a hammer than makes it real easy.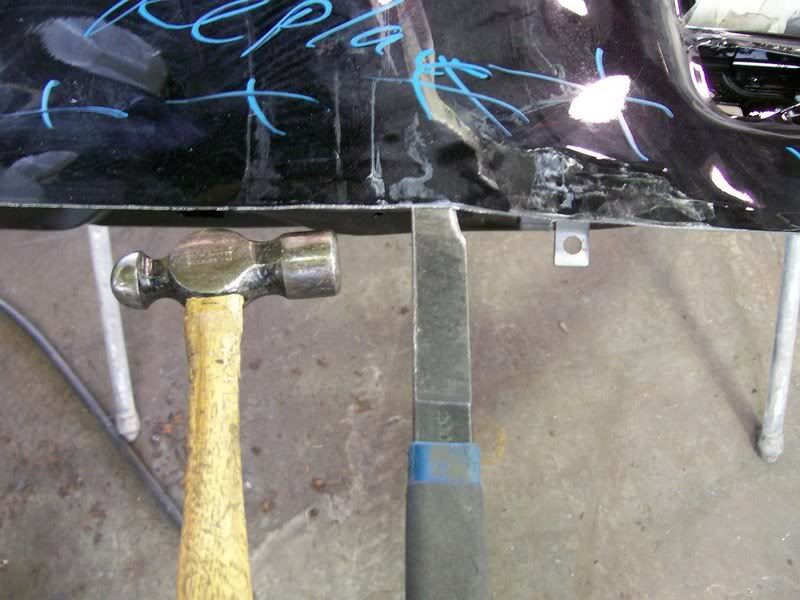 VOILA!! Damaged skin removed!
New skin. Now just make your cuts to match the ones on the door. I'm usually pretty good about cutting them close so that I can just butt weld them, but this time I had them too far apart so I had to make a little sleeve to weld to. And again, some guys don't even do this and just put the whole skin on, all the way around.
We use a door skin adhesive around the edges and a urethane sealer on the intrusion beams to keep it from rattling.
You can see the white urethane on the beams and the black adhesive around the edges.
Now you clamp the new skin on and just bend/roll the edge over. At this point, I like to flip the door over so I'm hitting downward, but I've seen guys leave the door facing upwards and hit up.
To roll the edge you'll need a dolly and door skin hammer. People use all kinds of different dollies. Some use rubber dollies, others regular dollies, others little bags filled with BB's. I use a regular dolly that I tape a towel over so it's not just metal to metal. The whole point is you don't want to put a bunch of dents on the edges and have to bondo the outside edge.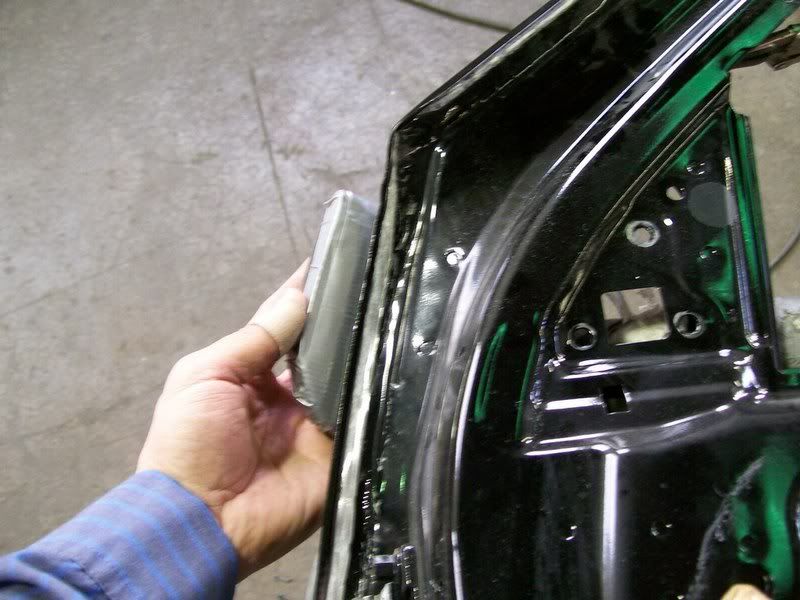 Hammer. One side to do the initial rolling, other side to drive her on home!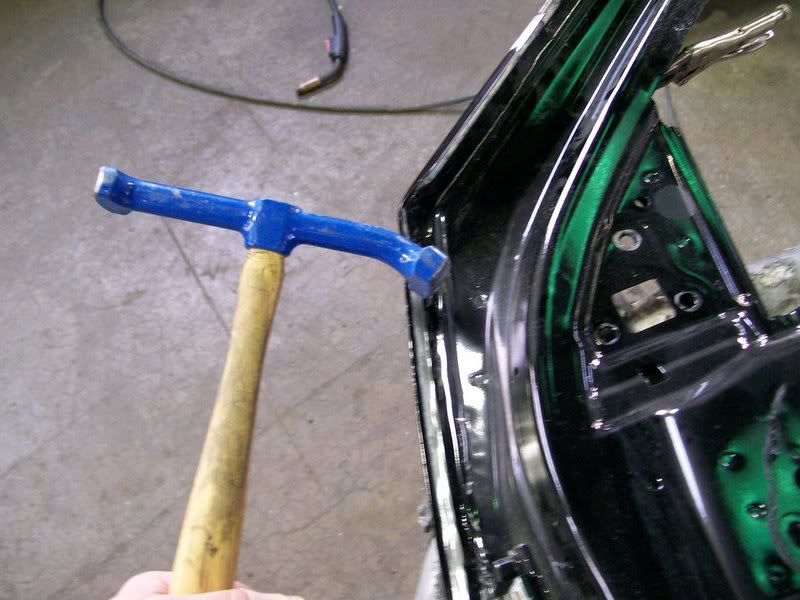 You can see how you roll it. Just do that all the way around....
When you're done, just flip it over and weld the splices. Grind, bondo, and finish them off. And since I've done a ton of them, I'm good enough to not make a bunch of dents and have to bondo the outside edge. There's only a little bit of "rippling" and you can get rid of that by sliding a grinder over the edge real quick.
Done!!!
***REPAIR THE REAR DOOR***
For those who may not know how most techs get paid, every task pays a certain amount. So if it takes you less time than they pay you, money in your pocket. If it takes you longer, you're screwed. They wrote the rear door for 6hrs, I got it done in 3. A good tech can usually double his time on tasks, usually.
Since they also wrote it to gut it for paint, I did that 1st.
After grinding the paint off the repair area, I use a Stud Welder to work the dents out. It welds little studs on the part and you use a little slide hammer to bang them out.
Here's a stud.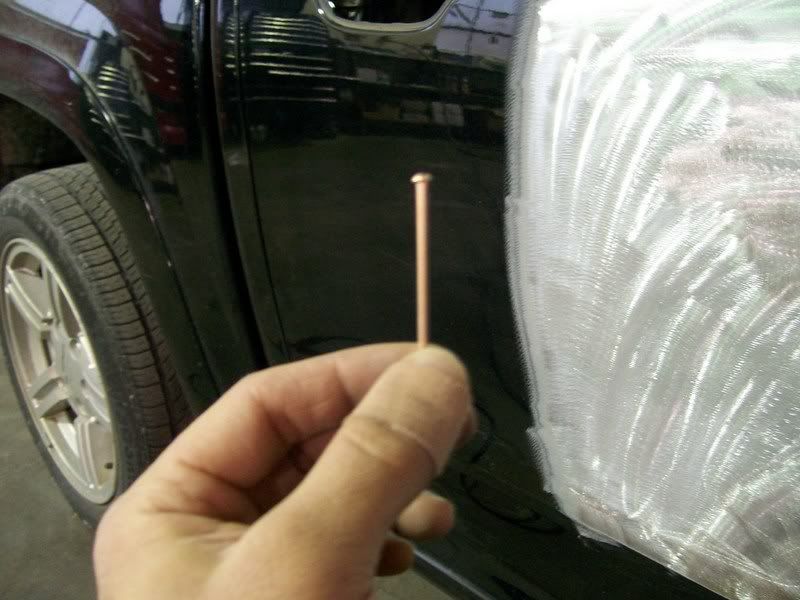 The gun...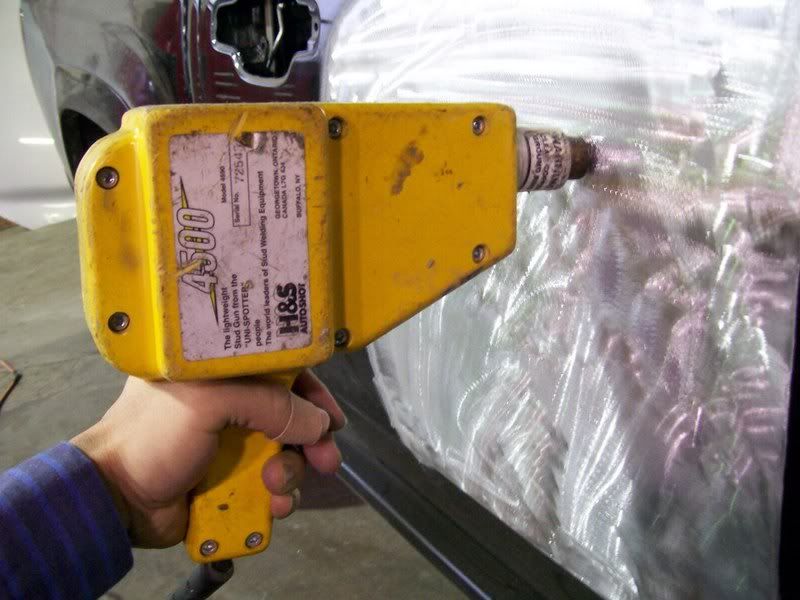 The slide hammer...
And just do that till you work out all the low spots. And in this case, I had to do that 51 more times!!!
Some guys will just slap bondo on at this point, but I like to feather the edge 1st.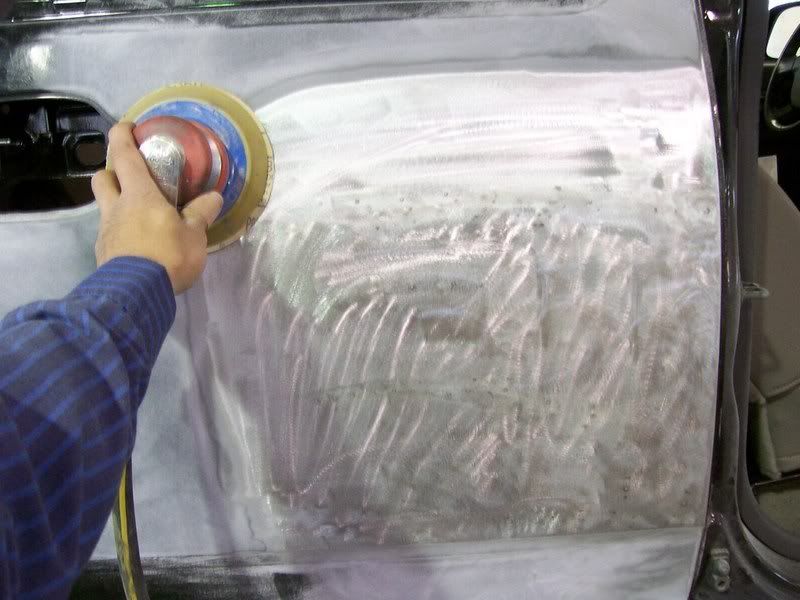 Buttload of bondo!! Show of hands, who would want one of their doors to almost be completly bondo'ed!!!??? I know I wouldn't! haha But again, the average person doesn't even know what we do to these cars to get them back to pre-accident condition.
Don't kid yourself here people, this is hazardous stuff!! Protection is a MUST!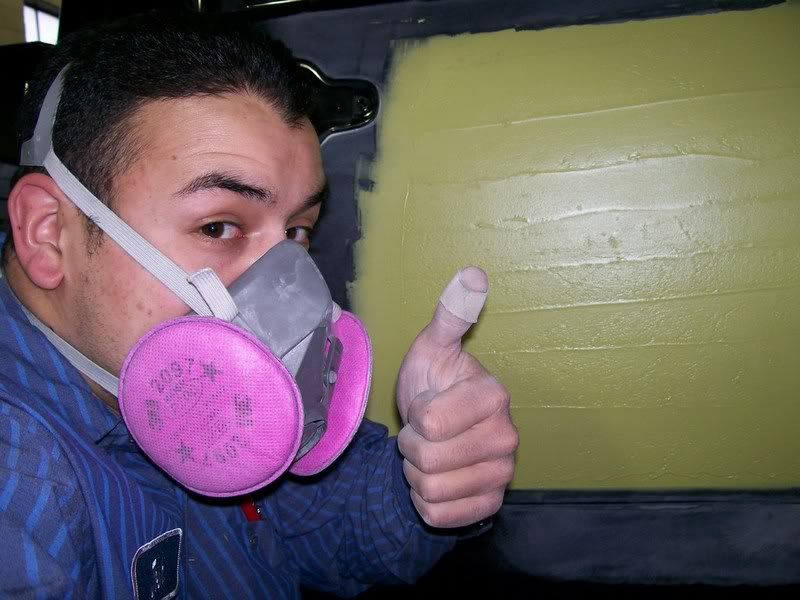 I used 2 coats of bondo and 1 moderate coat of a finishing glaze. Then another skim coat to fill in some tiny imperfections. After the 2nd coat of bondo, I found it easier to remove the door (since they're easy to take off)and set it on a stand to sand.
The rocker just had some scratches on it....
All ready for paint!!!!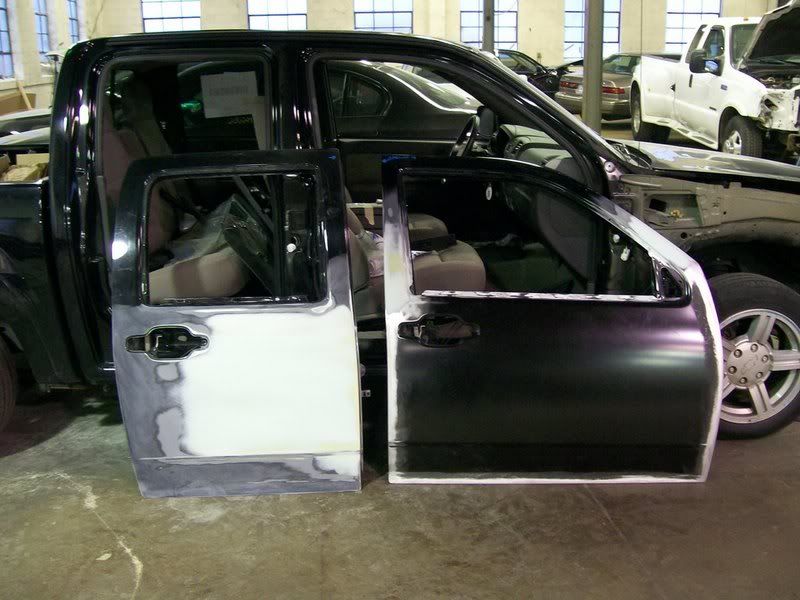 Damn painters didn't prime it today though, which is retarded. There was like 30 mins left still!? Now they're gonna be that much more behind on monday...
Hope you guys enjoyed the run-though! I know it's long but I wanted to really explain everything and take pics. I'll be updating this thread too so tune in next week for more!!:high5: