I've decided to sell my 2007 Chevrolet Colorado crew cab w/ 106k. Price is $11,800 obo. It currently has a cracked windshield that I plan to either replace or credit the buyer with $300 to replace. Other than that I see no reason it won't pass inspection. If your local I will gladly have it inspected. I do have a loan on the truck so it'll take me 2-3 days to have lein release once sold/deposit is received.
Truck has cloth interior, all power, 6 disc OEM radio, sliding sunroof, matching hard tonneau cover, tow hitch, bed rug, factory
Truck history ~ It's obviously not an authentic Xtreme but the original owner had the dealership install some parts to replicate the look since they didn't have an Xtreme in stock (what I was told when I bought it). I bought it roughly 3.5 years ago with 79k miles. I have been very meticulous with servicing it every 5k miles (most times less).
The truck is bone stock other than appearance mods. This is the only Colorado I've ever owned so I'm not positive what parts are stock and aftermarket.
Mechanical ~ I'd rate 9 of 10. Runs like new, does not burn oil or smoke. Trans shifts flawlessly. Truck drives great. Tires are probably at 50% life or possibly slightly less. A/C blows cold. New battery installed last week (can provide receipt for 3yr replacement warranty). Only reason I'm not giving it a 10 is because I've noticed that the suspension bushings tend to creak when it's very cold out. Otherwise the truck runs and drives like new.
Exterior ~ I'd rate at 8 of 10. No dents, dings, or major scratches.
It has some scratches on the top of the tailgate but they aren't visible won't cover down. Biggest eyesore is that the side skirts must have come loose at some point and the original owner (or someone) decided to run small screws in it to secure it (2 on one side and 3 on the other). They aren't really that noticeable but I had planned to remove them, touch up those areas, and reattach as original. I even bought new brackets to do so.
Interior ~ I'd rate at 9 of 10. No rips, tears, or stains at all.
Mainly a 9 because the radio buttons and floor mats are starting to show wear.
If anyone has questions or would like specific pictures feel free to ask. I just decided today to sell it so haven't taken detailed pics like I planned.
I'm not very active on here so hopefully I'm not breaking any rules by listing it. Email is probably fastest way to reach me.
[email protected]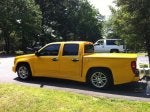 Sent from AutoGuide.com Free App