HankHill's Build Thread
Since I'm finally starting to do a few things to my truck I figured I'd start a build thread.
I picked my truck up in March of 2014. It's a 2006 crew cab z85 4wd. The truck was bone stock and only had 53k miles.​
After finally saving some money and looking at a million different wheel/tire options, I finally settled on 16x8 MB Razor wheels and 265/70 Nitto Terra Grapplers. The main reason for going with the MB Razor wheels was they ended up being around $80 a piece.​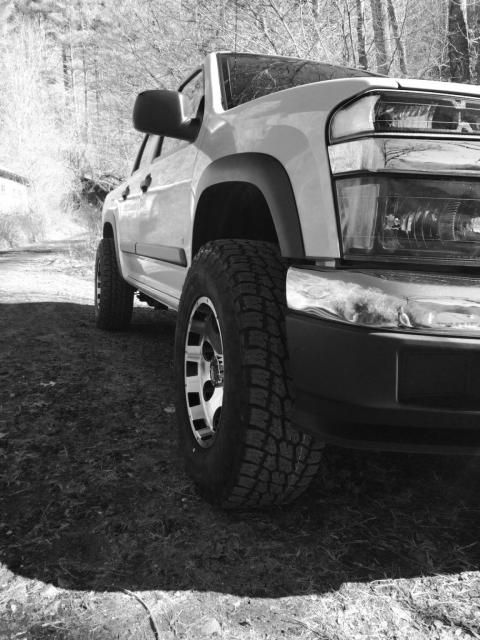 I bought the stuff today to make a diy intake. Weather permitting I should have it finished the middle of next week. I'm also planning on taking the truck next week to have an exhaust put on. I'm hoping to sweet talk the wife into buying some rock sliders for my birthday(I won't hold my breath though lol). I've got an are camper shell that I throw on during hunting season. I've still got to get it color matched.
Some of my planned mods are
Wheels/Tires-DONE
DIY Intake-DONE
LED Interior Lights-DONE
HID Headlights-DONE
Light/Recovery Bar-DONE
z71 Fender Flares-DONE
Blazer Overhead Console-DONE
Rock Sliders
Exhaust
Flip Third Brake Light
LED Light Bar
Any suggestions/comments are welcome and encouraged. I've been lurking around trying to get caught up on some of the new stuff that's come out since I had my first Colorado.
I'm just glad to be back on the nation:salute: