Disclaimer
The community here at 355nation.net urges you to please use caution and seek professional assistance when performing modifications to your vehicle. Before attempting any modification it is advised that you refer to your Colorado or Canyon service manual or contact a certified mechanic as not all GMT355 trucks are the same. The staff and the associated members are in no way responsible for any damages, injuries or other harm inflicted to your vehicle or yourself which may result in attempting these modifications. The posts and content presented on this site reflect in no way the views of 355nation.net or it's ownership.
A 355nation How To presented by
JosueZQ8
Project Name
1 inch hockey puck body lift
Project Description
Cheaply lift the body of your Colorado/Canyon 1" for extra tire clearence using hockey pucks.
Skill Level
Moderate-Advanced, depending on your capabilities.
Project Vehicle
Make:
Chevrolet
Model:
Colorado
Year:
2004
Engine:
3.5L
Power windows:
Yes
Sun Roof:
No
Tools Needed
18mm socket - Stock body bolts
15mm socket - bumper bolts
Necessary ratchets and/or air tools
Drill and drill bit assortment (LARGE bits)
Hammer
Jack
Reaming tool/file
Shims/washers (as many as needed)
Whatever size socket fits the new body bolts
Maybe a few simple hand tools that anyone tackling this job should already have
Project Time
2-4hrs, depending on unforseen issues.
Project Cost
$25-$30 total + any unforseen parts troubles. (I'll explain further down)
Alright, 1st things 1st, regular cabs and extended cabs get 12 pucks, crew cabs get 14.
I've seen them for $.99ea during hockey season, but I paid $1.50ea for mine.
Drill out the centers of the pucks, 1/2" for the bed, 9/16 or 5/8 for the cab. I didn't have anything bigger than a 1/2" bit, so I used a small hole saw for the cab bolts.
I also measured out the center of the puck, and marked them all.

*caution!*

It's kind of tricky drilling through the puck material. The bit likes to catch and buck the puck around, so be sure it's secured in something, or that you have a REALLY good hold of it if you're using your hand.

The longer bolts needed are....

M12-1.75X90mm- bed
M14-2X150mm- cab

I know alot of people get these bolts from Maryland Metrics for around $25, but I was able to find them local for under $10.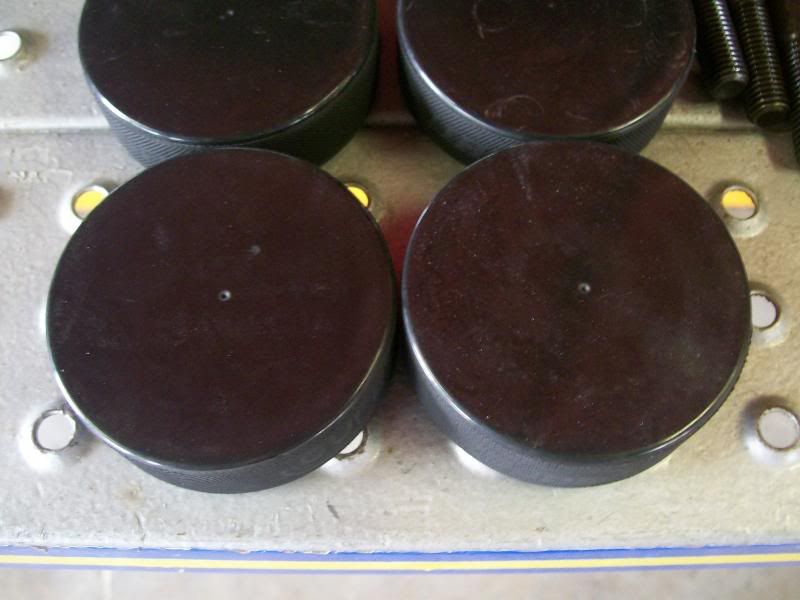 Common sense should tell you to make sure you're doing this on solid, level ground, and that you have the parking brake set and/or blocks under the wheels. If you didn't know that, well, now you do!

This project really is as easy as it seems. I don't really have too many "in-progress" pics because they're not really needed. I'll just be as detailed with the steps as I can.

1. Start with the bed, since it's easier than the cab, and take out all 3 bolts on 1 side. There's 1 bolt up front by the cab, and the other 2 are behind the wheel, towards the back of the frame.

Also, loosen the 3 bolts on the opposite side of the bed. This will allow the bed to lift up more, otherwise you'd be fighting the tightened bolts in trying to lift the bed high enough to slip the pucks in...

2. Lift the bed and slip the pucks in between the frame and the bed. Simple enough right?

Few tips...

-Having a buddy grab the wheel well and lift up would be IDEAL, but this CAN be done solo, as I did. It was just a REAL pain trying to hold the heavy ass bed up, and reach under there to adjust the pucks. Just be CAREFUL where you're grabbing and lifting, some areas of the underside of the bed panel bend VERY easily.

-It's kind of a pain to align the hole in the puck up with where the bolt threads into, so take your time and make sure it's in the right place. The last thing you need is to try to run the bolt in all crooked and strip it out!

3. Get the new bolts started and lightly tighten them so the bed doesn't shift on you.

4. Repeat on the opposite side.

5. Once all 6 pucks and bolts are in, tighten them down paying NO attention to trying to align the bed up, as it will now be 1" taller than the cab! lol

More tips...

-If you want, you can just tighten a few bed bolts and not all of them, that way if you need to make any adjustments to the bed once the cab is level again, you won't have to go back and loosen ALL the bolts. Realistically though, if you do one side at a time, neither the bed nor the cab should move on you. I didn't have to re-align anything when I did this...

-I know alot of guys are all anal about "torque specs" and this and that, but I don't use them. Just a quick zip with my impact, and another pull for security. Been fixing cars for close to 8 years now with not 1 single issue due to under or over torqued bolts. But, if some of you would like the piece of mind or whatever, I'm sure the torque specs can be located for all the bolts in this project.

Front bed bolt...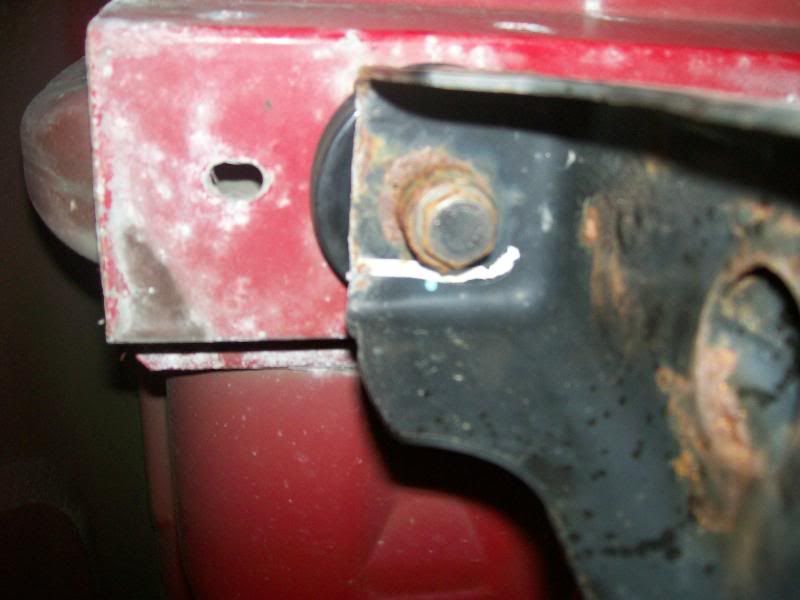 Middle bed bolt, just behind the wheel...




Rear most bed bolt, just behind the bumper...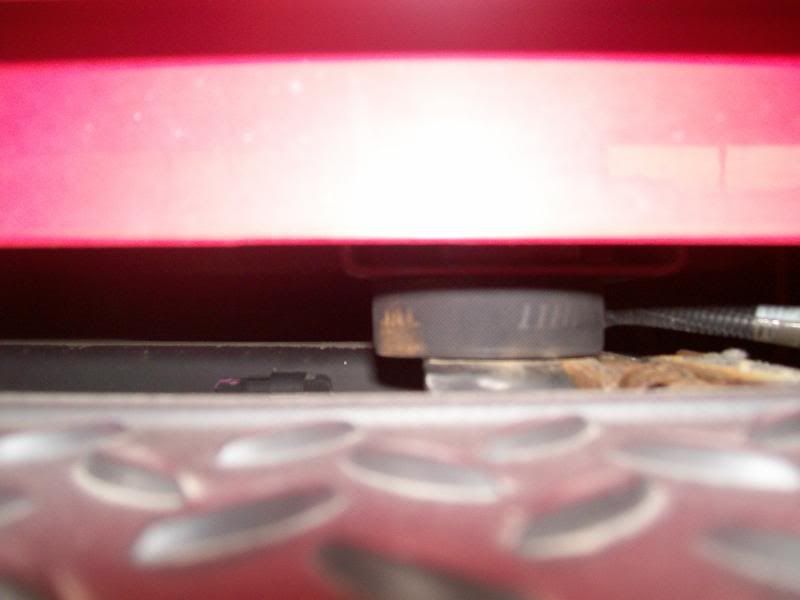 On to the cab!!!

6. Again, pick a side to start on, remove all 3 of those bolts, and loosen all 3 on the opposite side. There are 2 under the floorboards that you can't miss, and the 3rd is up front under the radiator/core support, right by the bumper bracket.

This is what the bolts look like...




7. You'll need to reuse the rubber part of this assembly, so place the bolt upside down on something so you can pound the bolt out. A vice would work best, but there isn't one by my stall at the shop, so I made due with what I had!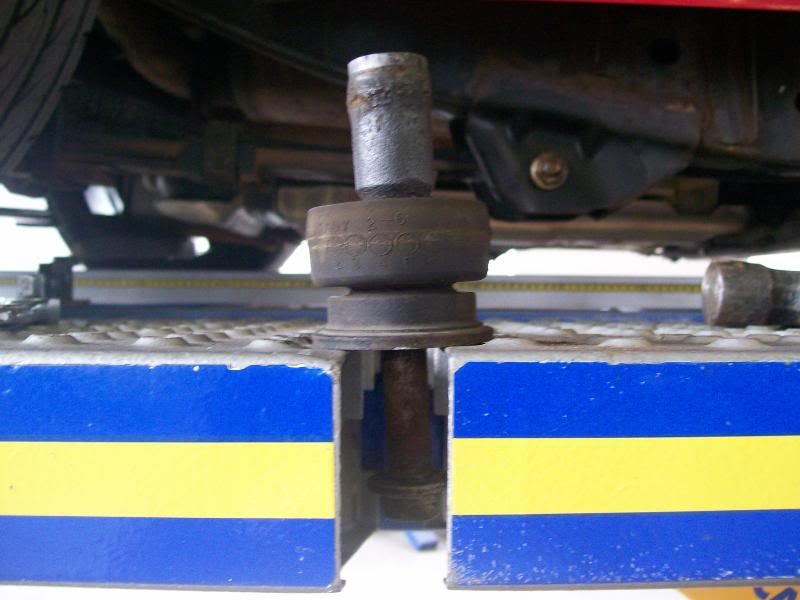 These are the ridges that hold the bolt to the rubber piece, and the reason you need to put some stank on the hammer when you're doing this!




NOW, unforseen parts trouble time!

You can see in the pics up there, that there's a thick metal sleeve that the bolts go through. The 2 middle bolts on my truck were rusted to this sleeve, making it impossible to hammer the bolts out. You can see in this pic that there's actually a metal washer molded into the end of the rubber piece, and that it started to bend as I was hitting the bolt.




So, I ordered a 2 new bolts thinking they would come with the rubber AND that sleeve. Went to pick them up and they didn't have the sleeve on them. After working it out with the parts guy at the dealer, we found out that the sleeve is actually part of the body mount and NOT the bolt/rubber. The bed just sits directly on the frame, but the body sits on rubber mounts with a metal cap and apparently, a metal sleeve inside.

So, had to order 2 cab mounts as well. Total additional cost due to 5 years of North East Ohio winters...

2 cab bolts - $24
2 cab mounts- $50

And those were with my body shop discount.....eff....


EDIT*- Here's a pic of 1 of the new body mounts and bolts. You can see the sleeve poking out of the body mount...





Alright, where was I? Oh yea.....lol

8. There's no way you or your buddy can lift the cab, lol, so grab the jack and find a nice, SECURE place to jack the cab up.

Tips...

-I would suggest making it somewhat of a central location, that way you can slip all 3 pucks in at 1 time.

-Be CAREFUL where you're jacking! The floor is NOT a safe place to jack, it's very thin metal. Find a cross brace, or like I just used the pinch weld on the rocker. BUT, be sure to put a semi-long piece of wood between the jack and the truck. I used about an 18" long piece of 2X4 to distribute the pressure, otherwise you could bend your rocker right up. Rockers are usually one of the strongest points on cars, but that's not always the case on trucks.

9. Slip the 3 pucks in, along with the bolts and lightly tighten them so the cab doesn't shift.

10. Repeat on the opposite side.

11. Again, once all 6 are in, tighten them all down. At this time, you can also check your bed gaps and adjust accordingly, but as I said, as long as you do 1 side at a time, nothing should shift.

Rear most cab bolt/mount...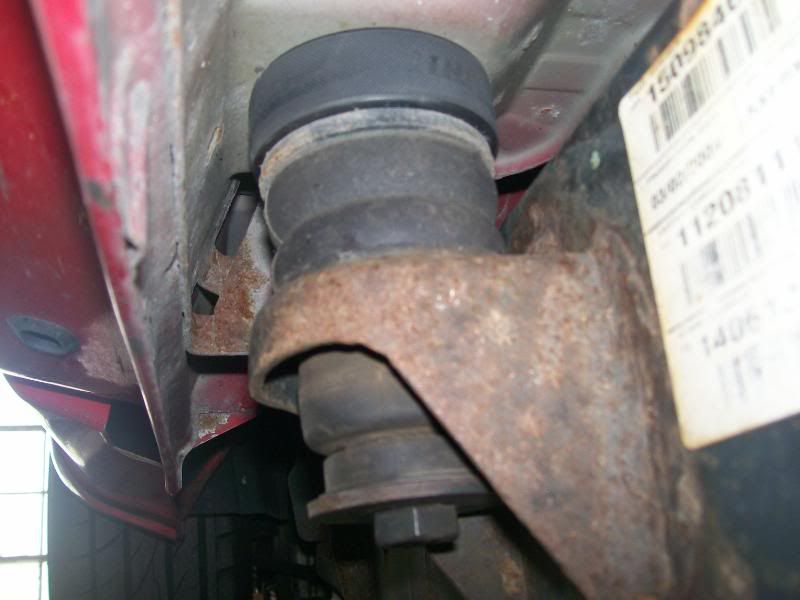 Radiator/core support...




And, my parts won't be in until tuesday, so I have to fab something up in the mean time. I just used a stack of washers and snugged the bolt in...




I'm not sure if that metal sleeve I'm waiting for is needed, but I'll have piece of mind knowing it's there, especially on a cab mount!

About now is when you'll notice the huge ass bumper gap! lol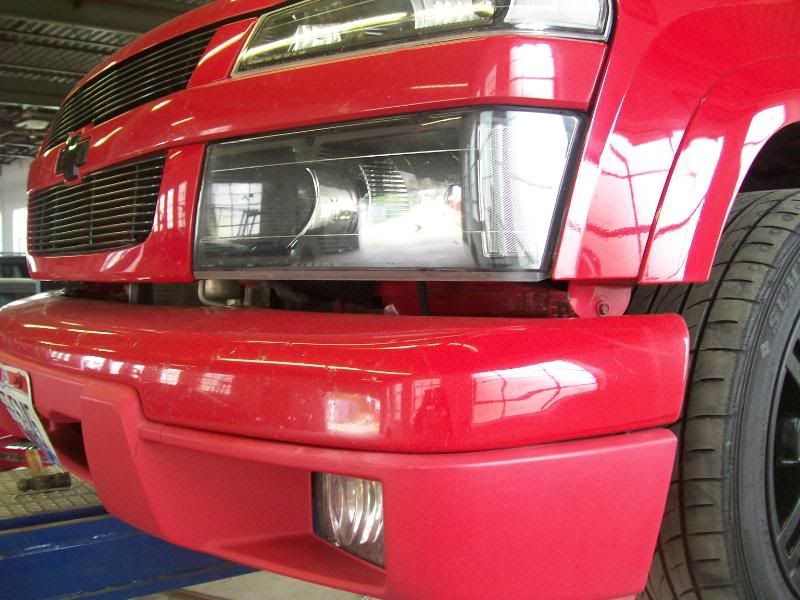 12. Pop your grille out and remove the 4-15mm bolts behind there, as well as the 4-15mm bumper bracket bolts inside the wheel wells, 2 on each side. Don't forget the fog light harness' if you have fog's.

13. Ream out the bumper bracket holes to allow the bumper to be moved up. You might not have to take out as much as I did here to achieve your desired bumper height, but I didn't feel like having to pull the bumper back off a bunch of times to open the hole up more, so I just took a chunk out.

-This can be done using any method and/or tools you see fit, just as long as you open the holes up!




14. Re-install the bumper and place however many shims/washers in between the bumper and frame in those 4 locations as you need for your desired bumper height.

-You may have to get longer bolts for this, which should be able to be picked up locally.




15. Bolt the bumper brackets down making sure that your gaps between the bumper ends and the fender ends are even.

Little better...I still may take mine up some though.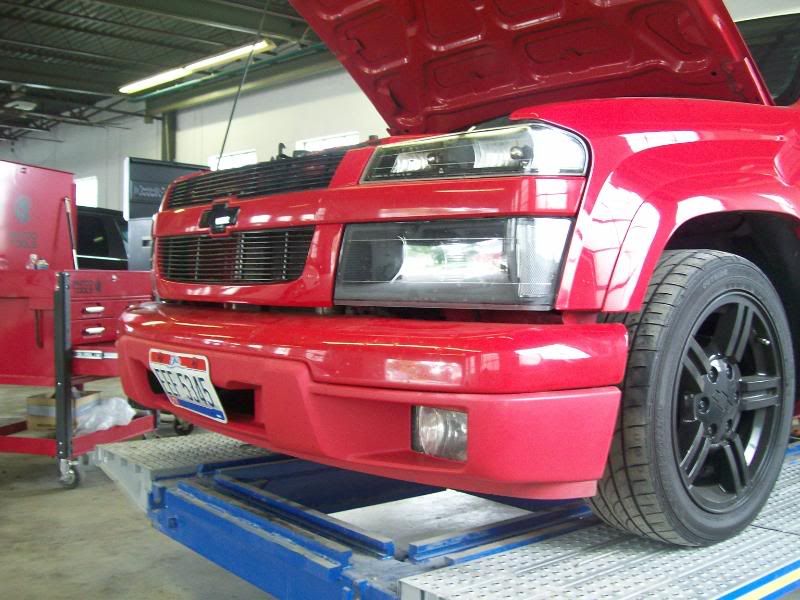 ALSO- Depending on how high you go with your bumper, the lower valance may be hitting the frame rails, limiting how high you can go. If this is the case, just trim your valance a little allowing the bumper to move up some more. You can cut a hole in them to let the ends of the rails (the part that actually hits) through, or you can take out a big chunk and let the whole frame stick out. I wish I had pics to explain, but it wasn't a problem for me. You'll know what I'm talking about when you see it though.

Almost home!!!

Last thing to do is address the fan rubbing issue....

The bottom of the fan shroud is now closer to the fan blade because you moved the body up and the engine stayed in place (obviously lol) REAL easy fix though...

Some people hacked away at the bottom of their shroud until the fan wasn't going to hit anymore, but the easy thing to do is just rotate the piece 180 degrees! Kind of tricky though if you don't know what to look for or don't know what our shroud assemblies look like. I'll try my best to spell it out though....

16. On the driver side, down towards where the upper and lower shrouds meet, you should see a U-shaped tab. Looks like this...the tip of that one blade is almost pointing right at it.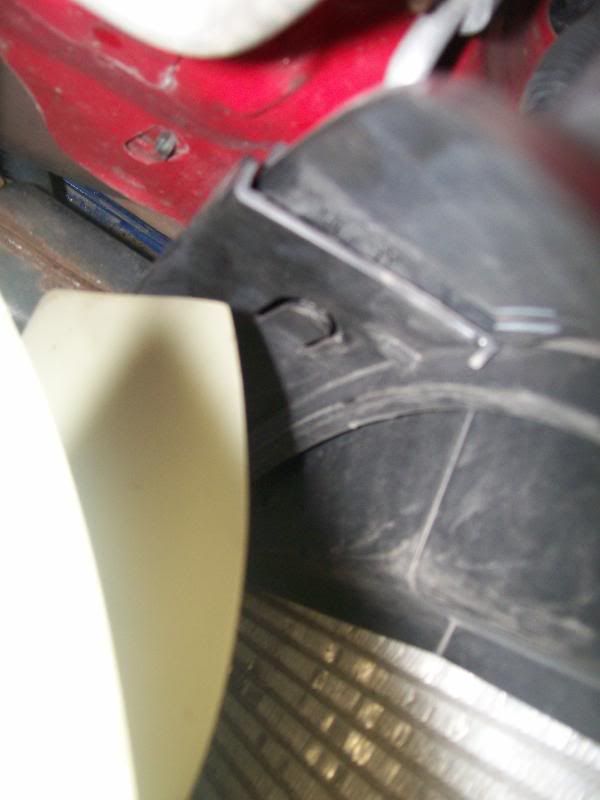 That's the tab that holds the piece in place....

17. Stick a small screwdriver (or whatever you can) in there and pry that tab out, so it'd be towards the fan...




18. Now the piece should be free to rotate. It's not going to be the ENTIRE fan shroud assembly, just a thin "inside piece". Grab where the tab is, and push DOWN to start rotating the piece. It's like, if you're sitting inside the truck, and you look out and see the circle, it rotates counter-clockwise. So, spin it down towards the passanger side, then back up towards the driver side.

When it's 180 degrees around, this tab will be centered.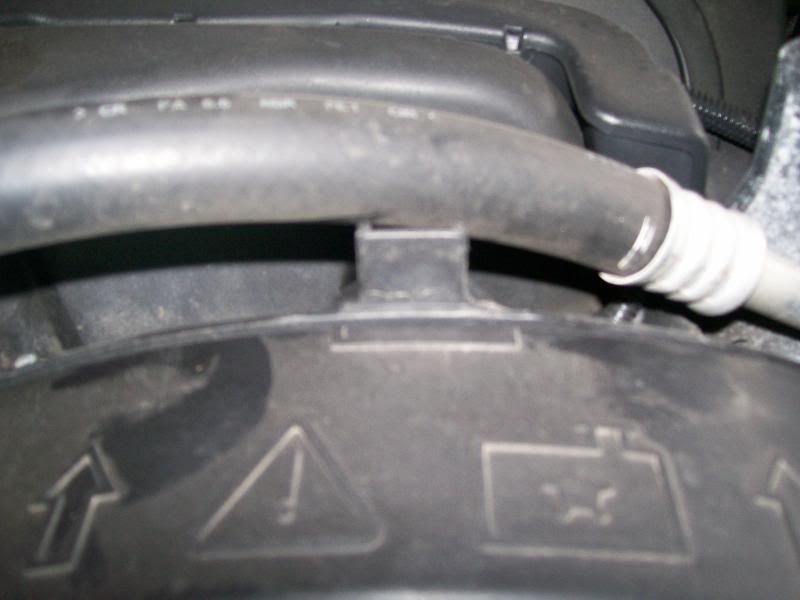 19. You'll also need to chop this off if you don't want your A/C hose rubbing it...




20. Lastly, there's nothing to hold that piece from rotating again, so I just drilled some holes and threw some zip ties in there.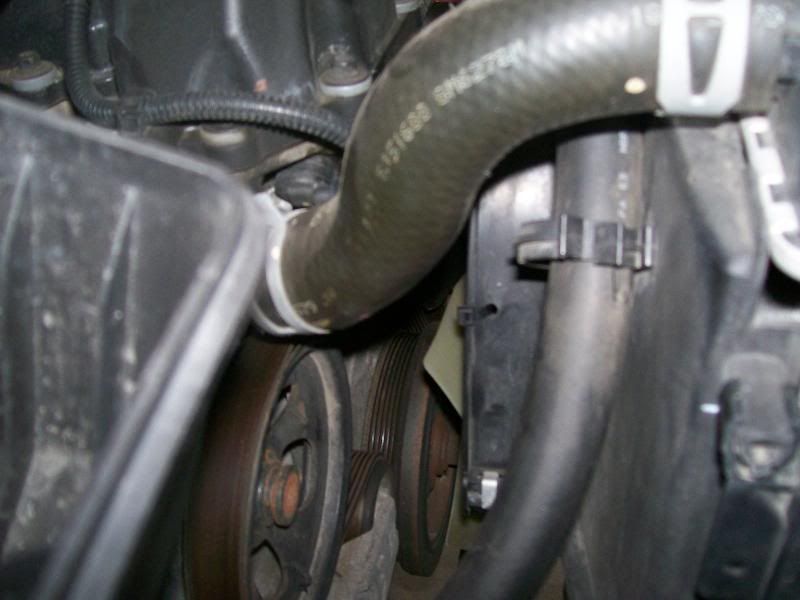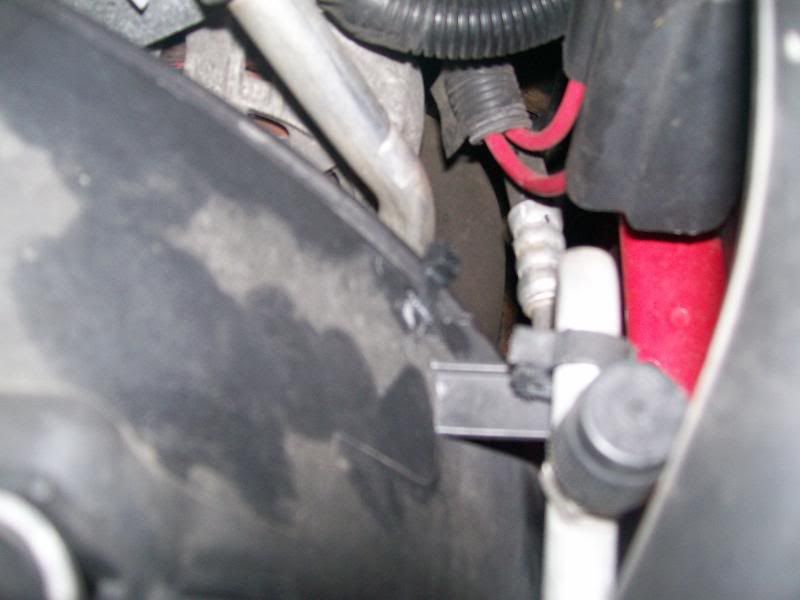 This part may seem wierd at 1st, but after you realize what to do, you'll be like..."That wasn't too bad!"

And that.....SHOULD BE IT!!!

Double check all your bolts to make sure their tight and call it a day.....

Some finished before and afters.....

Before...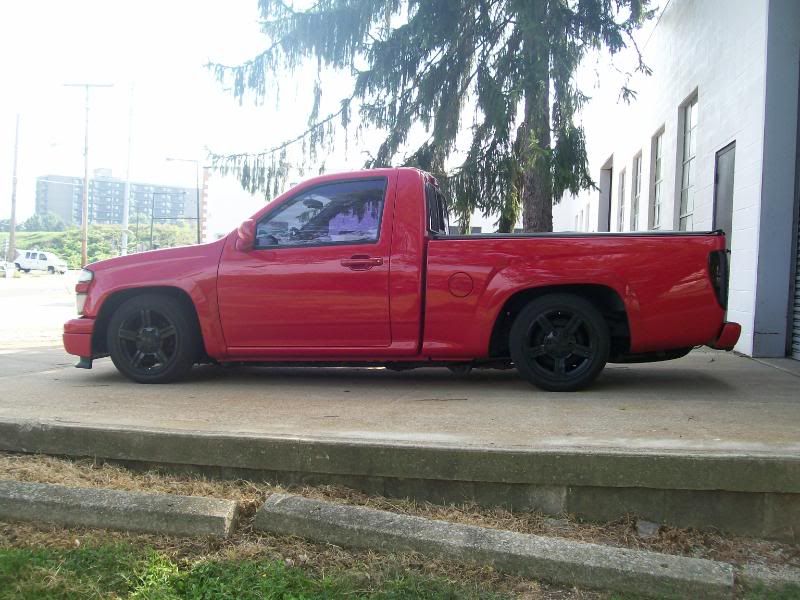 After...




Before...




After...




Before...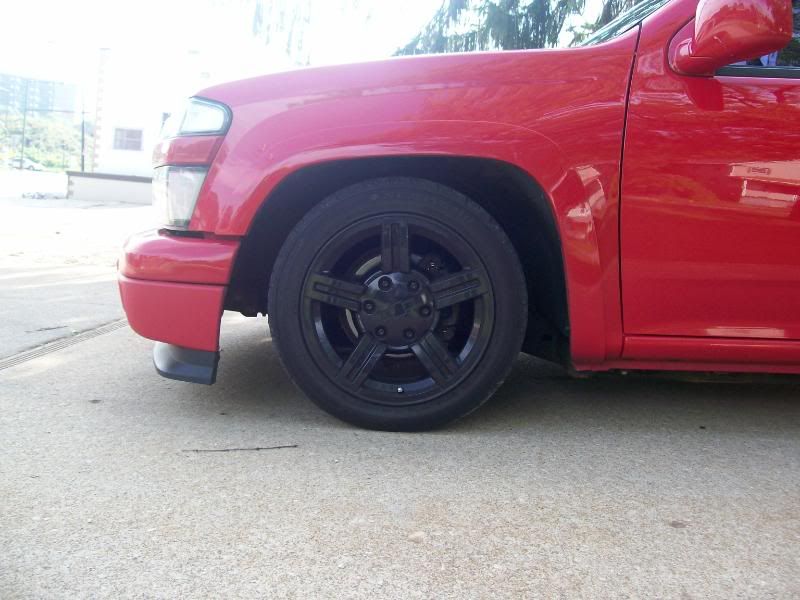 After...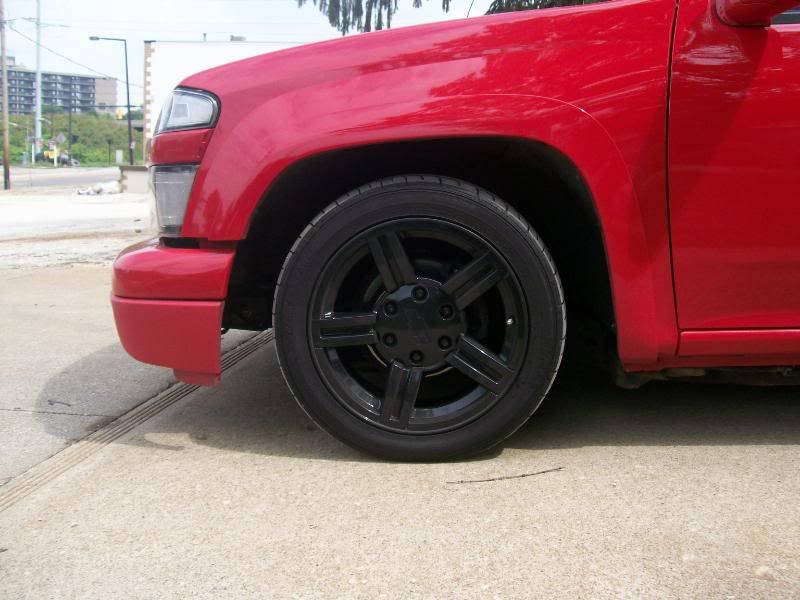 And this is how much frame shows, so you may want to spray some black paint on there to dress it up a little if it's real rusty under there.


(kind of wierd that this how-to was done on a LOWERED truck huh? :lmao