Discussion Starter
•
#1
•
Disclaimer
The community here at 355nation.net urges you to please use caution and seek professional assistance when performing modifications to your vehicle. Before attempting any modification it is advised that you refer to your Colorado or Canyon service manual or contact a certified mechanic as not all GMT355 trucks are the same. The staff and the associated members are in no way responsible for any damages, injuries or other harm inflicted to your vehicle or yourself which may result in attempting these modifications. The posts and content presented on this site reflect in no way the views of 355nation.net or it's ownership.
A 355nation How To presented by
blurred
Project Name
How To dye your interior plastics
Project Description
With people changing the color of the headliner, the gray/tan color does not always work. Dyeing the plastics is a better alternative to painting due to the fact it is a permanent, scratch resistant color change. The handles and hooks can still be used as intended without having to take special care not to damage them.
Skill Level
Easy/Moderate
Project Vehicle
Make:
Chevrolet
Model:
Colorado
Year:
2007
Engine:
3.7L
Power windows:
Yes
Sun Roof:
No
Tools Needed
iDye Poly Fabric dye
stove
pan large enough to accommodate parts (I used a disposable pan)
water
rubber/plastic gloves
Project Time
~1 hour
Project Cost
$5-$10 depending on the materials you need to purchase
Since I have not seen plastics for these trucks in black, and because I am a big DIYer, I decided to try this and it worked out great!

The first step is to find your iDye poly color that you plan to use. I had some black sitting around from when I had planned to do some designs on some Disc Golf Discs, but never used. So, I decided to try it out... I do not know what other colors will work or how they will work, but they have a plethora to choose from.

You can find your iDye here: Amazon.com: idye poly or by going to Google and searching for "iDye Poly"

Rit dye also works as well on these. @un4giv3n has had some in his truck for 2 years and they still look good. I have found that Rit is easier for me to access locally than iDye. If I need to dye these darker, I am going to end up soaking them in Rit. It's the same process as below.




Okay, so you now have your iDye Poly and are ready to start. Fill your bowl with water but be sure not to fill it to high as you will be placing the plastics in there. You do NOT want this to spill all over the place. Once you have the water, put it on the stove and heat it up. It's good to bring it to a slight boil, enough so the water is moving around but not enough to spill out. These are the type of pan I used




Mix in the iDye Poly color and the Color Enhancer by stirring it in slowly. It is recommended that you do not use the stirring device again for anything that is ingested.

Be careful with this stuff as it will stain almost anything. The tile on the floor and glass stove top/granite counters did not stain, but I used this on some Gortex boots and it worked like a charm. Also, I got a little on my shirt and now that is permanent. I decided to use some gloves that I used for fiberglassing and it worked well. A little bit of dye got through to my hands, but nothing terrible. I'm also used to having stained hands from working on the truck and whatnot...




Once mixed, place your parts in the water. Let them sit in there from 5-20 minutes. I didn't time mine, I simply pulled them out every so often to see the results. If I wasn't happy, I put them back in.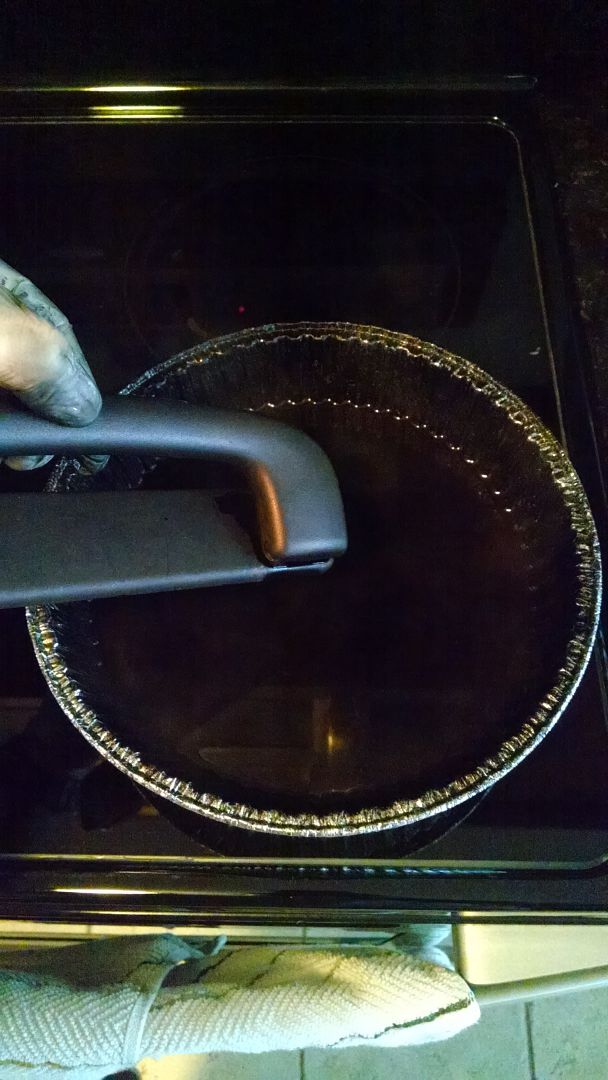 When they are the color you want, move the pieces from the water to somewhere they can sit. I used the other metal pan. Once I had all the parts dyed, I moved the pan to the sink and let cold water run over them.




Once clean, I pulled them out and sat them on an old towel to dry.




Here's the end result that I am very pleased with.