Disclaimer
The community here at 355nation.net urges you to please use caution and seek professional assistance when performing modifications to your vehicle. Before attempting any modification it is advised that you refer to your Colorado or Canyon service manual or contact a certified mechanic as not all GMT355 trucks are the same. The staff and the associated members are in no way responsible for any damages, injuries or other harm inflicted to your vehicle or yourself which may result in attempting these modifications. The posts and content presented on this site reflect in no way the views of 355nation.net or it's ownership.
A 355nation (CCP) presented by
codered
Project Name
How To: Remove Stock Grille Shell
Project Description
Need to do this to access anything behind the grill, install hid's, swap out grille....ect
Skill Level
Easy
Project Vehicle
Make:
Chevrolet
Model:
Colorado
Year:
2004
Engine:
3.5L
Power windows:
Yes
Sun Roof:
No
Tool Needed
Large Screwdriver

Project Time
10 - 20 minutes
Project Cost
Free
(Also a Video provided by AXX)
GRILL REMOVAL VID
1. Unhook the wires form the upper light set
2. Unhook the 4 black plastic plug things that run across the top of the grill
(no pic due to the fact i tossed mine because they were not necessary in my opinion)
3. Taking a long flat head screw driver pop out the metal tabs on each side of the headlights. The one on top is cake. The second you have to be careful on as to not scratch your paint.
Note: when popping out the second lower metal tab on each side use a soft cloth or towel so you don't clip your paint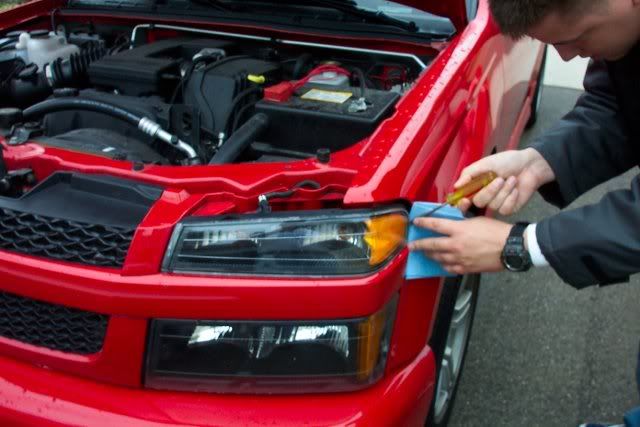 4. Pop the 3 middle metal tabs. I generally start with the middle tab, then do the right tab and then the left.
(thats easiest for me)
The Metal Tabs
Also including a closeup of the 2 10mm nuts holding on the bowtie