·
US Army 19yrs and ......
Disclaimer
The community here at 355nation.net urges you to please use caution and seek professional assistance when performing modifications to your vehicle. Before attempting any modification it is advised that you refer to your Colorado or Canyon service manual or contact a certified mechanic as not all GMT355 trucks are the same. The staff and the associated members are in no way responsible for any damages, injuries or other harm inflicted to your vehicle or yourself which may result in attempting these modifications. The posts and content presented on this site reflect in no way the views of 355nation.net or it's ownership.
A 355nation How To presented by:
1BADI5
Project Name:
H3 Gauge Cluster Install
Project Description:
Replace the factory/stock 355(Colorado/Canyon)gauge cluster with a gauge cluster from a H3 Hummer(345).
Skill Level:
Easy
Project Vehicle
Make: Chevrolet
Model: Colorado
Year: 2004
Engine: 3.5L
Transmission: Auto
Power windows: Yes
Sun Roof: No
Tools Needed:
1/4" drive Ratchet
1/4" extentions, 4-6" should be enough
1/4" 7mm socket
worklight, with extention cord(if needed)
Dremel tool, with cutoff wheels and sanding drum
Blue painters tape
Project Time:
2 hours or less.
NOTE:
these times can very depending on your skill and tools. It took me a little over an hour the first time (spent more time taking pictures). BUT then when I removed this cluster and installed it in my members truck....yep 15 minutes start to finish.
Project Cost:
H3 Cluster- $25-100 used/new
painters tape and misc Dremel accessories
H3 Gauge Cluster Install:
Ok I'm going to write this up so a caveman can understand and be able to excute w/o question. I know most reading this will know alot of this information like the back of their hand. But this is intended for the members that are not so familiar with these mods.
1. The outter surround for the cluster pulls right off, start at the top and work you way down
NOTE: Dropping your steering wheel and shifter down(Auto trans.) will be helpful!
2. Make note of the circled areas below, there will be a total 4, 7mm screws to be removed.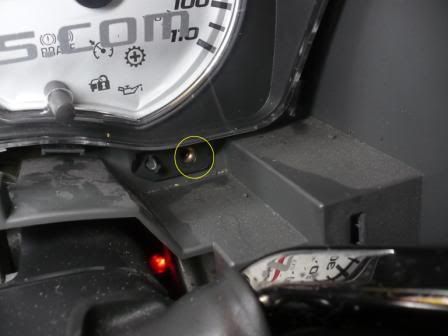 3. After all 7 mm screws are removed, pull the cluster out and unplug it. Set cluster aside.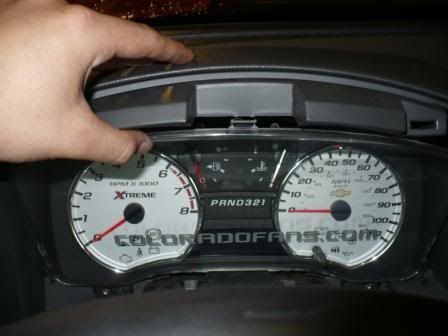 Well heres what this is all about...the H3 Cluster. With some minor cutting and grinding, this will almost fit like a glove!
4. Now your will need to cut off the top mounting tabs on the H3 cluster as where the cluster will not fit in with them.
This picture show what I had cut off and I smoothed it out with a sanding drum on my Dremel. At this point the H3 cluster is pretty much ready to go. You might need to tweek things here and there on your 355 as needed. Now its time to dive into the dash!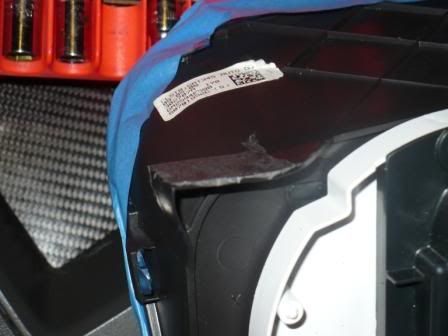 5. Cut the highlighted areas as needed in your application.
NOTE: Numerous trial fitting will be key to doing this right.
(I was not going to load 18 pics. of me doing my trial fits)
Ok the highlighted area above is a point of interest. It can be difficult to get the bottom of the H3 cluster in place w/o cutting down these plastic tabs. It can be done, but why risk breaking your new H3 cluster if you can make a few cuts and be good to go.
The picture above shows one tab completely cut and the other not. This picture was just a visual aid for where and what you need to do!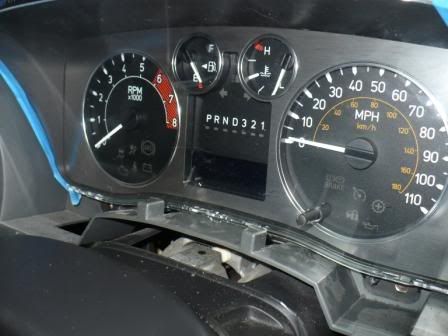 See how the cluster will drop right into place with the lower tabs cut...but we are not done yet!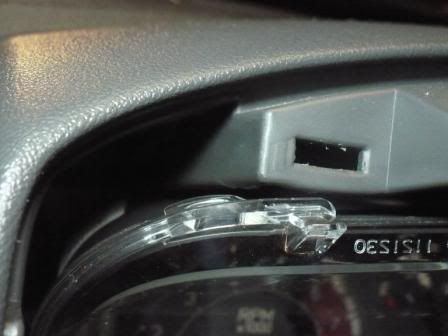 Ok we have the bottom of the cluster fitting into place, but now you will notice that the top part of the cluster needs some fine tuning....yes, more cutting and grinding(sanding).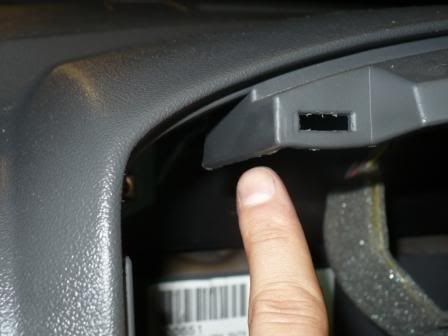 6. Carefully cut, grind or sand these problem areas until you are satisified with the overall fitment of the H3 Cluster.
NOTE: How the top left corner of the cluster and dash were rounded off. You might have to repeat this same step on the right side of your cluster/dash.
]
7. After all adjustements are made via cutting, grinding or sanding; reintall the cluster only using 2 of the 4 original mounting screws on the bottom of the cluster.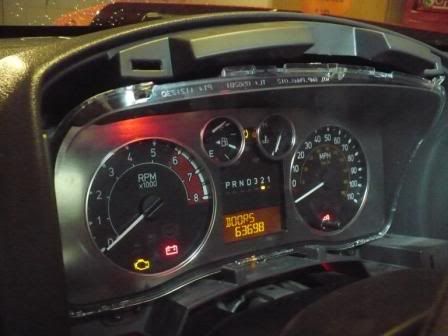 8. After the cluster is installed, start up the truck and make sure everything works. The cluster should also automatically update the mileage.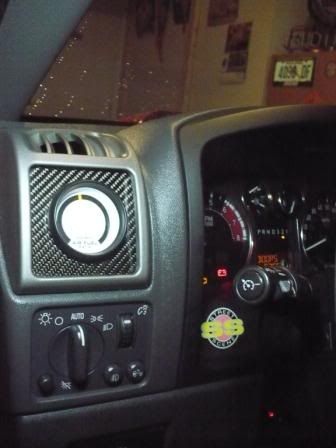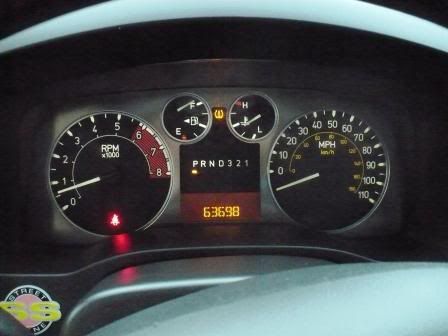 9. Reinstall the cluster surround in the reverse order of Step #1. Starting from the bottom and working your way up.
10. Sit back and enjoy your hard work.
The key point of all of this was to make this H3 cluster fit in a 355 as if it was stock. Yeah you can just break the top tabs off and jam it in there, but it will look like shit. Take pride in your work, than brag about how you installed a Hummer H3 cluster in your 355. Those non-355er's will be impressed!