Disclaimer
The community here at 355nation.net urges you to please use caution and seek professional assistance when performing modifications to your vehicle. Before attempting any modification it is advised that you refer to your Colorado or Canyon service manual or contact a certified mechanic as not all GMT355 trucks are the same. The staff and the associated members are in no way responsible for any damages, injuries or other harm inflicted to your vehicle or yourself which may result in attempting these modifications. The posts and content presented on this site reflect in no way the views of 355nation.net or it's ownership.
A 355nation (CCP) presented by
switzxx20
Project Name
How-To:
Project Description
Hook up AVIC-D3 Navigation and Reverse Wire to use all functions associated with the AVIC-D3 and D2.
Skill Level
Moderate
Project Vehicle
Make:
Chevrolet
Model:
Colorado
Year:
2006
Engine:
2.8L
Power windows:
No
Sun Roof:
No
Tools Needed
Wire Strippers
Wire Cutters
Wire Crimps
Wire Butt Connectors
Project Time
Less that one hour.
Project Cost
Free
**It has been confirmed that this also works with the AVIC-D2 models**
I know the answer has been already discussed, but I wanted to make an easy shortcut for those having problems hooking up the pink wire.

I've had the pink wire hooked up at the PCM, then disconnected, and now finally properly connected.

Just to be safe, I disconnected the negative battery terminal before doing this.
Step 1.) Grab the pink wire and run in it through the driver side firewall, or run in through the passenger firewall like I did.
Step 2.) Next, locate the wiring near the passenger fender. You should see a tan wire and green wire running side by side. It's deep in there so hopefully you've got long arms or a chair ready!
Step 3.) Get a tap-in and run the tan wire through. Now shorten the pink wire and run it through right next to the tan wire.
Step 4.) Make sure the tap-in snaps to ensure it has successfully stripped the wires enough to make a connection.
Step 5.) Start your truck up and make sure to reset the AVIC-D3 by pressing the tiny button next to the disc vacuum.
Step 6.) Go to the NAV menu, SETTINGS, and then HARDWARE INFO. Then go to 3D CALIBRATION and start driving. Try going up a little hill to make sure it's reading correctly.
Step 7.) You should be in 3D Hybrid mode now and if you did everything correctly, your DVD playback and Navigation menu should still work fine while driving.
-------------------------------------------------------------------------------------------------------------------------------
How To: hook-up the reverse wire that works with the backup camera feature.
Step 1.) On the driver's side fender under the battery, there is a plug that has several different colored wires running from it.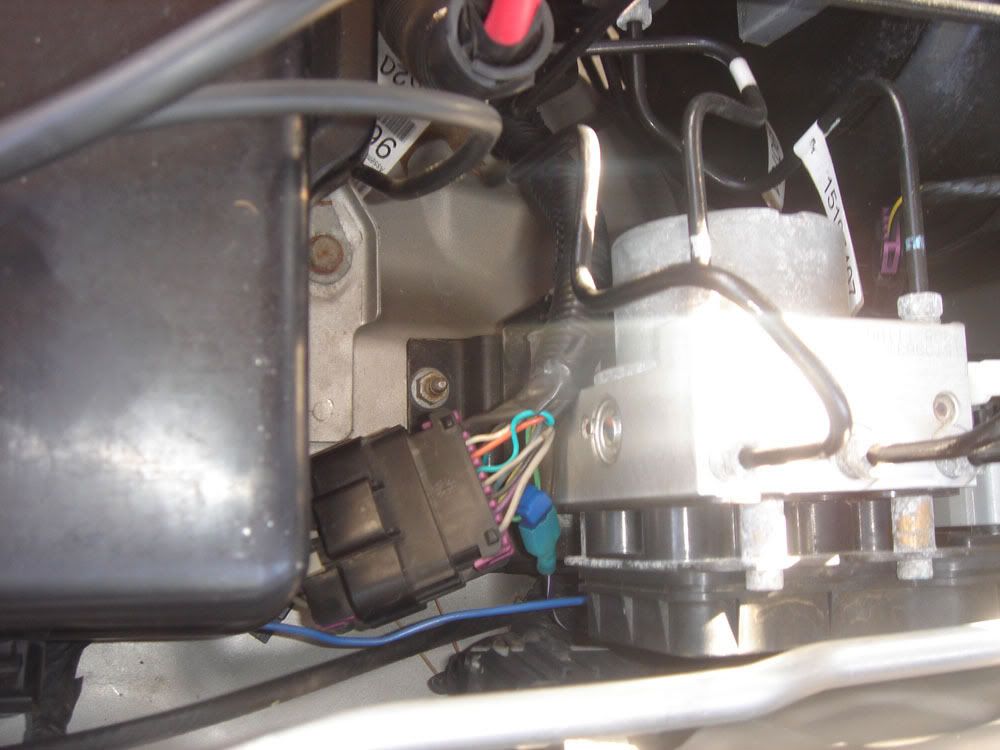 Step 2.) There are 3 green wires going into it, you want the lightest green one.
(the other two are more of a dark green/forest green color).
Step 3.) Use a tap-in the exact same way as the pink/navigation wire went into the speed sensor wire. So in this case it would be the tapping into the lightest green wire with the purple/white wire.