Disclaimer
The community here at 355nation.net urges you to please use caution and seek professional assistance when performing modifications to your vehicle. Before attempting any modification it is advised that you refer to your Colorado or Canyon service manual or contact a certified mechanic as not all GMT355 trucks are the same. The staff and the associated members are in no way responsible for any damages, injuries or other harm inflicted to your vehicle or yourself which may result in attempting these modifications. The posts and content presented on this site reflect in no way the views of 355nation.net or it's ownership.
A 355nation (CCP) presented by
dlucas
Project Name
How To: Install Belltech Coilover Shocks
Project Description
Aftermarket Replacement of stock Strut/Spring Combo
You can see my review of these shocks here
>>
http://www.355nation.net/forum/reviews/12704-review-belltech-coilover-shocks-12001-a.html
Skill Level
Moderate
Project Vehicle
Make: Chevrolet
Model: Colorado
Year: 2005
Engine: 2.8L
Power windows: No
Sun Roof: No
Tool Needed
Spring Compressor
Metric Sockets 15,17 to name a couple
Jack
Jack Stands
Air Compressor and Impact
(Not completely necessary but would be helpful)
Vice Grips or 1/4" socket
(for sway bar endlinks)
Project Time
1.5 hours to 3 hours
Project Cost
$500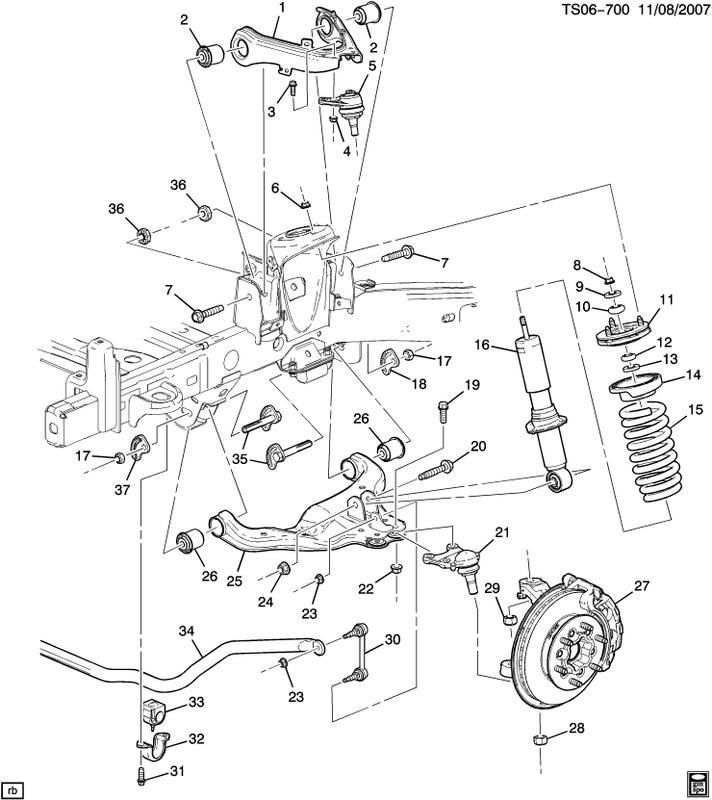 Any number in Red will mean to refer to the diagram above.
Step 1. Remove the top three nuts (6) on the top of the strut tower. (accessible from the engine bay).

Step 2. Then you must remove bottom shock bolt that is in lower a arm (20) with socket and wrench.

Step 3. Remove top sway bar end link (30). You will need a 1/4" wrench or socket to hold it still while you unscrew the 15mm nut loose. Or remove with 15 mm socket and a impact.

Step 4. Now the shock is free but will not come out until you remove lower ball joint nut (28) and swing the lower a arm down to free the stock strut/spring combo.

Step 5. You will now have to build the Belltech Coilovers as units from some of the parts of the strut/coil shock assembly. You will need to use the spring compressor to take the stock assembly apart. The spring is under tremendous pressure and could make you ugly by busting teeth breaking noses and blackening your eyes.

Spring compressor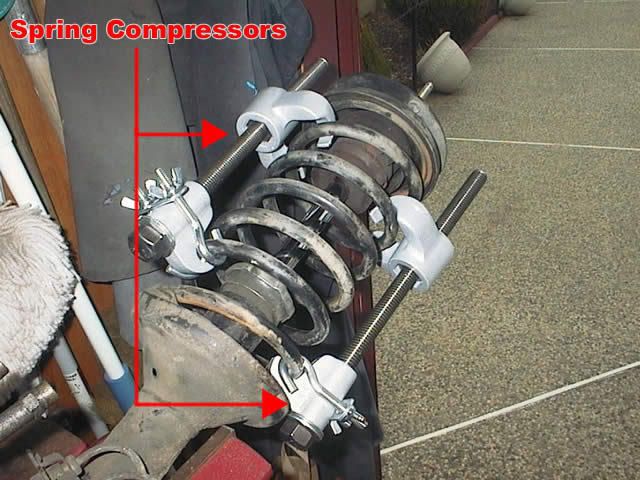 Step 6. Once you have compressed the spring you can remove the strut/coil assembly center nut (8). You will need to use a alan wrench and a wrench to remove this nut. When you take your stock one apart pay attention because that is how it goes on to the belltech shocks with the exception on (14) as it won't be used but in its place the belltech piece will be.

See this Diagram for Belltech Coilover Assembly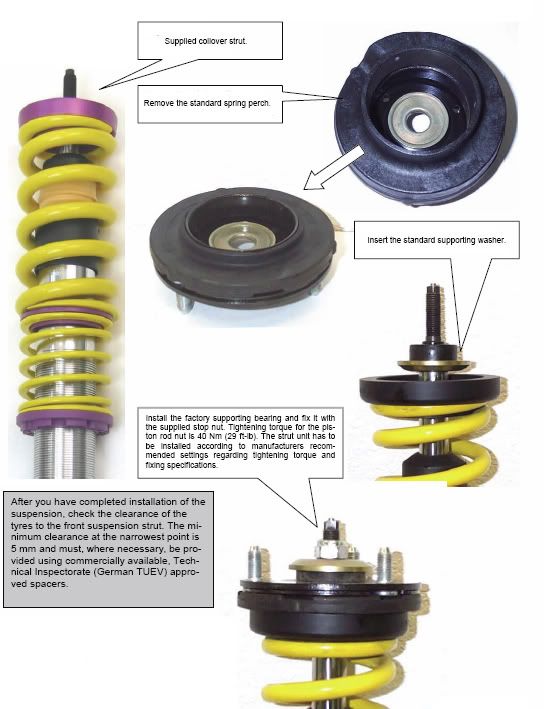 Step 6. You can now install the Belltech Coilover the same way the stock assembly came out. Install the three nuts (6) into the shock tower first to hold Coilover in place while you install the rest.

Now reverse all steps and double check you have tightened all nuts.