Discussion Starter
·
#1
·
Disclaimer
The community here at 355nation.net urges you to please use caution and seek professional assistance when performing modifications to your vehicle. Before attempting any modification it is advised that you refer to your Colorado or Canyon service manual or contact a certified mechanic as not all GMT355 trucks are the same. The staff and the associated members are in no way responsible for any damages, injuries or other harm inflicted to your vehicle or yourself which may result in attempting these modifications. The posts and content presented on this site reflect in no way the views of 355nation.net or it's ownership.
A 355nation How To presented by
07_zq8
Project Name
How To Install 1" Lowering Blocks
Project Description
Installing 1" Belltech blocks for leveling out a 07+ zq8 truck
This would also apply to a 2" block as well
Skill Level
Moderate
Project Vehicle
Make:
GMC
Model:
Canyon
Year:
2007
Engine:
3.7L
Power windows:
Yes
Sun Roof:
No
Tools Needed
13/16" Deep Socket to remove factory U-Bolts
3/4" Deep Socket for New U-Bolts
Impact Gun or Ratchet
Small Chisel
Small Hammer
WD-40
Way to support truck body(jack stands) - I used a Lift/Jack
Another Jack for the pumpkin(if you didnt use a lift)
Grinder with cutoff wheel or hack saw

Project Time
approx. 1 hour
Project Cost
I paid $35 for the blocks
Bell Tech Part #6010 - you can find them online anywhere from $30-$45



2" Blocks would be # 6110 - Approx. $10 or so more.

Manufacturer's Link: There is a application guide on this website that will help you figure out for sure if you can use these blocks if that is of concern to you. http://belltech-store.com/main-cat-store-2/suspension-lowering-blocks/lowering-block-kit/lowering-block-kit-04-10-colorado-canyon-1-block-u-bolts-hardware.html
Disclaimer:
If you are planning on doing anything larger than a 2" block, you need to keep pinion angle in mind and consult someone about adding blocks that are bigger than 2" blocks. 1 & 2" blocks will still keep the driveline within angle tolerances and do not require pinion adjusting shims. Similarly, either a 1" or 2" drop block should not require cutting the factory bumpstops, unless you like to carry heavy loads that would really load down the rear of your truck. This how to is strictly applicable to the Belltech 6010 & 6110 block kit, please do more research if you are using this How-To as a guide for anything else.
First off, I was able to use an alignment lift that had rolling jacks on it, which was a major help. If you don't have access to one, 2 jacks stands and a jack will work just fine.
Start off by making sure you have all of the pieces that you need for the installation; blocks/u-bolts/washers/nuts.




Safety first - Make sure to chock the front wheels, and give yourself a LEVEL surface to do the work on. If you are using jack stands/jack, raise each side of the truck to bring the wheels of the ground and place a jack stand on the frame rail in front of the leaf perch. Proceed to gather tools and head under the rear of the truck. You now need to put the jack under the differential but don't really need to jack it up just yet. Let it all hang. Now its time to remove 1 U-bolt from one side of the truck(doesn't matter which side first). I chose to do each side separately. Once removed, place a new U-bolt in its place to help hold things in place while you remove the second original U-Bolt on the same side of the truck. I didn't find any reason for removing the shocks since you only remove one u-bolt at a time.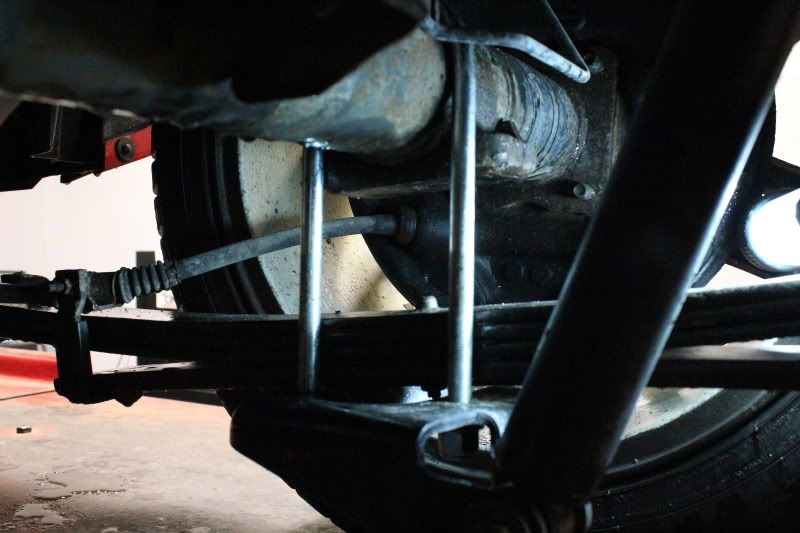 Once you remove the second U-Bolt, things should start to loosen up a little. This is when you need to jack the differential up a little so you can see the head of the cap screw/bolt that holds the spring pack together. On my truck you can see that there is some rust and scale around the head which WILL prevent the block from sitting flat on the spring pack. Remove this by using the small chisel with hammer and work your way around the base of the head until its cleaned off. Reference above picture for removing rust/scale.

Once you have cleaned the mating surfaces of the spring pack/axle plate, I would suggest coating each side of the new alum. block with a light film of regular grease. We all know that aluminum and steel don't like each other so this can help prevent corrosion and possible squeaks/ etc.
With all surfaces clean and the block greased, go ahead and line it up on the spring pin and place the other u-bolt in its location. Snug the nuts until everything comes together. Do not finish tighten them just yet. Remove the Jack from the pumpkin and repeat the whole process for the other side.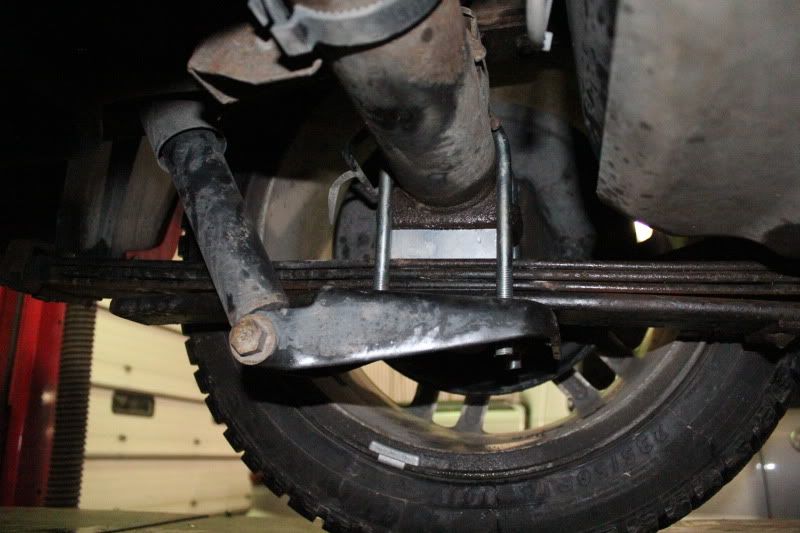 Once you have finished both sides to this point, jack up the truck under the differential and remove the jack stands. After you have removed the jack stands, lower the truck back onto its wheels/tire. Now that the truck is stitting as it would normally, climb under the truck and fully tighten the nuts on the u-bolts. This way your axle will be sitting naturally and not cocked side to side or anything.

At this point, crawl under the vehicle and check to make sure that your parking brake cable or brake lines are not binding/touching anything.
Next you need to Cut off the excess u-bolt thread to remove the chance of catching them on something. Reference above picture for cut off u-bolts.

Now that everthing is snugged up, step back and see how it looks. DON'T FORGET TO RE-TIGHTEN THE NUTS AFTER ~100 MILES OR SO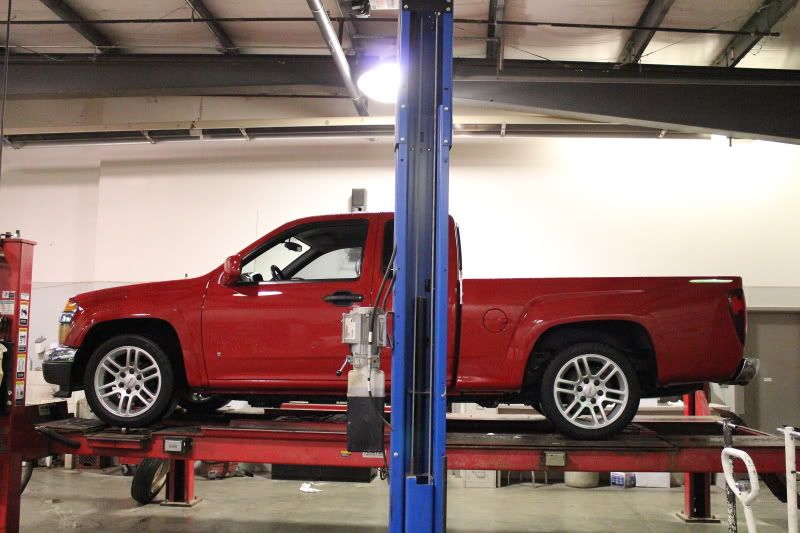 Other helpful info::
Manufacturer's Installation instructions: http://belltech-store.com/aca_php/import/images/6010.pdf

Other places that sell similar blocks(make sure to check applications of these other websites):
http://jagsthatrun.com/Colorad
rder.html
http://www.djmsuspension.com/applications/chevy%20apps.html#colorado