Discussion Starter
•
#1
•
Disclaimer
The community here at 355nation.net urges you to please use caution and seek professional assistance when performing modifications to your vehicle. Before attempting any modification it is advised that you refer to your Colorado or Canyon service manual or contact a certified mechanic as not all GMT355 trucks are the same. The staff and the associated members are in no way responsible for any damages, injuries or other harm inflicted to your vehicle or yourself which may result in attempting these modifications. The posts and content presented on this site reflect in no way the views of 355nation.net or it's ownership.
A 355nation (CCP) presented by
For20
Project Name
How To: Paint Your Canyon Grille
Skill Level
Moderate - Difficult
Project Vehicle
Make: Chevrolet
Model: Colorado
Year: 2005
Engine: 3.5L
Power windows: Yes
Sun Roof: No
Tool Needed
800 Grit Sandpaper
Masking Tape
reciprocating saw (sawzall) or dremel tool
Cleaner (paint prep)
Primer
Adhesive Promoter (optional)
Paint
Project Time
2-3 Hours
Project Cost
Cost of Materials
Step 1:
Use 800 grit and gently ruff up the surface of the grill. Just enough to take the "chrome" apperance away. Don't go to hard as to go down to the copperish layer. Do this over the entire "chrome section" enough so as when your done it should appear as brushed aluminum. Make sure to get in the inner lip really well so your paint does not chip off.
Step 2:
Once you are satisfied w/ sanding, tape the middle section around the opening w/ masking tape, so when you turn it over you do not scratch it. Or slip with the sawzall and scratch it.
Step 3:
Use a reciprocating saw (sawzall) to cut out the center bars as best you can. Be careful not to get to close in case you slip and damage the inner portion of the grille. Leave about a 1/4" of room between the grill and tabs. You can block it down (sand) later until you are satisfied.
Step 4:
Once the cutting/sanding process is done and your are satisfied. Remove the inner bars and test fit your grill. Get a buddy to help you hold it and see where you would like it to sit. Install the brackets in the holes on the insert, then place back in the grille. Use a marker to mark the holes for mounting. Once you have done this on the top and bottom, use a 1/8" drill bit to drill your pilot hole. Now once again, get that buddy to hold the grill and mount it in place. Hopefully it looks good and flush now. Your reday for paint.
Step 5:
Remove the grille and tape. (make sure to remove the brackets also) Take a scotch brite pad and gently rub ALL areas of the grill down with it.
Step 6:
Now take an alcohol based cleaner and wipe the ENTIRE grill down. Then proceed to dry with a CLEAN cloth.
Step 7:
Now you can perform the PLASTIC PREP stage. All of them vary, so please Check the direction on which brand you use. You might not have to do this step but it is recomended.
Step 8:
Once prepped, coat with adhesion promoter. Wait the appropriate flash time, and coat evenly with sealer.
Step 9:
Once ready, apply your first base coat. Wait about 5min, and apply a second.
Step 10:
Go have a smoke (5min) and apply your first clear coat. Wait another 5 and apply the second.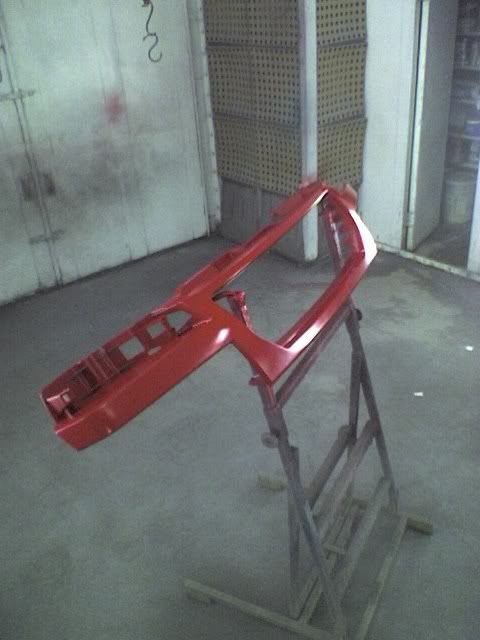 Step 11:
There you go. You painted your grille
Now just wait for it to dry COMPLETELY and reinstall your insert.
Hope that covers everything. Any questions Pm me.