Disclaimer
The community here at 355nation.net urges you to please use caution and seek professional assistance when performing modifications to your vehicle. Before attempting any modification it is advised that you refer to your Colorado or Canyon service manual or contact a certified mechanic as not all GMT355 trucks are the same. The staff and the associated members are in no way responsible for any damages, injuries or other harm inflicted to your vehicle or yourself which may result in attempting these modifications. The posts and content presented on this site reflect in no way the views of 355nation.net or it's ownership.
A 355nation (CCP) presented by
dlucas
Project Name
How To: Paint Your Door Handlesl
Project Description
Get that smooth and clean look for less than 30 bucks!
Skill Level
Moderate
Project Vehicle
Make: Chevrolet
Model: Colorado
Year: 2005
Engine: 2.8L
Power windows: No
Sun Roof: No
Tool Needed
3/4" socket
Parts/Materials Needed

-800 grit sandpaper
-2000 grit sandpaper
-1 can sealer primer Duplicolor brand. DAP 1699 Gray Primer Sealer
-1-2 cans of base coat color Duplicolor brand
-find your color here http://duplicolor.anthonythomas.com/match2/match_maker.cgi
-1 can clear top coat Duplicolor brand. DS125 Clear Top Coat
Project Time
Not including paint cure time about 3 hours.
Project Cost
$30 or less
This process worked well for me just ensure your parts are always clean and dirt, dust and oil from your hands free. It is a good idea to clean after every step and use a tack cloth to keep the dirt off. Do this in a well ventilated area and with as little air movement as possible so dirt doesn't land on your work. Where a mask as this paint smells bad and can't be good for ya.
Step 1.
Take door handles OFF the truck.
Step 2.
Prep handles with 800 or lower sandpaper to take some of the texture off.
Step 3.
Shoot several coats of primer sealer until texture is covered good.
Step 4.
Sand with 800 grit sandpaper to even the primer in the texture's groove's
Step 5.
Repeat step until texture is gone and handles are smooth.
Step 6.
Shoot several light coats of color.
Step 7.
Sand with 2000 grit sandpaper to ensure a smooth finish and to verify that base coat is thick enough.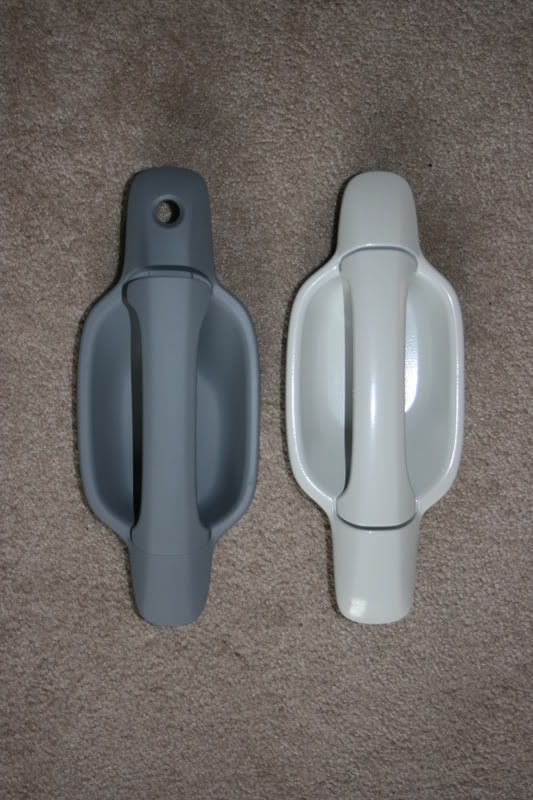 Step 8.
Spray more coats of color.
Step 9.
Spray several light layers of clear.
Step 10.
lightly sand with 2000 grit and spray again until you feel all areas have a nice coat of clear.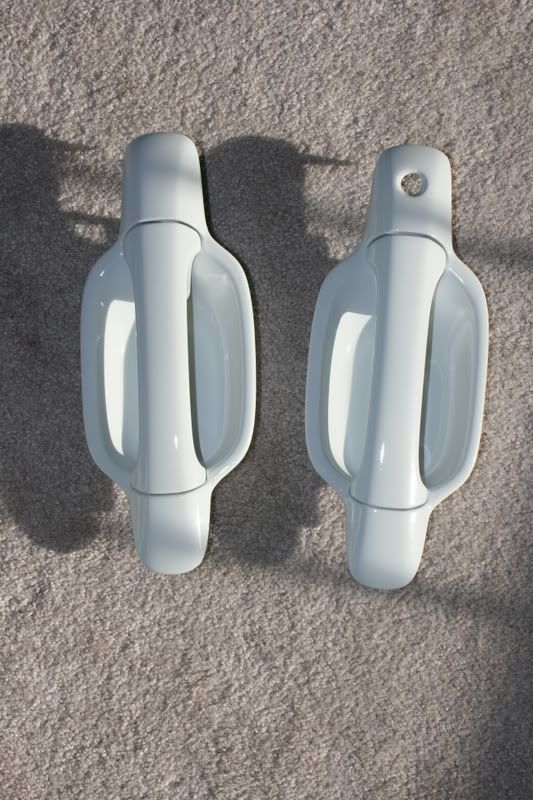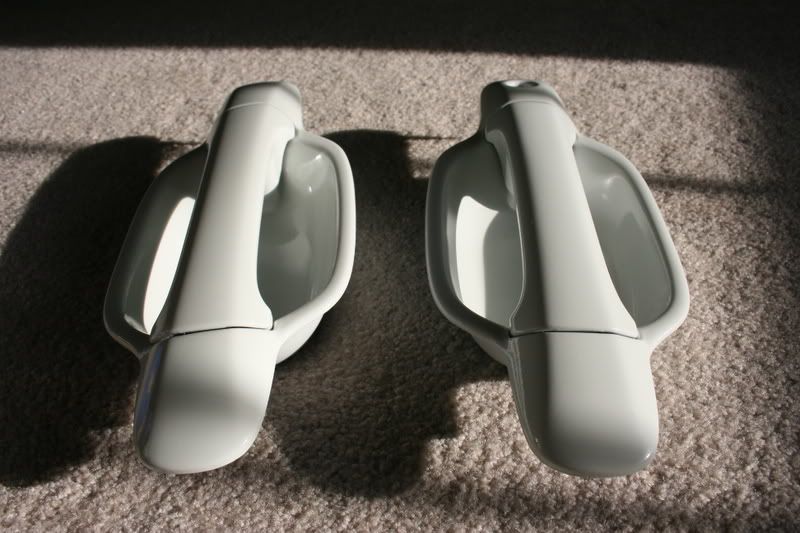 optional and after paint has had plenty of time to dry.
Step 11.
Sand with 2000 grit until clear coat is nice and smooth and has a semi dull finish.
Step 12.
Follow with polishing compound.
Step 13.
Finish with wax.
After polishing with wax, I could sand some more and polish some more but I am happy with the results and will leave them alone.