Disclaimer
The community here at 355nation.net urges you to please use caution and seek professional assistance when performing modifications to your vehicle. Before attempting any modification it is advised that you refer to your Colorado or Canyon service manual or contact a certified mechanic as not all GMT355 trucks are the same. The staff and the associated members are in no way responsible for any damages, injuries or other harm inflicted to your vehicle or yourself which may result in attempting these modifications. The posts and content presented on this site reflect in no way the views of 355nation.net or it's ownership.
A 355nation How To presented by
blurred
Project Name
Rebuilding a waterlogged tonnea
Project Description
Rebuilding a waterlogged Checker (or similar) tonneau cover
Skill Level
Moderate
Project Vehicle
Make:
Chevrolet
Model:
Colorado
Year:
2007
Engine:
3.7L
Power windows:
Yes
Sun Roof:
No
Tools Needed
2x Foam Boards - Expaned Polystyrene - 4'x8'
Industrial strength Adhesive that will not react with styrofoam
A long, thin scraper of some sort
Rivet gun
Rivets
Drill w/drill bit to drill out rivets in the tonneau
Steel L bars

Project Time
48+ hours
Project Cost
Foam boards - $14 each
Adhesive (that I used) - $20
Steel L bars - $6 each
I purchased this tonneau after seeing it posted for sale nearby with the description of "changed it out because it's heavy." The tonneau looked just fine, though it was very heavy. It probably weighed about 100 lbs or so, which took some effort to lift it. This was also causing issues with my bed.

After doing some research and a tip from @rshadd about a run-in he had with a hot-tub cover he had years ago, I figured I would do some more digging.

First, I drilled out the rivets and pulled off the back section of the metal frame to see what was inside. As suspected, it was a foam core with a fiberglass sheet on the top and a fiberglass/plastic sheet on the bottom. The foam core was waterlogged.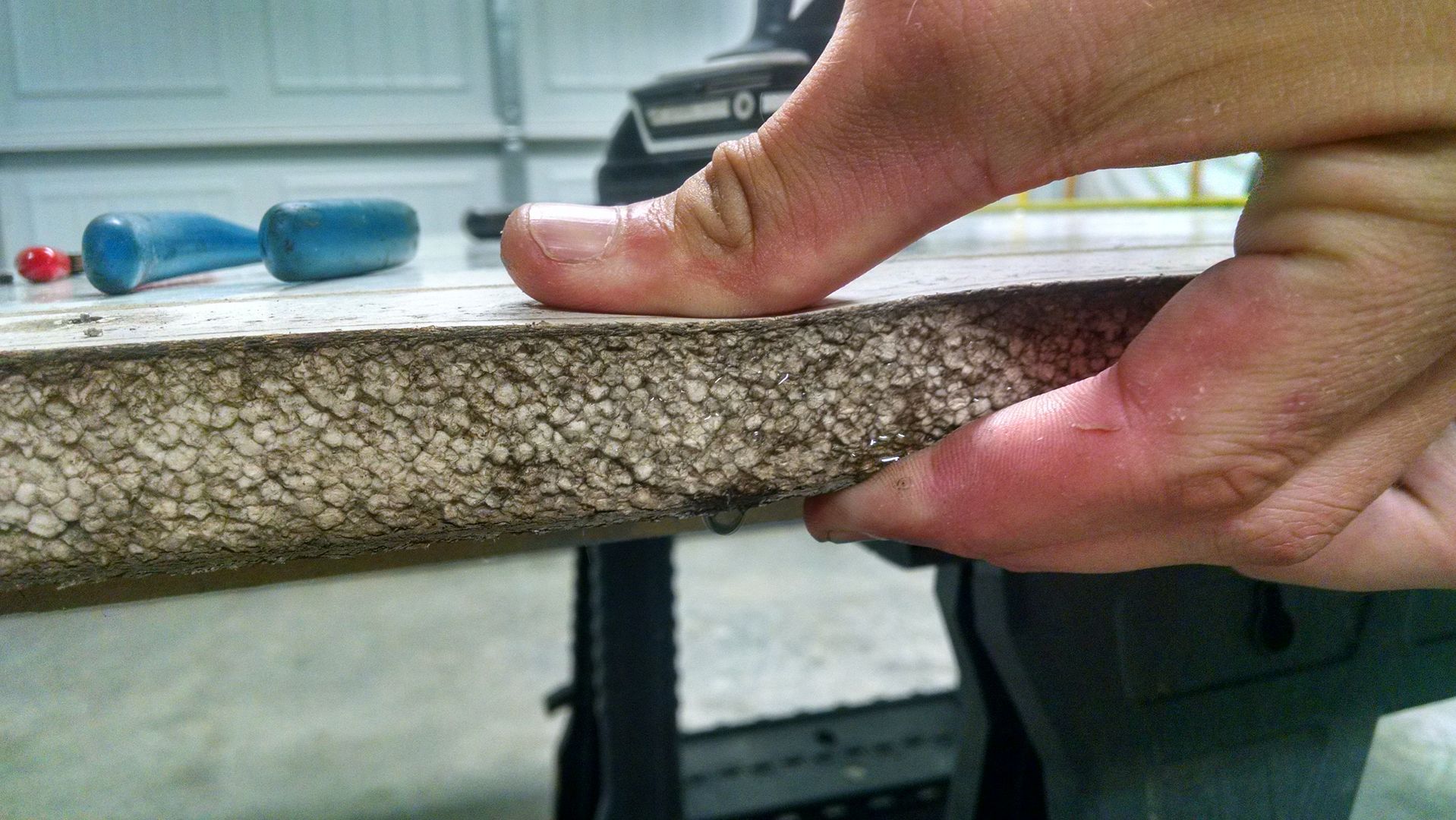 Then I pulled the tonneau off the truck and laid it top side down. Then drilled out all the rivets and pulled off the frame, piece by piece.



Then I pealed the bottom fiberglass/plastic piece off in order to expose the foam. I tried sitting the foam in the sun/heat for a two days, but it did not dry out. FYI, after doing some research, it will not dry out for reasons I can explain if you are curious.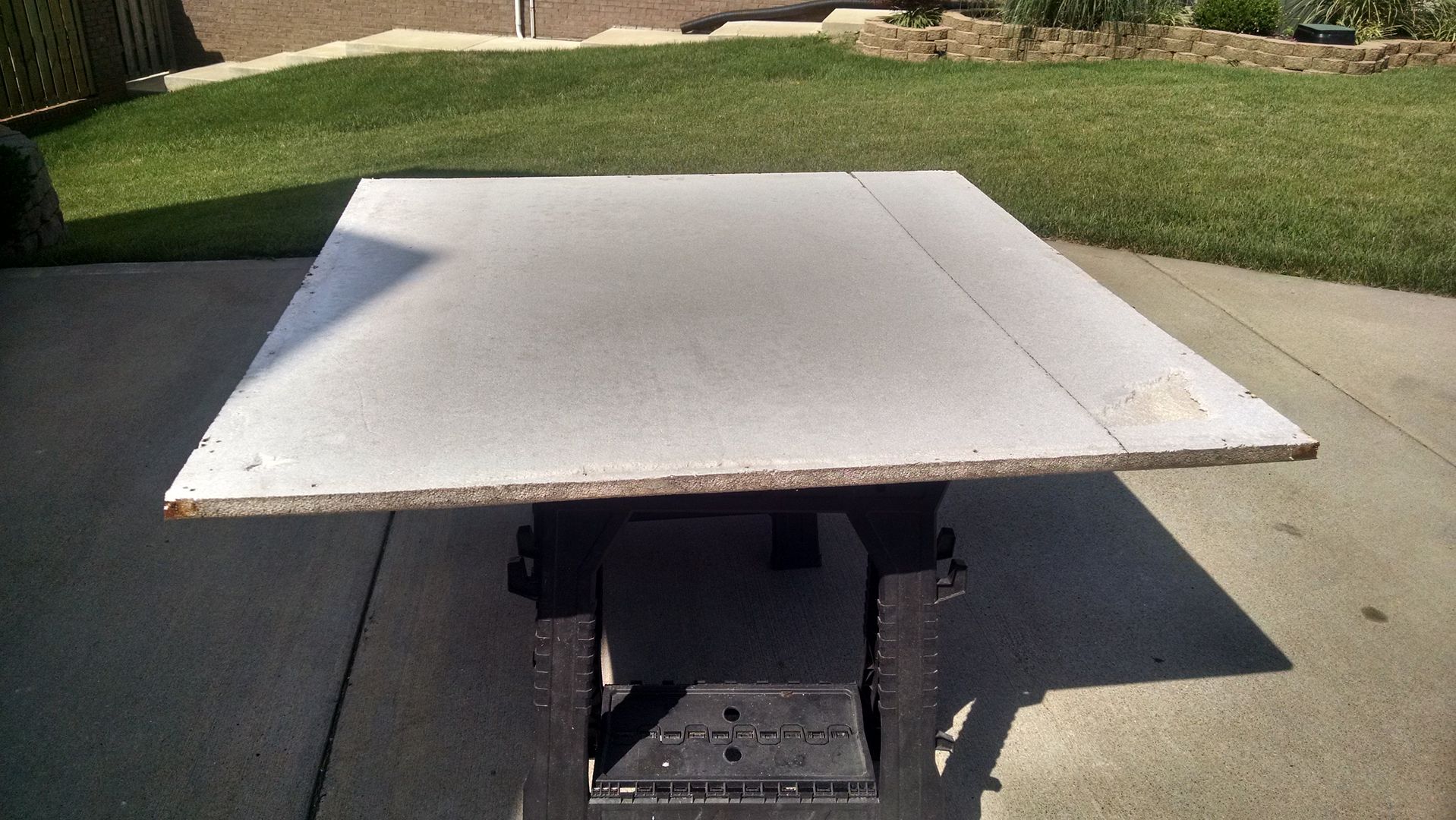 After that, I pulled it back into the garage and went to town removing the foam from the top piece of fiberglass. I did not want to rip the top piece or poke any holes so I used a saw I had that has a long thin, flexible blade. I slid the blade back and forth between the foam and the fiberglass sheet to separate the two. Then, once I couldn't get any further under the foam, I lifted it and broke it off, then repeated the process until complete.



This piece alone weighed twice the amount that two full pieces of 4'x8' foam weighed.

I attempted to use some contact cement, both spray and liquid, but it did not work.


At the suggestion of @DBNissan, I tried the Glidden Gripper. So far, it has worked out well. Unsure how it will hold up to the rain and heat/cold. This does not work with rains. The Gripper is a water based product and the rains will wash it out from inside the tonnuea, causing it to run down into the bed of the truck. Going to go back to the drawing board and try a different adhesive.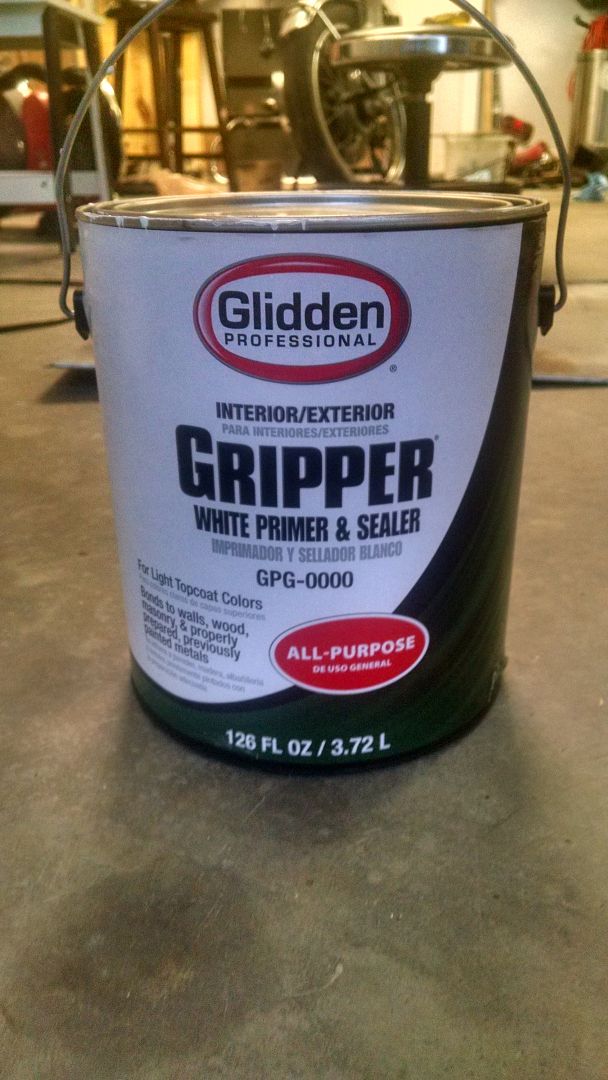 Then I laid Gripper across the section of the foam boards that would make contact with the top piece. I also spread it across the top and placed the top piece onto the foam. Be generous but don't leave puddles. Then I placed weight on it and let it dry for 24 hours.



After it was dry, I cut the foam board down to the size of the top piece. This would allow me to align the bottom fiberglass/plastic cover where it needs to be. I repeated the same steps as above and let it dry for 24 hours.



Then I sanded/straightened the pieces of the frame and painted them.



After everything was dry, I slowly pieced it all back together and used the rivets to secure it.



I also cut two pieces of steel L bars and riveted that to the frame for some structure since the foam I used didn't seem to have the strength the original did (or I just wanted more strength).



Now, I laid some paint down on it for a temporary solution to avoid it becoming water logged. This was just some satin black latex paint I picked up at Lowes. In order for it to be done properly, and to keep it from becoming waterlogged again, it needs a sealer/caulk used at the edge of the frame and fiberglass top as well as painted to keep the water from seeping through.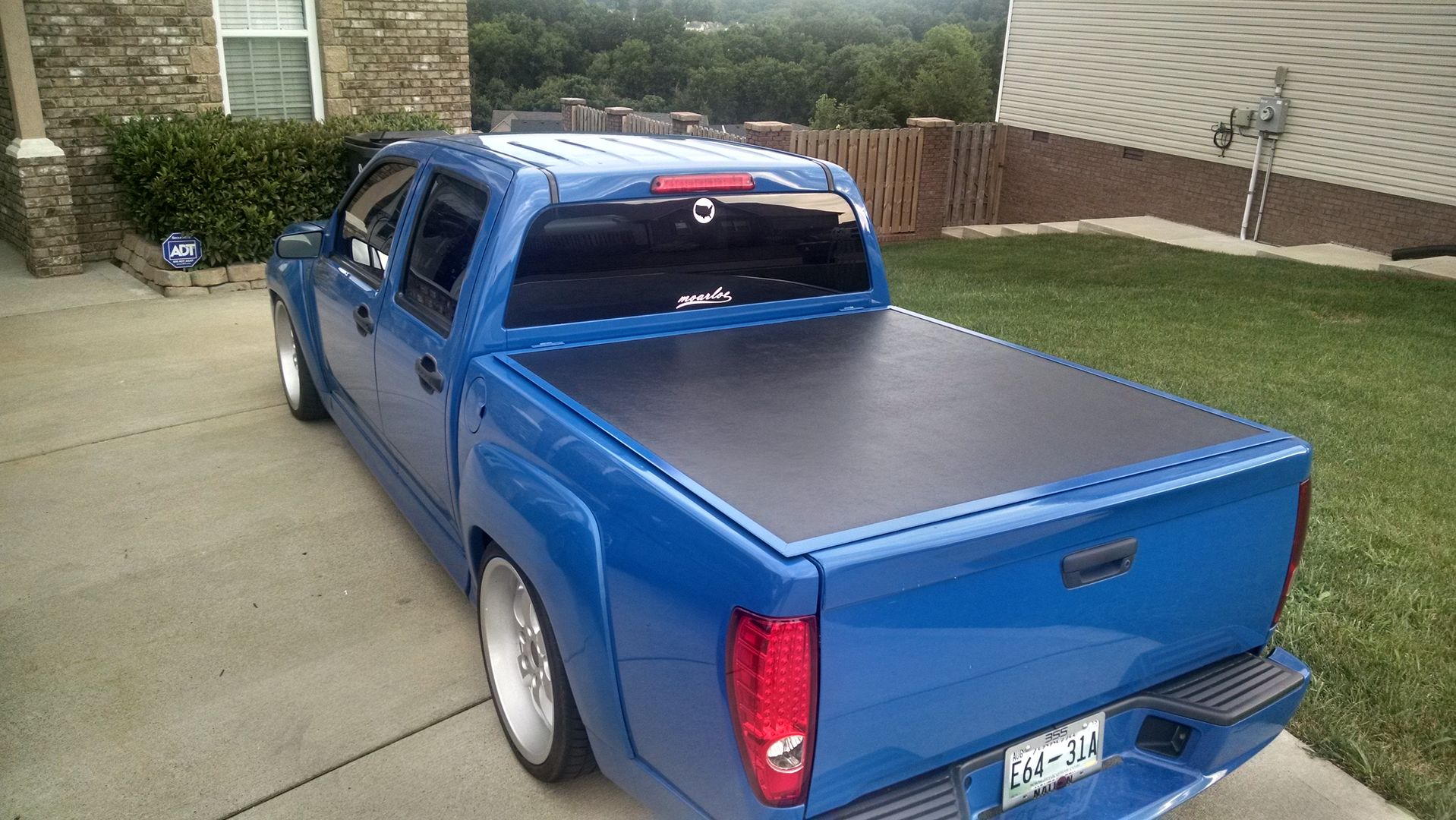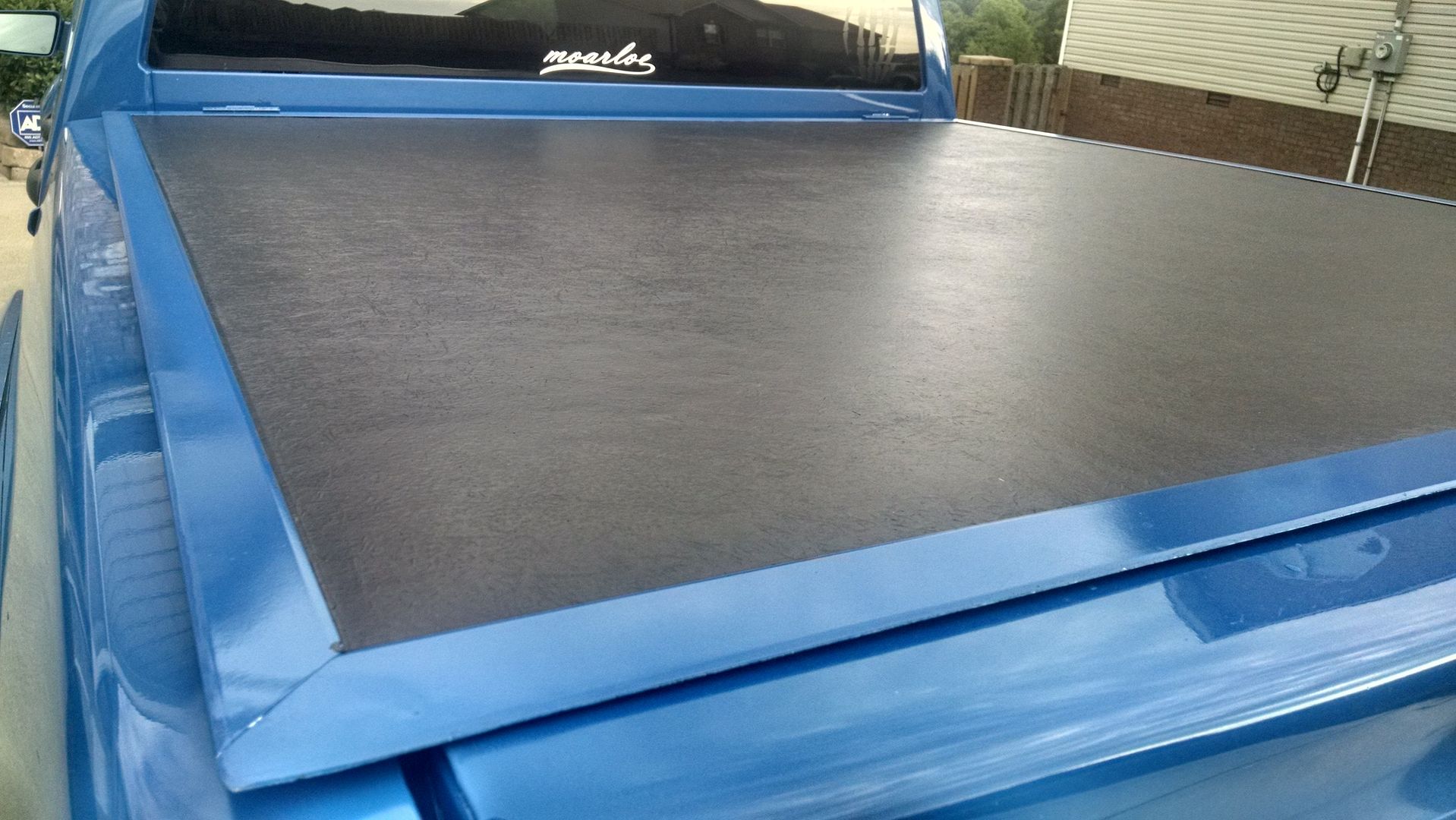 And, to test it, I was able to lift the tonneau easily on my own and place it on the truck. I also used the shocks that came with it, which wouldn't even come close to even thinking about holding it up previously...
Checker Tonneau Test