Disclaimer
The community here at 355nation.net urges you to please use caution and seek professional assistance when performing modifications to your vehicle. Before attempting any modification it is advised that you refer to your Colorado or Canyon service manual or contact a certified mechanic as not all GMT355 trucks are the same. The staff and the associated members are in no way responsible for any damages, injuries or other harm inflicted to your vehicle or yourself which may result in attempting these modifications. The posts and content presented on this site reflect in no way the views of 355nation.net or it's ownership.
A 355nation How To presented by
Freewood
Project Name
z85 leaf spring removal
Project Description
In this block of instruction, you will learn how to disassemble your z85 leaf pack, remove the second largest leaf (second from top) and reassemble to achieve an additional drop with or without lowering blocks. NOTE: Not recommended for zq8 leaf packs; owners discretion.
Skill Level
Easy to Moderate
Project Vehicle
Make:
Chevrolet
Model:
Colorado
Year:
2005
Engine:
3.5L
Power windows:
Yes
Sun Roof:
No
Tools Needed
C-clamps: 2x
Locking Pliers: 1x
10mm deep socket&wrench
21mm deep socket&wrench
19mm deep socket
Impact (optional)
Hammer and chisel
Wire brush (optional)
Shop rag
Jack and stands: 2x or more

Project Time
1 hour or more
Project Cost
No cost given the fact you have all tools available
Step 1: Raise rear of truck and support with jack stands on frame and remove wheels. Support axle with jack as you work one side at a time removing rear lower shock bolts and stock U-bolts with 21mm deep socket and wrench. Raise axle off leaf pack, remove parking brake bracket with 10mm socket and shackle bolts with a 21mm deep socket and wrench. Note: DJM U-bolts require a 19mm deep socket to remove nuts.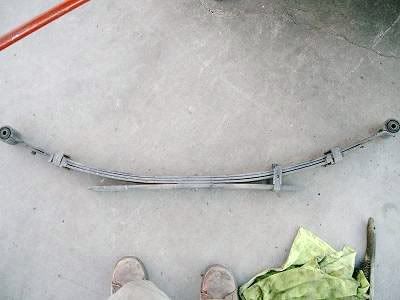 Step 2: Place leaf pack arch up and tighten C-clamps on each side of short load spring and with locking pliers, locate hexless guide bolt top on leaf pack and lock with pliers; find opposite end of bolt and remove nut with 10mm deep socket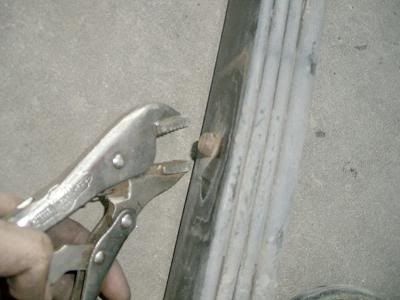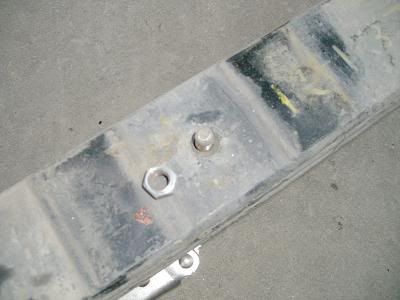 Step 3: Once bolt center guide bolt is removed, remove short load leaf and begin to unload the tension on the leaf springs by loosening the grip of C-clamps in an alternating fashion; left side, right side, left side, right side.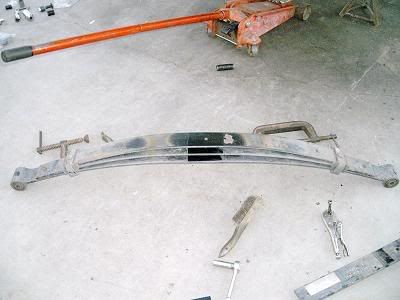 Step 4: With leaf pack now decompressed, remove all three black retangular spacers from the center and slide the second longest leaf with round plastic spacers to one side of the pack and the shorter leaf with the spring clamps to the opposite. With hammer and chisel, wedge the second longest leaf away from the main leaf and tap the spacer out of the leaf. Remove chisel and repeat the process on the opposite end.


With spacers gone, the second largest leaf can slide out of the spring clamps.



Step 5: Slide the second longest leaf to far left or right and the shorter top leaf to far opposite; one side will come out of the spring clamp and you will pull it out to the side and begin to pull and tap the rear till the leaf slides out of the opposite clamp.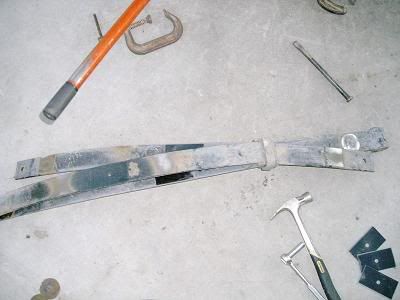 Second leaf removed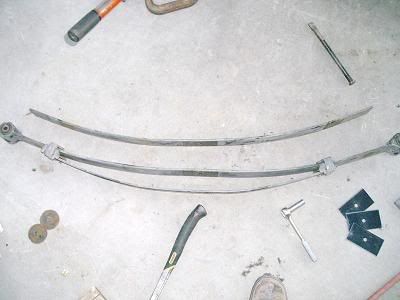 Step 6: Take your wire brush and or rag and clean off all dirt, rust and flaked paint before you reassemble the leaf pack. Doing this will minimize or eliminate future squeeking during flexing.
Return leaf pack to the arch up position and, replace two of the three black retangular spacers in the center use the center bolt as a guide to keep the top leaf centered. Apply C-clamps to orginal position and allow space for the load leaf once the pack is compressed. Tighten center bolt once load spring is in place.



Install leaf pack in reverse order of how you removed it, install lower shock mount, shock and U-bolts and move to the next side.
[/QUOTE]