Disclaimer
The community here at 355nation.net urges you to please use caution and seek professional assistance when performing modifications to your vehicle. Before attempting any modification it is advised that you refer to your Colorado or Canyon service manual or contact a certified mechanic as not all GMT355 trucks are the same. The staff and the associated members are in no way responsible for any damages, injuries or other harm inflicted to your vehicle or yourself which may result in attempting these modifications. The posts and content presented on this site reflect in no way the views of 355nation.net or it's ownership.
A 355nation How To presented by
07_Zq8
Project Name
How To Replace Front Shock Absorber(s) 2WD
Project Description
This how-to will show you what to do if you need to replace your front shock absorbers on a 2wd truck
Skill Level
Moderate
Project Vehicle
Make:
GMC
Model:
Canyon zq8
Year:
2007
Engine:
3.7L
Power windows:
Yes
Sun Roof:
No
Tools Needed
13/16 inch Socket and Wrench for removal of bottom Shock Bolt
15mm wrench for removal of spring assembly upper mount & upper shock nut
Vice Grips or 1/4" wrench for holding sway bar link bolts
Coil Spring Clamps, or Spring Tamer
Allen Wrenches for holding upper shock shaft in place while removing nut

Project Time
45min-1hr per side depending on available tools
Project Cost
price of replacement strut/shock, ~65$cost @dealership
Start off by jacking up the front of the vehicle. It is best to have both front tires off the ground so that your sway bar link is not fighting you from on side being higher than the other. I was only replacing my driver side shock, mainly because it was leaking at 40xxx miles and 4 yrs old.

Next remove the wheel(s) to access inner fender area. Remove the REUSABLE pop clips that hold the inner fender to the body. Remove inner fender plastic.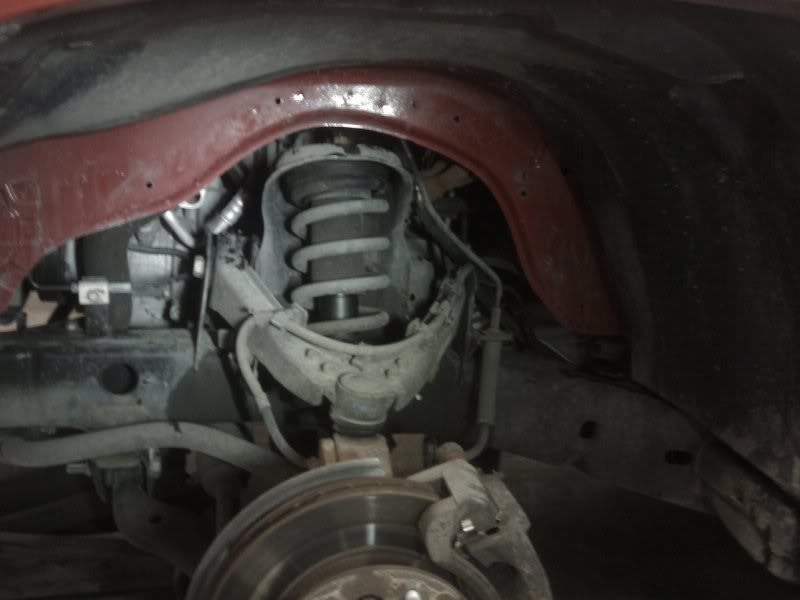 Next Remove the large bolt at the bottom of the shock/spring assembly, use a little caution as there may be a small amount of tension on it, but nothing to worry about.

You then need to remove one or both of the sway bar link nuts to disconnect the sway bay from the lower control arm. I am not sure if this step is ultimately necessary because there may be enough room to move the control arms around since both wheels are jacked up off the ground. IF not, use vice grips or suitable to hold link stud(s) and use 15mm wrench to remove.



You now need to remove the 3 outer 15mm nuts that hold the top part of the assembly to the spring pocket. DO NOT REMOVE THE CENTER NUT, AS THIS HOLDS THE TENSION OF THE ENTIRE COIL SPRING, it wil be removed after the spring has been compressed.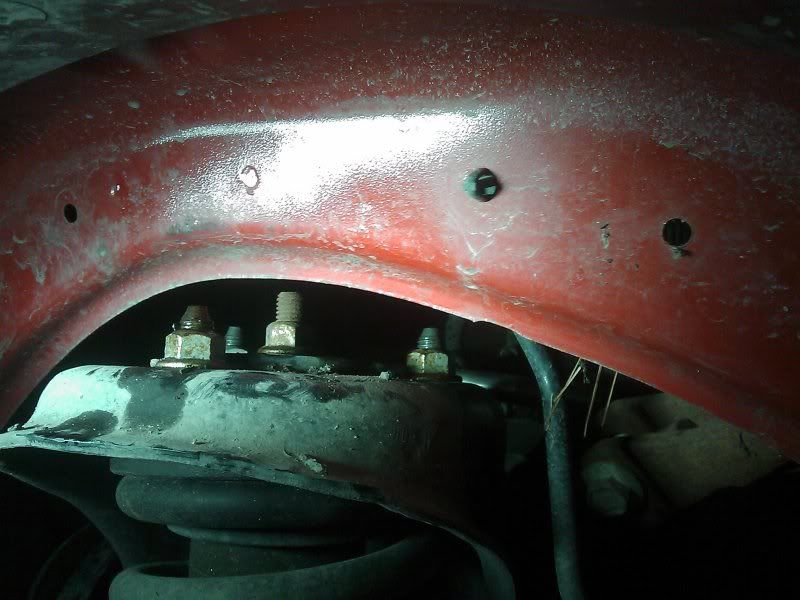 Once the nuts are removed, you should be able to pull the spring assembly down and towards the rear of the truck and should come out without too much hassle. Now you need to use your spring compressors or strut tamer as I did to compress the spring enough to allow the bottom of the shock to become loosened.



Once Compressed, you can then remove the 15mm nut on the top of the shock stud. Once removed the shock should just fall right out.



Make sure you replace the bushings before installing new shock back into the assembly.
I took my finished spring assembly to the solvent washer to remove old oil and dirt, then finished cleaning it by hosing it down with hot water. you can use WD40 or other cleaner and rags to the clean the spring as well. Avoid chipping or knicking the spring's coating to prevent rust from happening.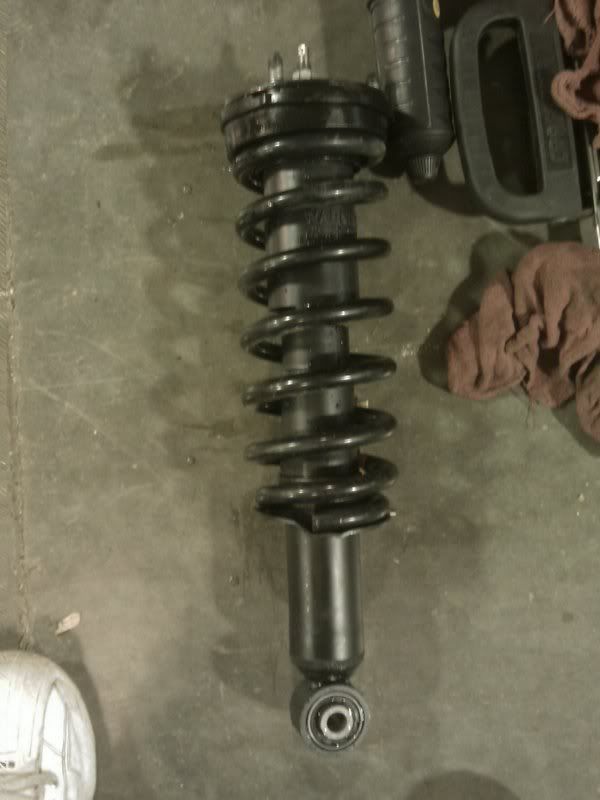 Here is a picture of the spring pocket with no assembly in it: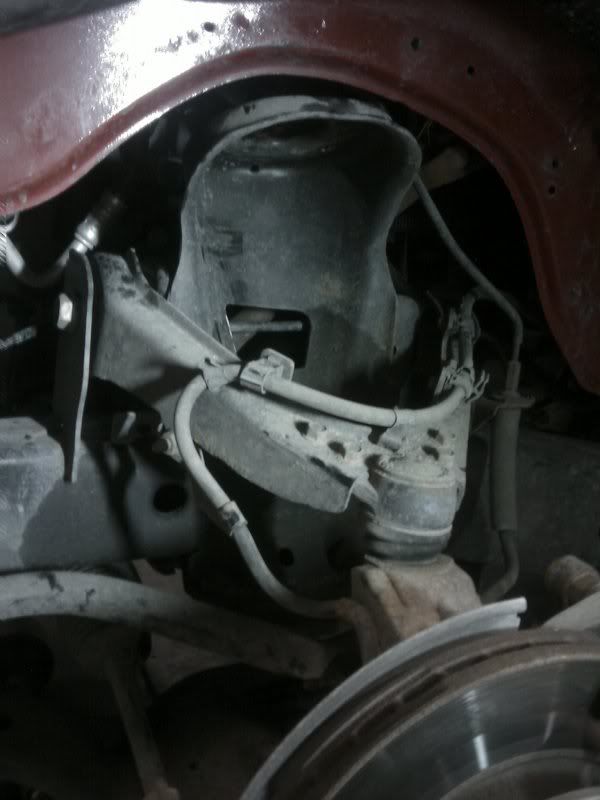 Once you've cleaned it up, install in reverse order and also install inner fender with original pop clips. Put wheel(s) on and torque to 103lb-ft(2wd models). Now go hit some bumps and break in the new shock(s)!