Disclaimer
The community here at 355nation.net urges you to please use caution and seek professional assistance when performing modifications to your vehicle. Before attempting any modification it is advised that you refer to your Colorado or Canyon service manual or contact a certified mechanic as not all GMT355 trucks are the same. The staff and the associated members are in no way responsible for any damages, injuries or other harm inflicted to your vehicle or yourself which may result in attempting these modifications. The posts and content presented on this site reflect in no way the views of 355nation.net or it's ownership.
A 355nation (MTS) presented by
lkout4trucks
Project Name
How To: Reupholster Your Headliner
Project Description
Reupholster your headliner with suede or any other material for a new and custom look.
Skill Level
Moderate
Project Vehicle
Make: GMC
Model: Canyon
Year: 2005
Engine: 3.5L
Transmission: Automatic
Power windows: Yes
Sun Roof: No
Tools/Materials Needed
Suede Fabric
Screwdrivers
Fabric Spray Glue
Scissors
Project Time
1.5-2 Hours
Project Cost
Less than $50.
Step 1. Take down all your interior pieces that are holding the headliner up
- handles, plugs, coat hanger (watch for the back piece underneath the headliner), etc...
- pull off your pillars (grab from the top and yank, they will just pop off)
- pull the other paneling along the headliner off grabbing from the top...also should just pop right off

Step 2. Remove headliner from vehicle and place on a larger size table giving yourself plenty of room to work with.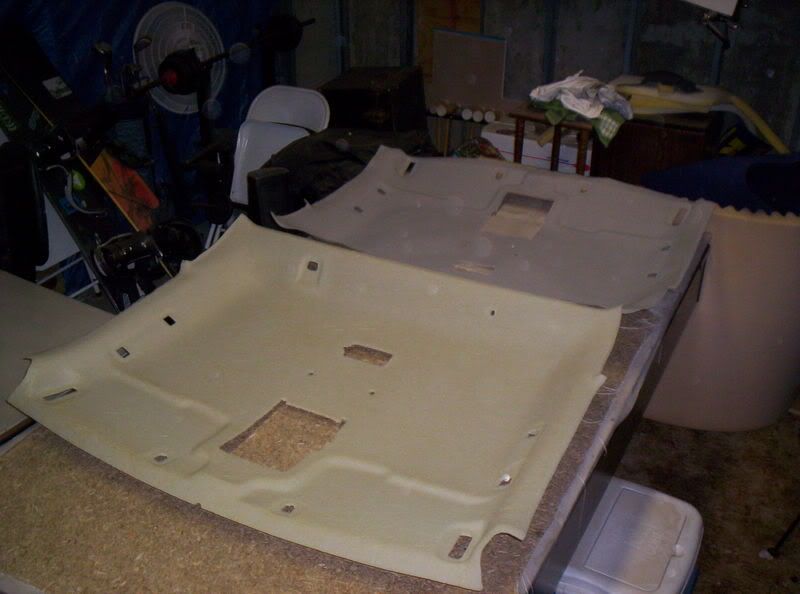 Step 3. Pick the fabric off of the corner of headliner and pull back at a shape angle. The fabric should be able to come off all in one piece...it was so simple compared to others i have done!
- see above picture background...that back panel is the OE fabric!

Step 4. Clean off the headliner and make sure you don't have any little threads left loose on it.

Step 5. Lay fabric over the headliner and place it all where you think it should go.



Step 6. Use a good adhesive to hold fabric well. I used 3M general trim adhesive
(You can get it at Wal-mart $9.88 a can, one can should do)



Step 7. Work the fabric on SLOWLY starting from the middle, work forward, then front, then sides, then rear (at least that helped me doing it that way).

Step 8. Let it dry for an bit (go eat something lol) make sure no fabric feels loose afterwards.

Step 9. Tuck back excess fabric. Ideally you'll have like 4-6" hanging over in case you have to adjust it down the road.

Step 10. If your fabric won't stretch super well like mine did, get it the best you can and then fold and sew where need be. I did the back corners and you can hardly tell...

Heres the old headliner. Behind it is the OE fabric. It came off SUPER easy. Never done a headliner that came off so smooth.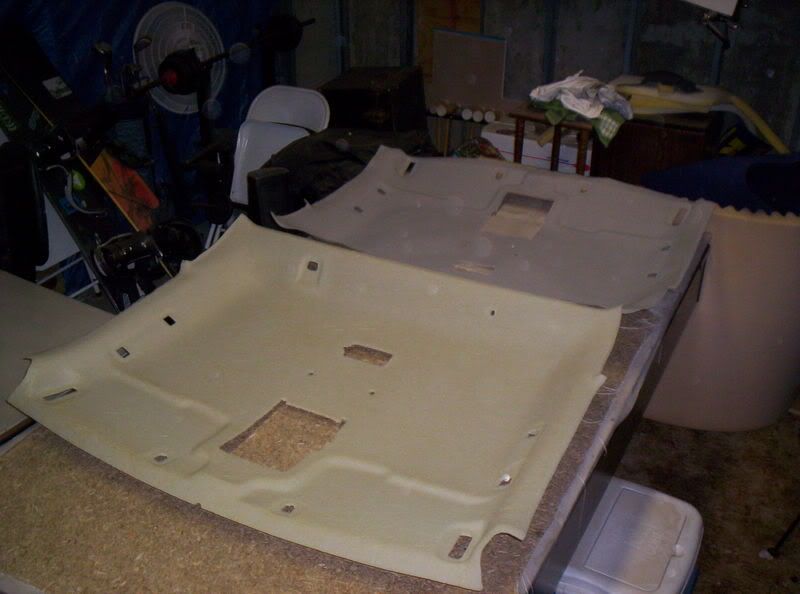 Before: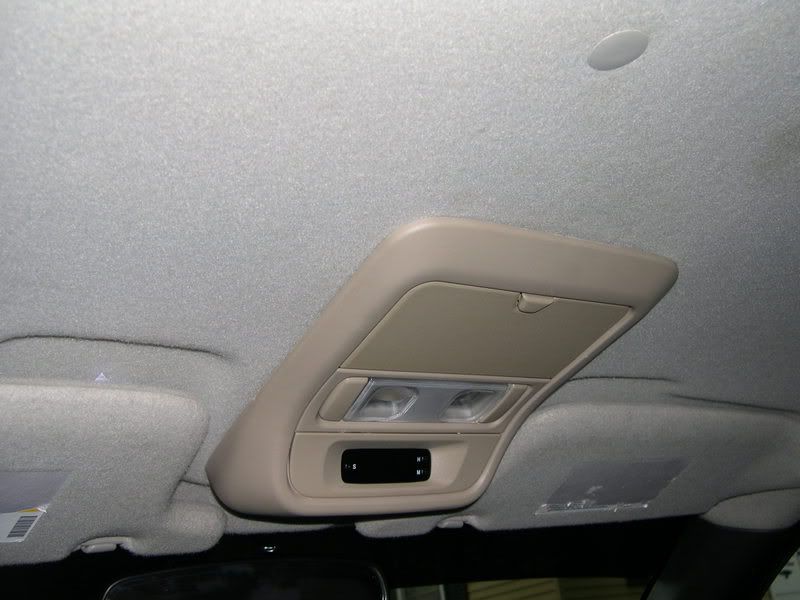 After: