Discussion Starter
·
#1
·
Disclaimer
The community here at 355nation.net urges you to please use caution and seek professional assistance when performing modifications to your vehicle. Before attempting any modification it is advised that you refer to your Colorado or Canyon service manual or contact a certified mechanic as not all GMT355 trucks are the same. The staff and the associated members are in no way responsible for any damages, injuries or other harm inflicted to your vehicle or yourself which may result in attempting these modifications. The posts and content presented on this site reflect in no way the views of 355nation.net or it's ownership.
A 355nation How To presented by
LCpl BB
Project Name
Stencil with a Cricut and Plastidip/Flexidip
Project Description
To show how I was able to use a custom stencil, for the center caps of my wheels
Skill Level
Moderate
Project Vehicle
Make:
GMC
Model:
Canyon
Year:
2012
Engine:
3.7L
Power windows:
Yes
Sun Roof:
No
Tools Needed
Plastidip or Flexidip
Stencil - either by hand cutting or using a machine such as a "Cricut"
What the hell is a Cricut you say?

A Cricut is this -->>Cricut Video

Basically it's like a plotter printer that can cut, or draw any image you can imagine. The complexity would only be limited by your imagination, and the current software's limitations.
Project Time
1 hour or less
Project Cost
About $6-7 a can, depending on the level of complexity you want to add to the project.
Cricut runs from $200+, not needed for this project, but results are in the pics. They can be bought from the Cricut homepage, Amazon, or EBAY

There are alot of older models out there, but they dont have any of the newer fonts, images, and the like available to them.
I recently had to get some new wheels due to warping in one of the OEM 5 spoke wheels.
I have no use for these anymore, hint hint.
My old wheels, I had dipped the whole wheel black, and did a stencil on the center cap.
These are the new center caps for my new wheels.
But that isn't the look I'm after. So first lets apply a base coat. I did 4 coats here.
My wife is really into scrap booking, she used her
Cricut
to cut the stencils, she also has materials to make them sticker like. These can be found at any local crafts type store. In this case I had her cut me this custom stencil.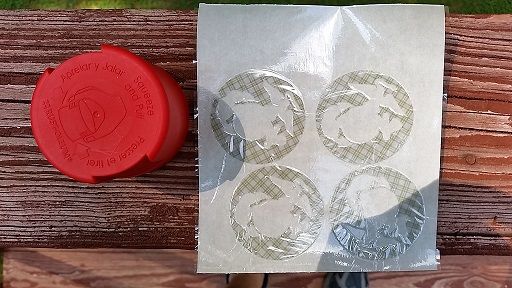 Once your base coat is dry to the touch, you can apply the stencils. Do this lightly as you don't want to mess up your base coat. She didn't catch the error, but I did, bless her heart.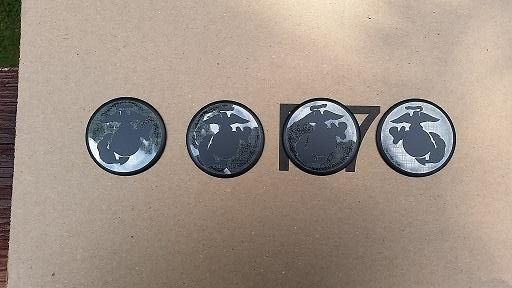 Fixed the error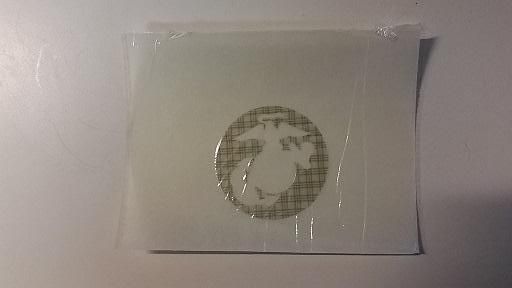 Once you have the stencils on, you can start with the next color. Since my truck is mostly at this point black/red, I chose red. Starting the first of four coats here.
After 3-4 coats, while it is still somewhat wet, you want to very carefully remove the stencil. You do this wet so the plastic wont adhere to the stencil, or the other layers of dip.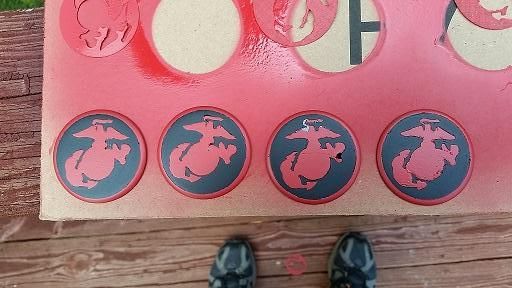 I am not happy with this result at all!
Lets try again shall we? I let everything dry, and removed all the old dip, re-sprayed black base coat x4, then shot it with red x4. Once that was done I took the part of the stencil that was cut out, and used that instead of the outer ring. After applying the inner cut out of the stencil on the now red base coat, I shot it again with 4 coats of black.
This is how that turned out.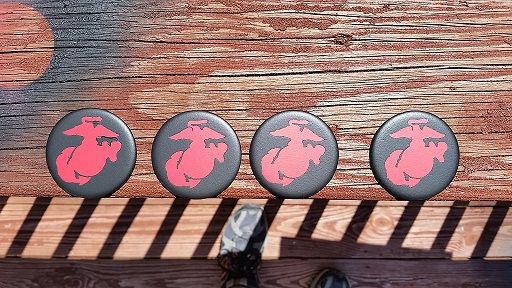 I let these dry for about 10-15 min before putting them on the wheels.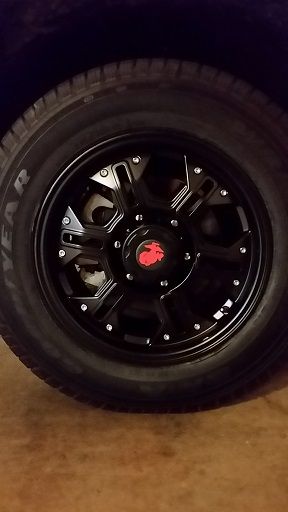 Final result, Semper Fi!