Discussion Starter
•
#1
•
This thread is to give a few simple pointers on showing you how to take awesome shots of your truck. It's not difficult, it doesn't require a super fancy camera (although it helps to have something decent). All it takes is a little bit of knowledge and the time to do it right. Read along and learn how to take a picture that will make people go from :shrug: to :bow: .
WASH IT!
This is the most important! You can have the best setting, the perfect lighting, and a $2,000 camera but if your truck is filthy people will see that first. Take your time and clean it well, dry it off, clean the windows, dress the tires. Don't forget about those wheel wells! Make sure if you're taking pictures of the interior to take the time and pick up that stray jacket or other object off the seats/floor. The only real exception to this rule is if you've got a great action shot of your beast tearing through your favorite off road spot.
PICK YOUR LOCATION
Where you take your pictures will have the biggest impact on how your pictures look overall. Find a setting that makes your truck stand out. Put it in front of something interesting or appealing to the eye. Even just putting it in front of a wall that's a contrasting color will make the difference between a bland picture and something amazing.
ELIMINATE DISTRACTIONS
When setting up your shot make sure there's nothing in the frame to distract you from your truck. A telephone poll sticking up through your hood doesn't make for a good picture. Also, it helps if the area isn't cluttered with any trash or debri.
UNCONVENTIONAL ANGLES
Avoid the temptation to just take the picture from eye level. Try shooting up at a low angle, it will exaggerate the proportions a bit, and make your truck seem more impressive. Another trick is to use a step ladder and shoot down on the car, giving a sort of bird's eye view.
Here's a perfect example. In this picture taken at eye level you're distracted by the ugly puddle and picture just plain lacks that "wow" factor.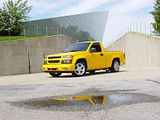 Same truck, in the same spot but at a different angle. See the difference? The angle has also helped hide the puddle from view. This picture is also a good example of a good background. The concrete walls give a nice contrast to the color of the truck, and the building gives the picture a little more eye appeal.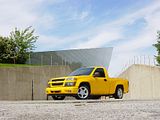 WHEN TO SHOOT
While you can certainly shoot your truck at any time, the best light is typically found just after sunrise, or just before sunset. As the sun "travels across the sky" the lighting direction changes. Not only does the lighting direction change throughout the day, but the color changes as well, from cool before sunrise to warm just after sunrise to neutral at midday to warmer near sunset to cooler after sunset. Night shots of cars can also be very dramatic, particularly if you have the vehicle in a setting with interesting lighting (neon lights, gas station, lighted signs, etc.)
This picture was taken just before sunset, with a building for shade. The lighting lets you see the shine of the paint, whereas the pictures above made it look flat from the direct sunlight.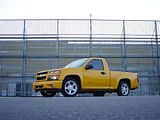 LIGHTS ON?
When you're shooting try the shot with the parking lights on and off, maybe even the headlights if it's just before dusk, just to add a little drama to your photos.
The most important rule to remember when doing photography is that there are no rules! The best pictures are typically a result of experimenting. Make sure to try pictures with and without a flash, even in sunlight. It can make more of a difference than you think. Most importantly, be sure to have fun taking pictures of your prized posession!
If you want even more info on how to take the best pictures
THIS
is by far the best and most comprehensive How-to I've seen on it. It's long, but a great read.
How to Post Your Pictures:
Now that you know how to take a great picture, you need to know how to show it off. You'll need to have it hosted somewhere, I highly recommend
Photobucket
. It's easy to set-up, use, and most importantly it's FREE. It's also reliable, so as long as you don't delete them they'll be around for a long time for everyone to see.
*Note: Because using the

Code:
 tags of VBulletin doesn't keep the [img] and [url] tags from working all of the /'s in the second [img] and [url] tags were changed to \'s to keep them from working.  They'll need to be [/img] to work.[/b]


Posting the normal way is easy.  Just use the [img] tags with your pictures url.

[code][img]http://img.photobucket.com/albums/v224/brakenit/TOTM/howto4.jpg[\img]
If you're using Photobucket and want to use a thumbnail that links to your picture do this:

Take your picture URL:



Code:
http://i116.photobucket.com/albums/o3/piktar/355/P1000572.jpg
Add URL to it:




Code:
[url]http://i116.photobucket.com/albums/o3/piktar/355/P1000572.jpg[\url]
Then add another URL with IMG to it:




Code:
[url=http://i116.photobucket.com/albums/o3/piktar/355/P1000572.jpg][img]http://i116.photobucket.com/albums/o3/piktar/355/P1000572.jpg[\img][\url]
And add th_ in the URL of the IMG part for thumbnails:



Code:
[url=http://i116.photobucket.com/albums/o3/piktar/355/P1000572.jpg][img]http://i116.photobucket.com/albums/o3/piktar/355/th_P1000572.jpg[\img][\url]
that gives you this:



(Thanks to MC for showing me this trick)