My brother gave me his old back up camera system (wired), when he upgraded to a wireless model. But he lost the actual camera, and purchasing that separately cost almost as much as a new system (plus install would require running wires all over the truck). I started searching various wireless back up camera systems, and most require a power connection to the camera as well as the monitor. I finally found a wireless system from Whistler that had no power connection to the camera (camera connects to the monitor with bluetooth), the only connection is power to the monitor, the camera actually charges from small solar panels on either side of the rear tag mount. I found the system on clearance sale at an Advance Auto, reduced from $69 to $29, (though I had to drive 50 miles to the Advance Auto that had it in stock, as they would not ship a clearance item)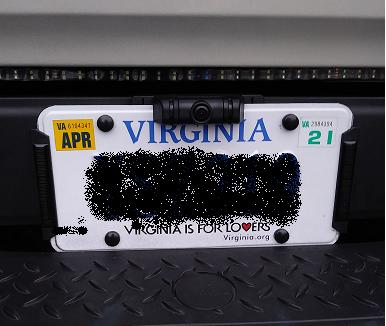 The monitor is supposed to mount on the dash or on the windshield and has a cigarette lighter adapter. But I did not want it there, as it felt like it was too far away to see clearly, nor did I want any wires running down the dash. I noticed that there was a power connection to the rear view mirror, and decided to mount the monitor on the rear view mirror. I found these great plastic hinges that are supposed to clamp onto a rod, and I purchased a threaded rod of the correct diameter. Also since the hinges were plastic, they could be heated and bent to match the curve of the back of the mirror. I mounted the hinges with Scotch Extreme double sided mounting strips (supposed to hold up to 12 pounds), with a short screw just a little way into the plastic to add extra hold. The hinges are mounted far enough down on the mirror to allow access to the tab that flips the mirror to night mode (I did cut about 1/2" off the tab for clearance but it is still accessible).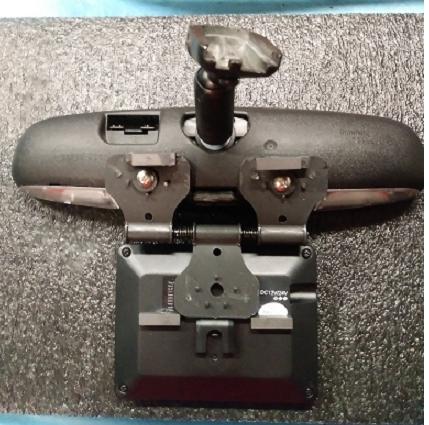 The monitor hinges up into the area between the rear view mirror and windshield, and is held up by ceramic magnets glued to the back of the monitor and the back of the mirror. I tapped into the ground and 12 volt power to the mirror and wired in the monitor's power connector. Since the power connection is live all the time, and I did not want to run down the battery, forgetting to turn the monitor off, I installed a mercury tilt switch on the side of the monitor, so it only comes on when it is flipped down. I folds up nicely and only a bit of the hinges show below the mirror, and the monitor is much closer to me for better viewing, plus no wires.