Disclaimer
The community here at 355nation.net urges you to please use caution and seek professional assistance when performing modifications to your vehicle. Before attempting any modification it is advised that you refer to your Colorado or Canyon service manual or contact a certified mechanic as not all GMT355 trucks are the same. The views expressed in this 'product review' is the opinions of the author alone. The posts and content presented on this site reflect in no way the views of 355nation.net or it's ownership.
A 355nation product review presented by
VTCanyon
Product
KrFabs kRescue Tow Hook Mounts
Krypton Fabrications - Products - kRescue - Chevy Colorado / GMC Canyon Front Tow Mounts
Product Description
D-Ring Shackle Mounts
MSRP
$112
Void warranty?
No. Please see "Magnusson Moss Act"
Reviewer's Vehicle
Make:
GMC
Model:
Canyon
Year:
2006
Engine:
3.5L
Power windows:
Yes
Sun Roof:
Yes
Front License Plate:
Yes
Stock Tow Hooks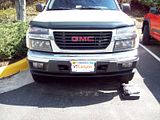 With krFabs Mounts installed with D-rings:
Product Analysis
The KrFabs kRescue tow hook mounts are designed to replace the factory tow hook design with a much stronger and reliable D-Ring shackle. The black powder-coated mounts are very stout, and include all the necessary hardware for installation. The plate section of the mount is solid ¾" thick steel.
Installation Analysis
My truck already came equipped with the holes for tow hooks, so installation was straight-forward and took about 30 minutes. If your truck does not have the holes for tow hooks, you will need to remove the front bumper and drill the holes.

There is a little bit of plastic on the valence that I had to trim with a sharp razor knife. The bottom of the side of the opening had to be trimmed by about ¼ inch and it cannot be seen once the hook mounts are installed. Additional pictures below.

I opted to install the mounts so that the holes for the shackle pins were higher, but they could be reversed and installed so that they are lower. The only things I had to remove for installation were my front skid plate and I had to loosen the front license plate mount. I did not have enough room to get the longer bolts installed until the front license plate mount was removed. Once installed, they do not project any further than the factory license plate mount.
Driver's side mount: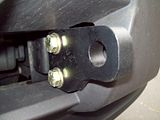 Close-up: The plastic trimmed was the area just below the mount
With D-Ring:
From side:
Overall Opinion
I would recommend this to anyone looking for improved off-road recovery without wanting some sort of bar on the front end. This is a rather stealthy mod that doesn't stand out, but drastically improves the front recovery hooks over the stock cast pieces. I'm impressed by the quality, the welds look like they have good penetration, with no holes or slag. I used 4.75 Ton rated black shackles that I purchased online to blend in with the black front plastic valence.
:thumbup: