REVIEW: QA1 ADJUSTABLE Coilovers & Rear Shocks ***UPDATE***
Hey guys, I thought I would share some info on the shock set-up I'm running the Turbizzy so kindly installed on my truck a few weeks ago.
It gives us yet another choice for lowering and an excellent adjustable valving ride for the price of Belltech's non-adjustable coilovers/shocks.
Preface
Most of you that have been around a while know that I had modified my front suspension to run AIM's coilovers. Well, it turns out that their first gen coilovers are terrible. At least in my case. I had the passenger side blow a seal and it leaked oil everywhere. So, I decided to be a guinea pig for an alternative to the Belltech coilovers. I was originally going to use the Belltech Stainless adjustable shocks but just found it difficult to swallow the $1200 - $1500 price of admission. I have heard that the Belltech Stainless coilovers/shocks were double adjustable, however, their catalog lists the 355 application as "Adjustable Rebound Dampening" while Fullsize and S-series truck applications are listed as "Adjustable Rebound and Compression Dampening". The QA1 coilovers & shocks can be had in either configuration. Either single adjustable (rebound and compression dampening adjusted simultaneously - 12 clicks of adjustment) or double adjustable (compression and rebound adjusted independently - 24 clicks each setting for a total of 576 possible combinations). The single adjustable dampening feels like a 3:1 ratio for compression vs rebound.
I have also discussed a particular fitment possibility with some members here and have discovered that the 4th generation Camaro/Firebird front coilovers will NOT fit. Their compressed measurement is about 2" too tall. So, scrap the idea of being able to use performance coilover shocks, air struts or adjustable coilovers for that fitment. I ordered the QA1 shocks from
Suspension Specialists - Hal / QA1 Shocks & Accessories, Ohlins Advanced Racing Suspension, Penske Racing Shocks
They are some awesome people and helped me with getting the correct fitment without any issues. Call and ask for Melissa, Sharon or Mike and tell the Dan with the Colorado sent ya
QA1 Coilover and Rear Shock part numbers. Prices based from 01/2008 Suspension Specialists - Hal / QA1 Shocks & Accessories, Ohlins Advanced Racing Suspension, Penske Racing Shocks
Front QA1 coilovers:
Updated part numbers. The Polyurethane bushings have been superseded with Sperical Bearings
*DR5855B Proma Star AL single adjustable coilover shocks with Spherical Bearing COM8T-102PK - $167.95 each
DR7855B
Proma Star AL single adjustable coilover shocks with Spherical Bearing COM8T-102PK ( 1" OD, 1/2" ID, 1" wide) - $167.95 each
DDR7855B
Proma Star AL double adjustable coilover shocks with Spherical Bearing COM8T-102PK ( 1" OD, 1/2" ID, 1" wide) - $275.00 each
*NOTE*
Some have found the DR7855B Coilover to be a little too long. Mike at Naake now recommends the
DR5855B
in it's place.
9029-146 4" Stud Mount Conversion - $26.10 each
7888-110 SPANNER WRENCH & THRUST BEARING KIT - $45.95
2 each - Fastenal #19815 - GR8 flange 1/2" NC x 3" bolts - $ 3.86
2 each - Fastenal #0167011 - GRG flange 1/2" NC nuts - $ 3.21
12 each - Fastenal #1133817 - SAE thru-hard 1/2" YZ washers - $ 6.34 min qty 25
Re-used my Belltech 4205 1" drop springs from previous install noted in link in the preface above.
Rear QA1 shocks:
TC1661P Stocker Star AL single adjustable shock - $139.00 each
DTC1661P Stocker Star AL double adjustable shock - 275.00
*Request bottom bushing bolt sleeve 9/16"
note: above rear shocks are for ZQ8 leaf springs. Belltech drop leafs may require a shorter shock and Z85 leafs may require a longer shock, which will require the upper T-Bar mount kit. Consult Naake Racing for proper size
Installation Notes -
Updated
This fitment was not a simple bolt-on application. Modifications to the bump stop, bump stop mount (see AIM coilover install link above) and lower control arm mounting tabs (see pic below) are necessary for proper fitment. The spanner wrench & thrust bearing kit are not necessary but will greatly reduce effort when adjusting ride height.
Please note the pics below for proper adaptation of the Spherical Bearing/Bottom Mount assembly
Images courtesy of twgiffin
Photos!
Gen-F coilover that did not fit and the TC1661P Stocker Star AL adjustable rear shocks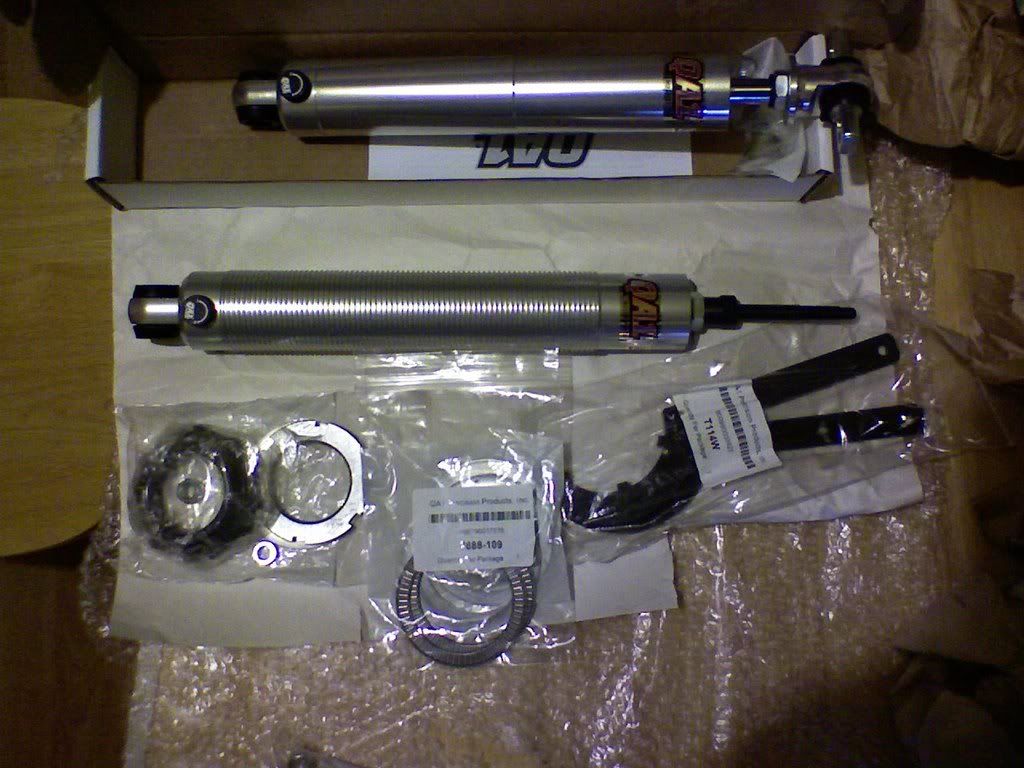 DR7855P Proma Star AL single adjustable coilover - noticeable difference in length
Discovered the Gen-F coilover was too long
Gen-F next to AIM coilover
DR7855P Proma Star AL next to AIM coilover - Much better match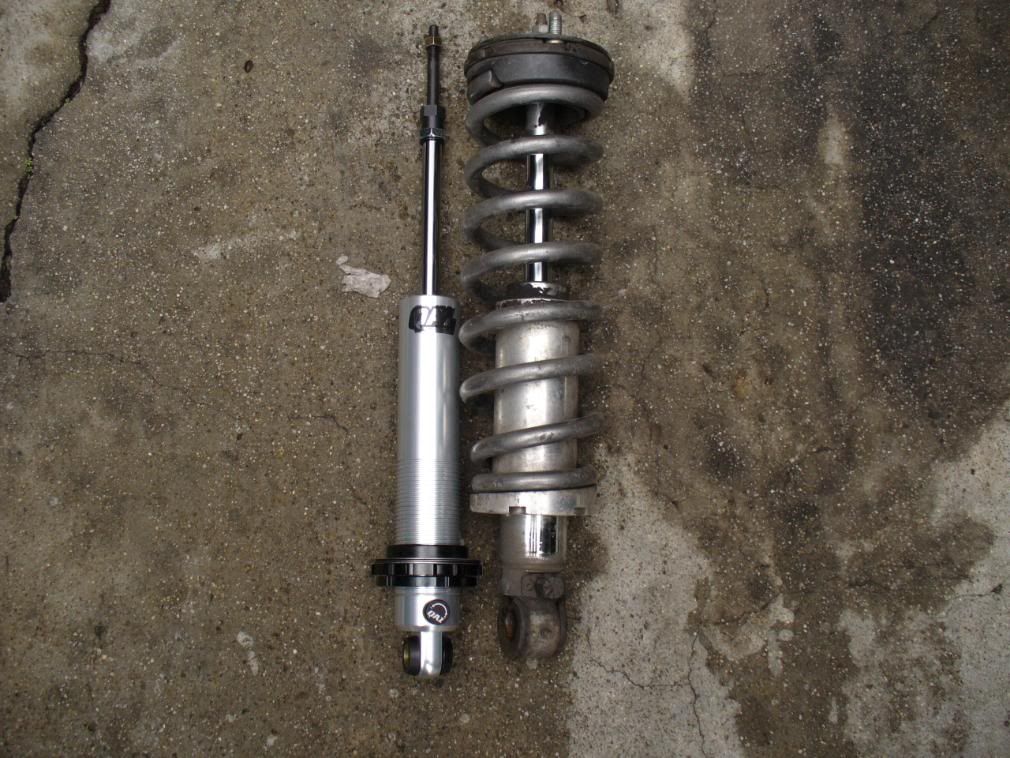 Using a Dremel to trim approximately 1/8" off the top of the bottom shock mount tabs for extra clearance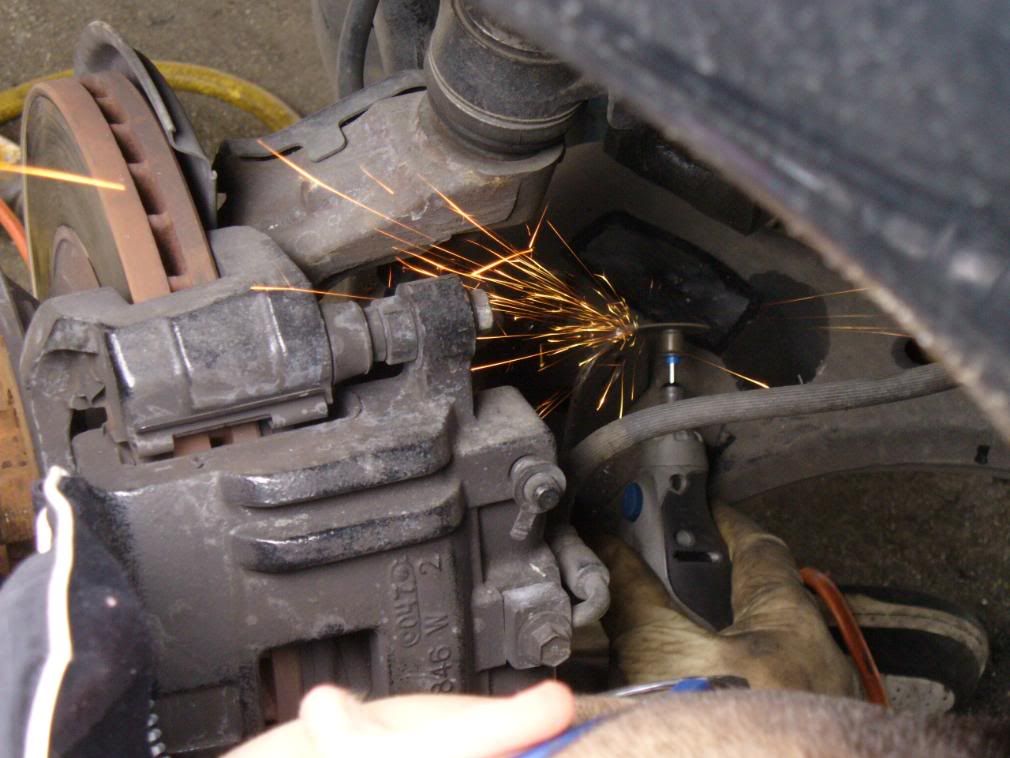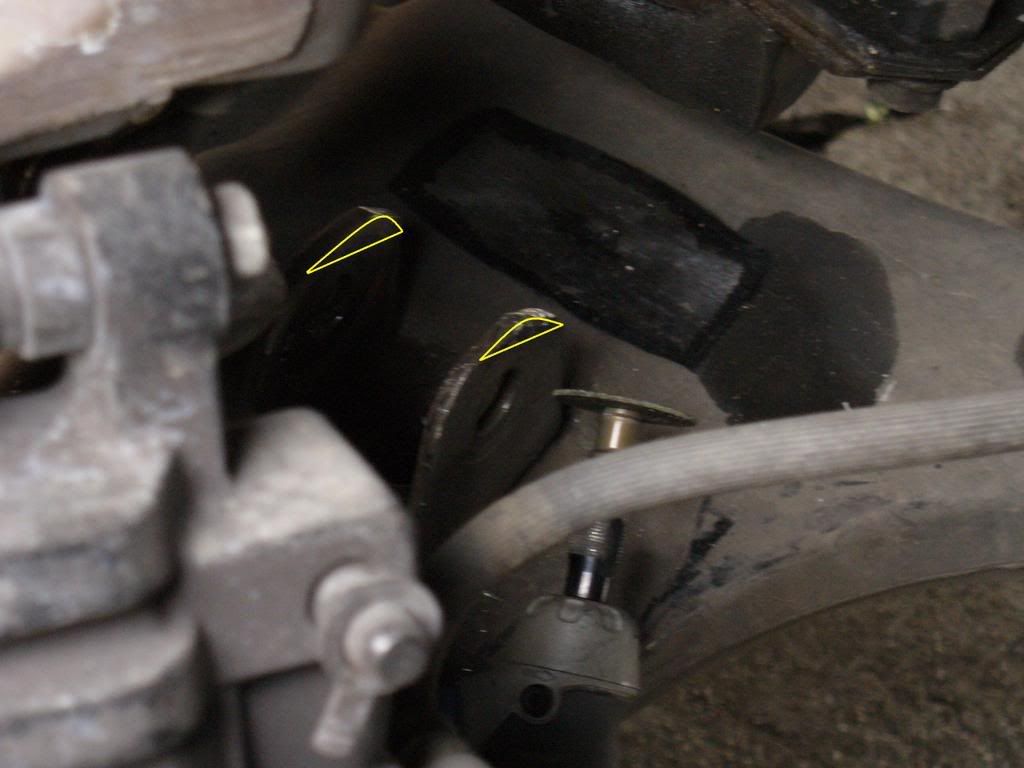 Note the bump stop and bump stop mount trimmed back approximately 1/2" and how close the spring and spring perch is to them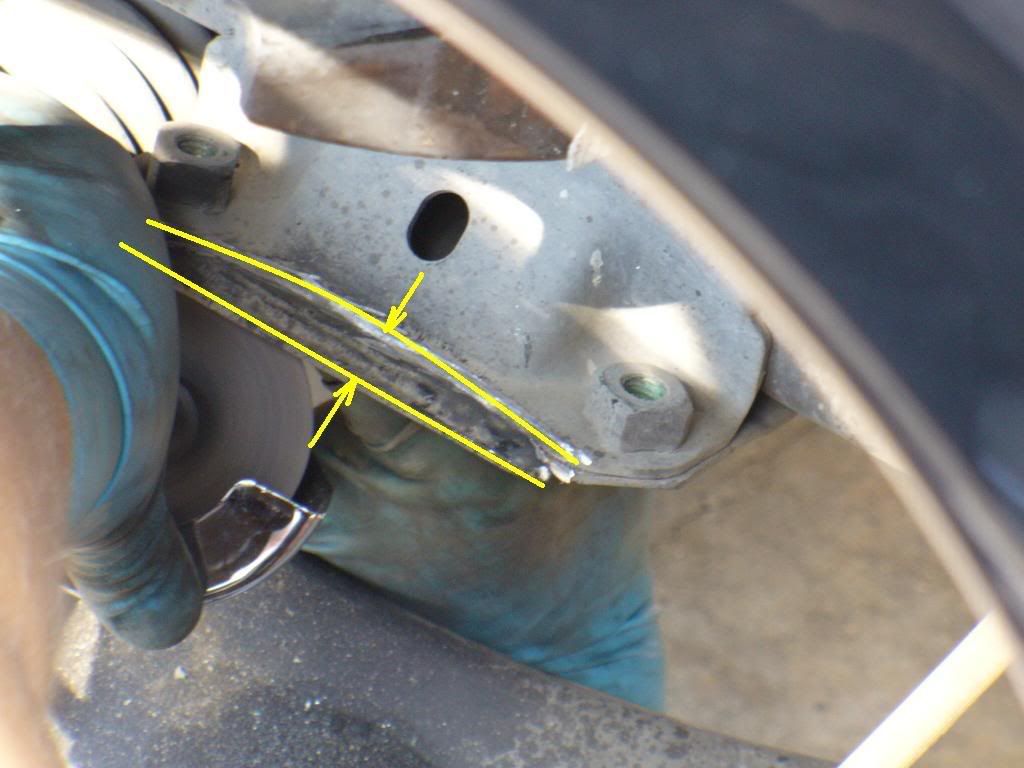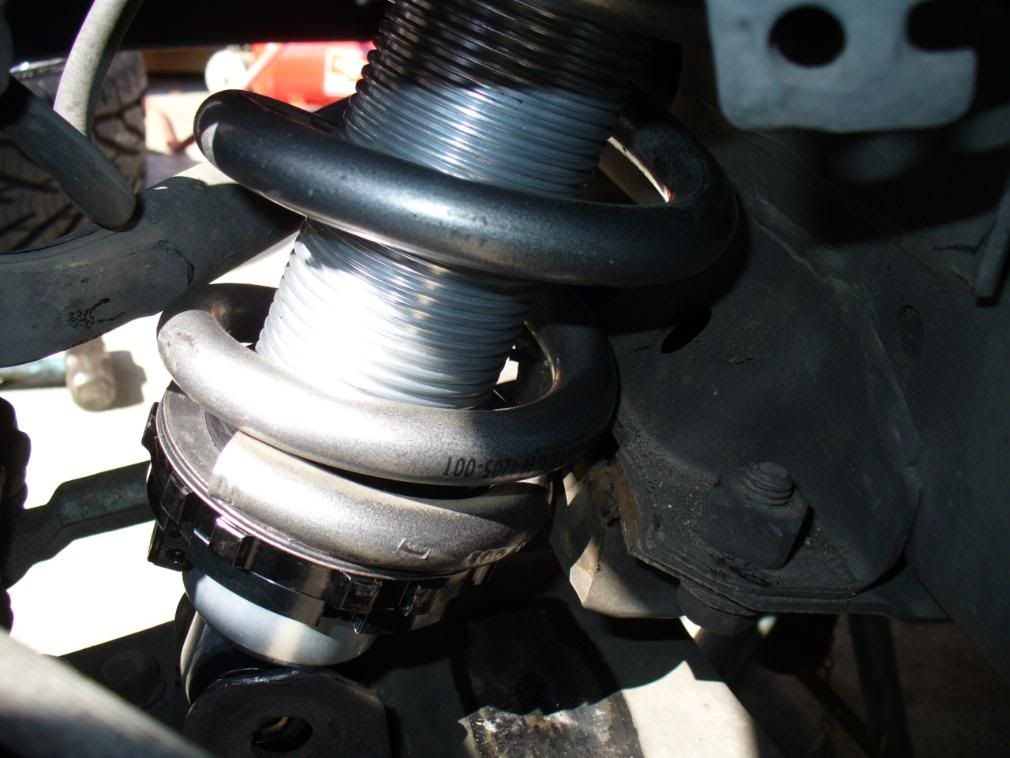 Coilover installed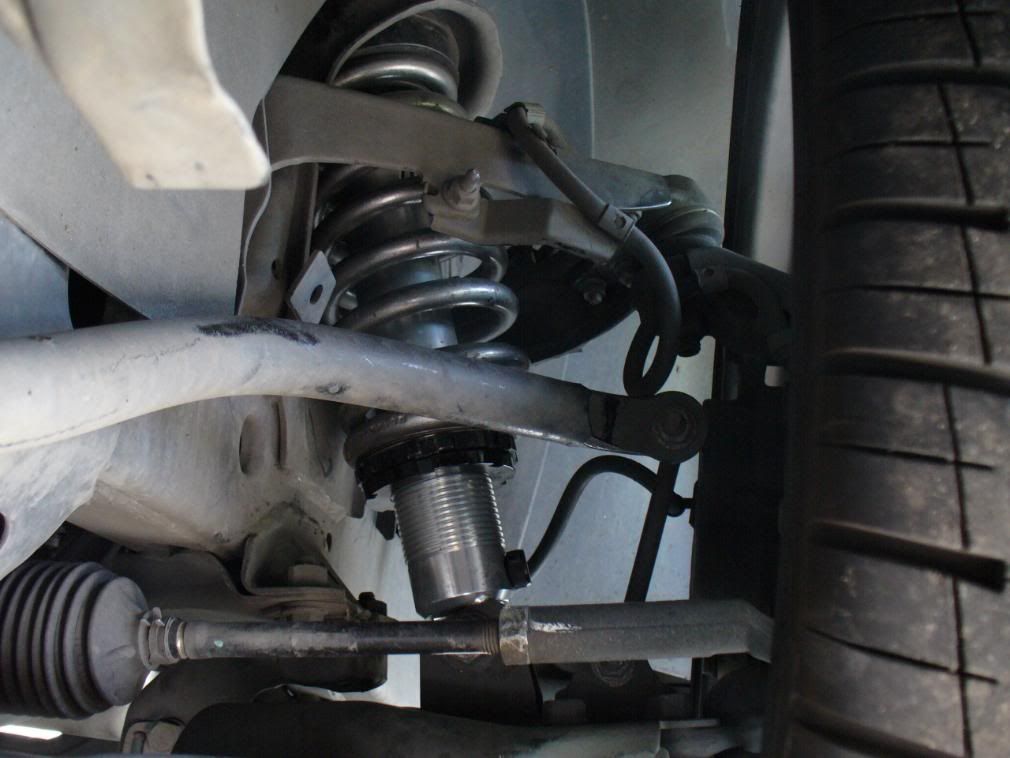 Note: It may appear as though there is clearance between the bump stop and spring perch but the truck is sitting on the ground. With the suspension unloaded and fully extended they will hit.
Sway bar end-link removal/installation tip - Use small locking pliers to hold bolt while removing nut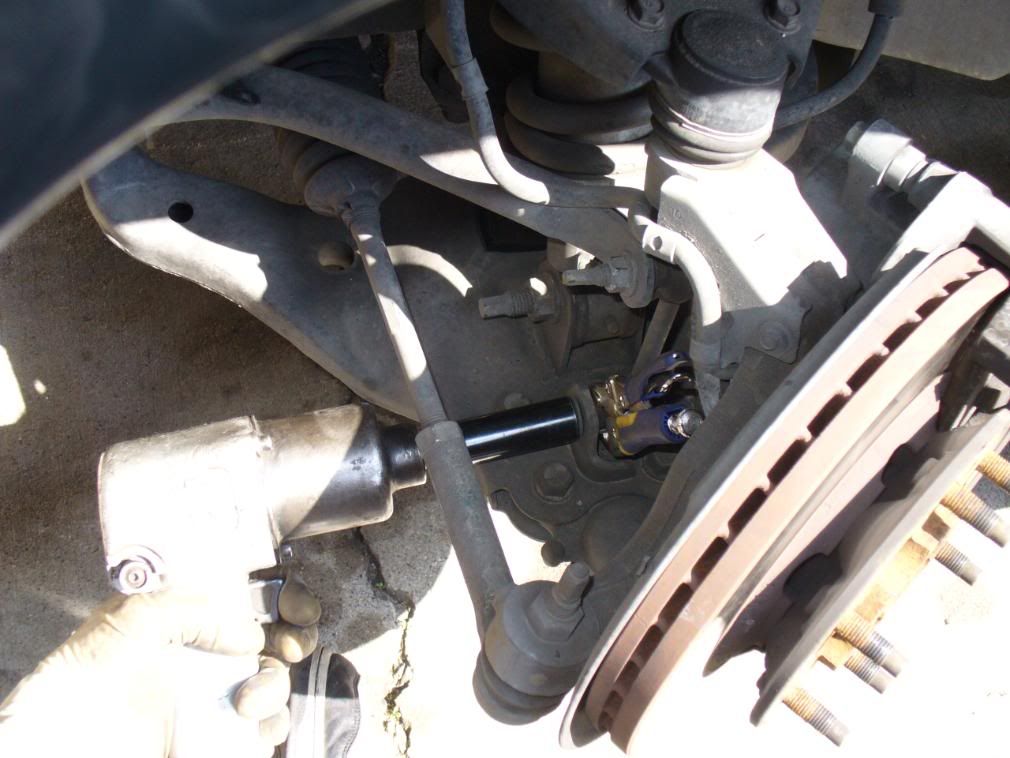 Ride and drive
I'll cut to the chase... the ride is UN-FREAKIN-BELIEVABLE! :shock:
I really wish I had done this much sooner! The rear shocks alone made a ten-fold improvement. Since the first drop, I had DJM Calmaxx shocks on the rear. They were an improvement over the stock ZQ8 shocks but with the weight of my work gear in the bed, the rear of the truck bobbed horribly on highway. Dips and expansion joints, cracks and small pot holes were greeted with a hash slap to the rear and often caused the frame to bottom out on the axle unless I ran more than 50psi in my helper bags. With the new Stocker Star AL single adjustable shocks in the rear and set to 6/12 (6 clicks of twelve), the ride is more reminiscent of my Trans Am WS6. A little stiff yet compliant and very well planted on the road. You can really feel the difference between each click of the adjustment knob. 4/12 felt a little soft and produced an occasional bob while 7/12 was made the rear hug every contour of the road.
The front coilovers have really made the truck feel like a track star! Izzy and I initially set them to 8/12 and the ride was so stiff I could feel pebbles on the road! We immediately adjusted them to 6/12 and the ride was still a bit too stiff for a daily driver BUT steering response was instantaneous and little to no sway. Currently, the fronts are set to 4/12 and the ride is much more compliant yet still offers EXCELLENT road feel. The steering no longer feels numb and has really good feedback. I may try adjusting them down another click or two to see how much the ride and feel changes.
Summary
The rear Stocker Star AL adjustable shocks are a must have for those having bobbing and bouncing issues in the rear. With 12 settings available you can find a soft compliant ride, a firm sporty ride or a load bearing monster.
The front Proma Star AL adjustable coilovers may be more than most of you are willing to go through for installation being it is not a simple bolt-on application. If you don't mind having to hack the bump stops and mounting tabs, they are WELL worth the cost and effort. I can now confidently drive down the highways and not have to worry about what lane I'm in knowing a gnarly dip is coming up. I have also been able to increase the handling characteristics of my "work truck". There is a 50 mph left hand banked sweeper that I have taken at speeds up to 75 mph and the truck felt a little loose, I took that same turn today at 85 mph and the truck dug in and hugged the road effortlessly. I would venture to say this front modification and coilover install would be a must have for those of you wanting to auto-x your truck!
Here's some updated pix with the new QA1 set-up