I feel this was a trip worth sharing with you all.
One of my goals this year is to explore New York state more. I've seen much of what there is in Southern Ontario, and from the glimpses I've seen, NY has some pretty spectacular terrain. The are I live in is so flat. NY actually has some hills, mountains, valleys, and a lot of great driving roads. I'm so close to the border. Recently I joined the WNY 4x4 facebook group. The president and admin are both people I have wheeled with in Ontario last year, and are good people. I've met a few others as well through another facebook group.
One of the members has access to some gated land, and posted up an invite for people to join him for some off road fun. It was somewhat last minute, but we got a group of three vehicles together. Me in my Canyon, an S-10 with a body lift, and an insane Jeep.
Things started nice and peaceful.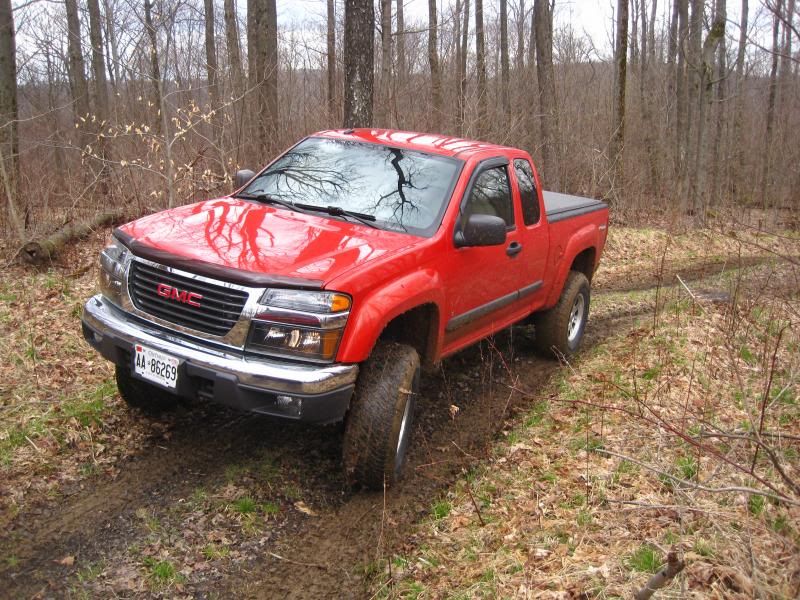 Now, it's worth noting that I don't have a lot of experience driving through mud. I quickly learned that when things point up hill, you really have to stay on the throttle and get some wheel spin so the AT tires can fling the mud out of the tread, so you're not just spinning on slicks.
Not long after hitting the trails, we found one the trucks could not touch, but we all hopped in the Jeep, and gave it a go. Well, we quickly got very stuck. Some really slick mud, and a slight incline gave the beast some trouble. The Jeep is built more for rock crawling, and was not equipped with a winch. We could not get the trucks within 60 feet of the Jeep, so our options were pretty limited. We sourced a few rocks for traction aids, but we were still struggling to get the Jeep out. The good thing was that it was still moving under its own power. It was not totally immobilized, so we kept trying.
Things seemed to get worse before they got better.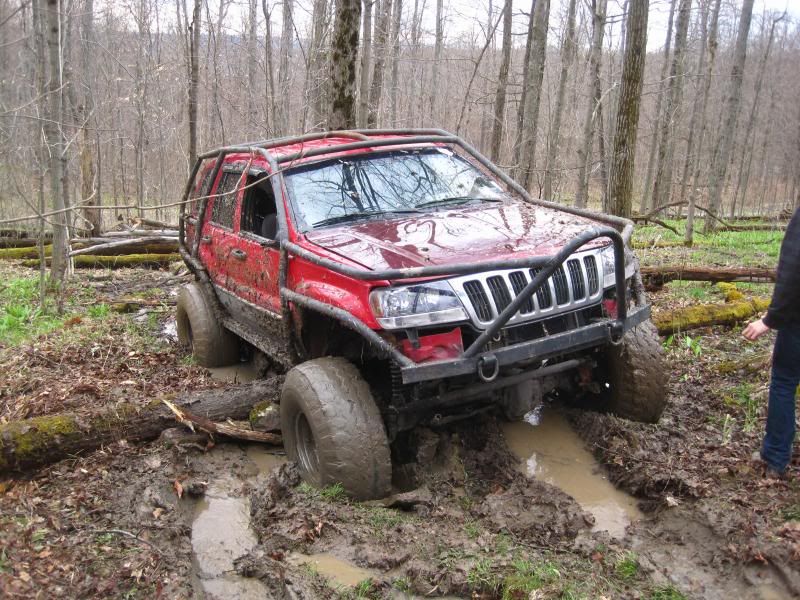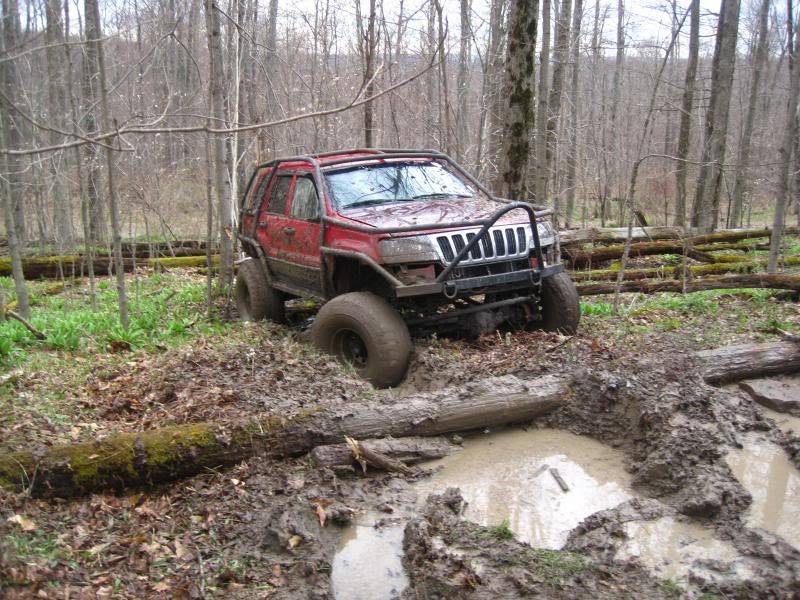 Eventually we managed to free the machine.
Found a nice little hill climb feature to play on.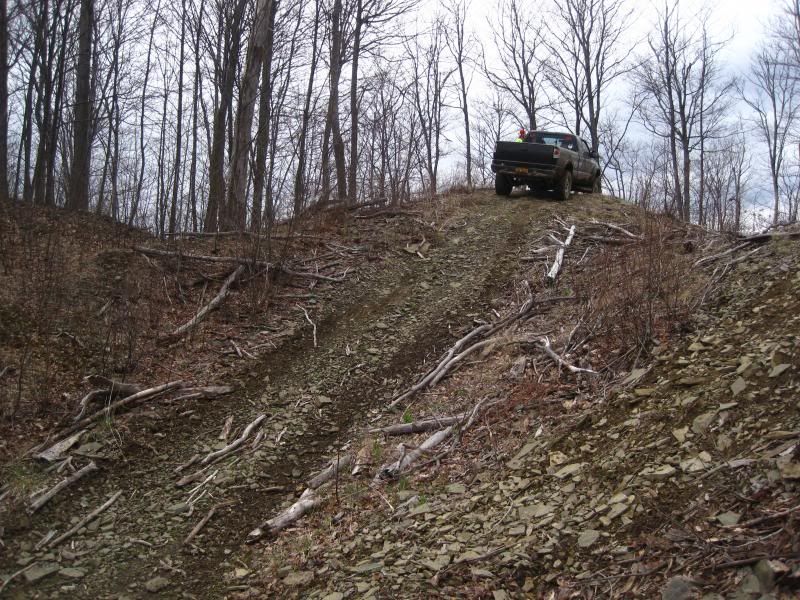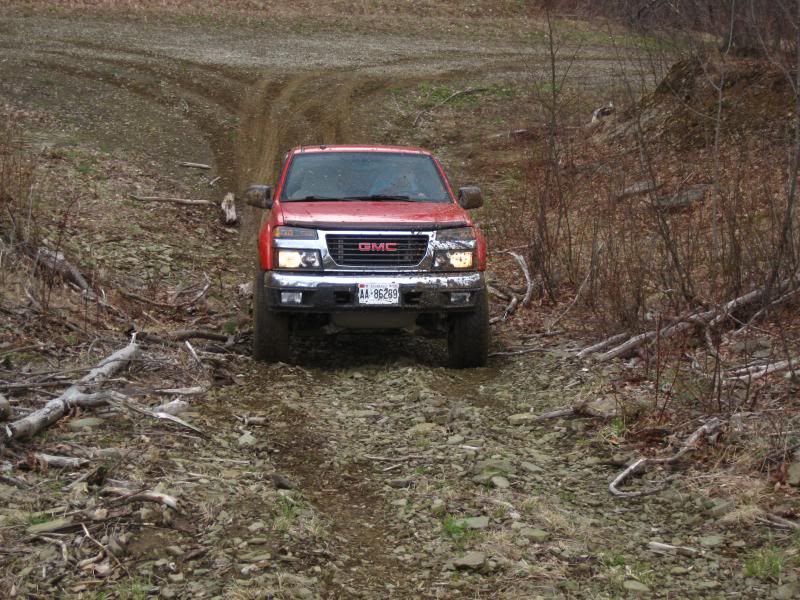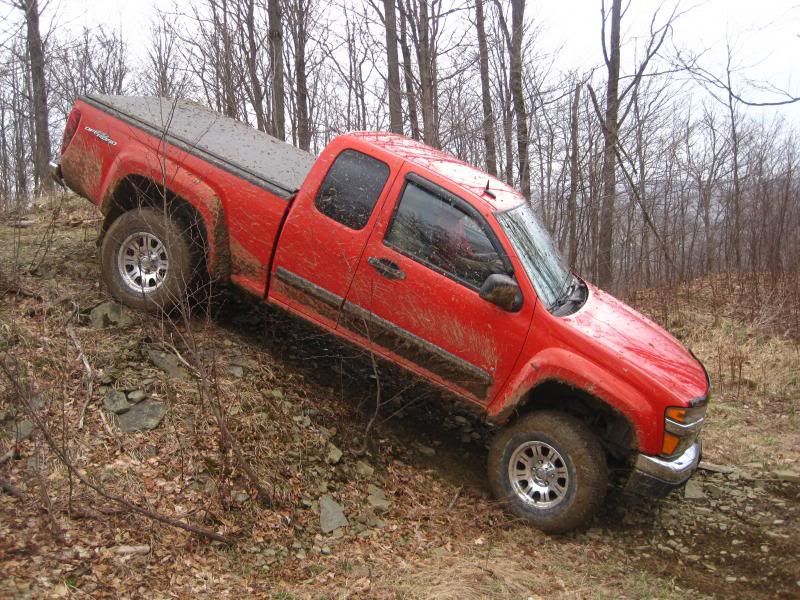 Also a spot to flex. Little Chevys don't do this so well. This was probably not that far from the tipping point.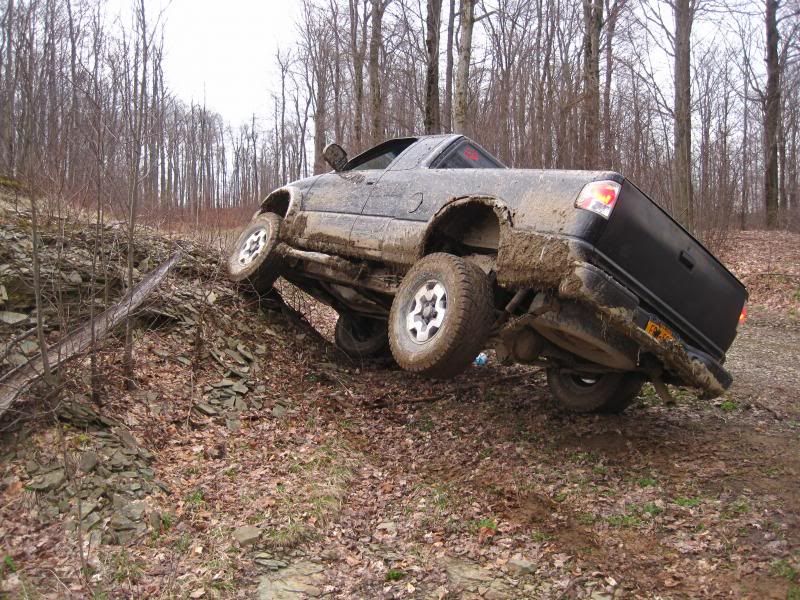 This is how it's done!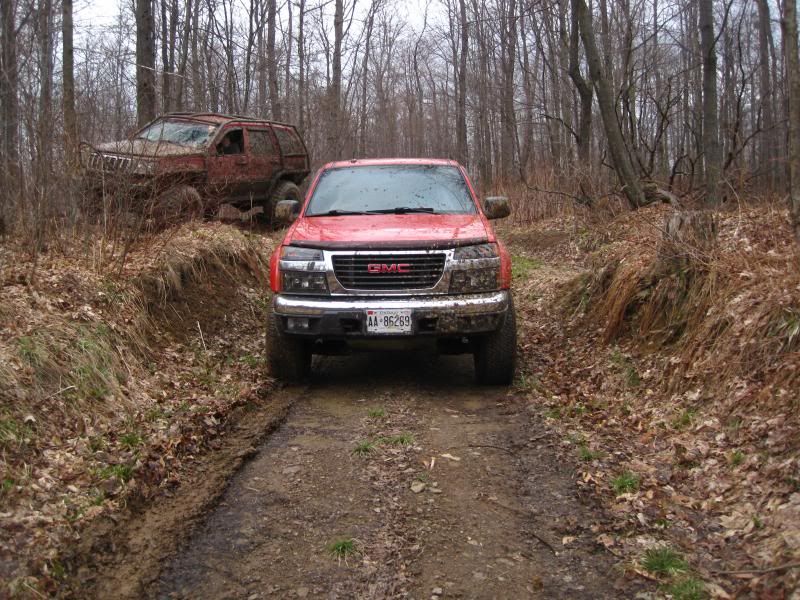 We came across a downed tree. The Chevy tried to clear it, but was not getting enough traction. The monster Jeep was able to get the job done.
Tore some branches off the tree, and was able to move it.
We then found a trail that looked like it would be a challenge. Both little trucks figured we would give it a go. If we got stuck, the Jeep would pull us out right?
The way in went pretty well. I lead the way, and got all the way up the steep hill at the end. However, I chewed it up a bit in the process, and the S-10 could not follow. So, we turned back.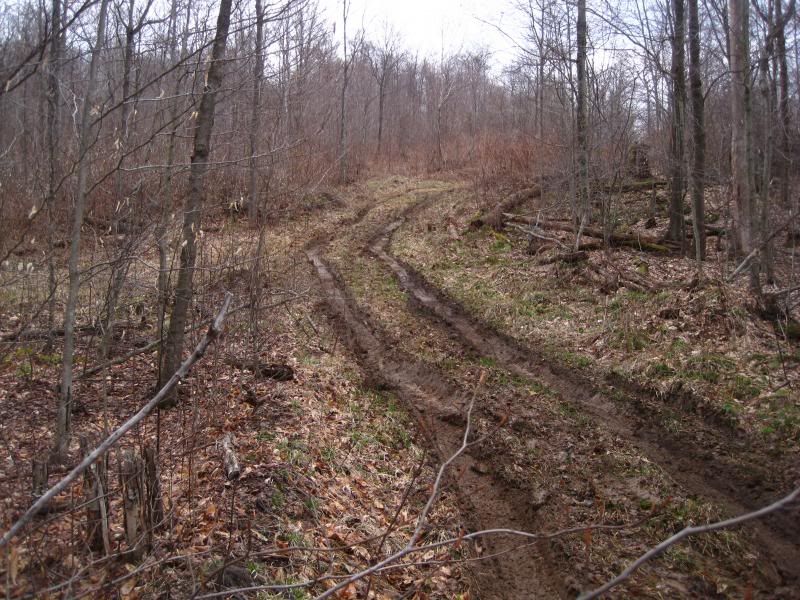 But, we more or less had the same problem going back. Ruts were getting worse, and traction was harder and harder to find. The S-10 made it most of the way before getting stuck. The Jeep was able to pull him to solid ground with a little struggle.
Lots of wheel spin...
Then, I tried to get out. I could not make it as far as the S-10, due to the changing conditions. I could not make it passed here.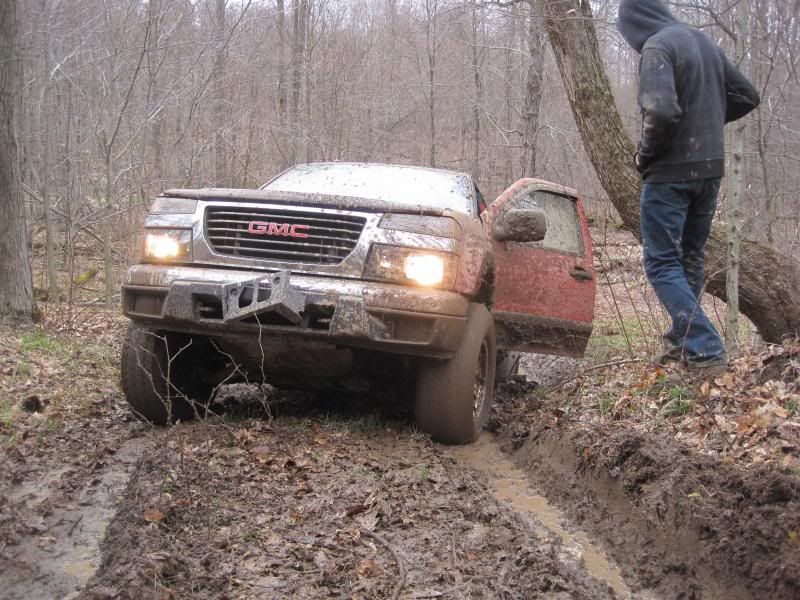 Gettin' dirty
Now, it is interesting for me to look back at my / our decisions, because things got worse. One mistake that was made, some tow straps got left at the start point, so we only had my single 20' strap. The trail ahead was now a sloppy mess, and the Jeep could not get traction to pull. So, I backed down, and tried again, as the S-10 had done before me. But, on the way down, I did not carry enough momentum in reverse, so I did not get high enough up the other side, in order to take another good run at it.
I was now stuck in a ditch / creek.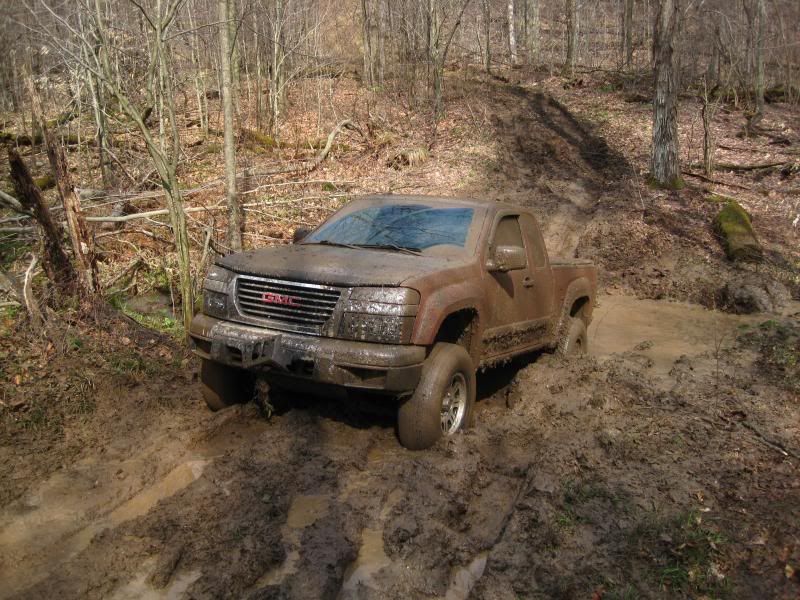 Of course, I kept trying to get out. Of course, that only made it worse. Now I was totally immobilized, as my spare tire was bottomed out on some earth. Right then, I was not feeling very good about my situation. I was not totally panicked, as if worse came to worse, I had provisions to comfortably stay the night, and I was not alone. Mr Jeep was pretty calming as well, as he was more confident that we would get me out, as he has been in worse situations before.
The Jeep could not stay on solid ground and pull me with only a 20' strap. So, the S-10 had to go on a mission to get more strap. Fortunately, they returned with another 30 feet.
However, 50 feet ahead on the trail, there was no traction. What next? Fortunately, we were able to get the Jeep through the bush, off the side of the trail, where there was traction, and within 50 feet. Things were looking up! The Jeep was able to get good traction, and pull me out of my situation. What a relief.
We hit a few more low risk trails, then headed back. As we were heading back down to the start, the skies opened up, and a thunderstorm rolled through. Had that happened a little sooner, the downpour could have made things extra bad. But, luck was on our side this time.
It was a thrilling day. It was simultaneously so close to disaster, but so close to perfect too. What's mudding without a few good stuck stories, right?