Sold
Item:
Sequential LED third brake light panel
Asking Price:
$130
Location:
West Kelowna, BC, Canada
Willing to ship?
Yes, Included in price
Condition of Item:
New
Description of item:
Please note this isn't a limited vendorship, i made a few extra's when i made mine and am just getting rid of them.
Sequential Led panel designed to sit in place of where the 2 stock incandescent bulbs are on the third brake light. It flashes from the middle -> outward, on the first brake press then stays on.
Some quick notes about these vs ebay ones
These are made with quality, brand name components such as phillips, texas instruments and vishay.
Uses professionally built boards from a pcb manufacturer
Uses 40 Red-orange 70mA Phillips superflux, They are built for automotive use and meet SAE/ECE Automotive Color Requirements (link to phillips product page where datasheets etc can be found
SuperFlux LEDs | Philips Lumileds Lighting Company
)
These leds can handle up to a 70mA current, vs 20mA from no name superflux leds.
The resistors are Automotive AEC-Q200 Qualified
Every other component has a minimum temperature rating of -40*C to +125*C
The speed of the sequence can be adjusted with the set screw on the blue pot (blue rectangle)
Voltage regulated, meaning these only ever see 12-12.5V. It lets me design these to be max brightness all the time, regardless of battery voltage. Most other "plug and play" led lights for vehicles are designed around ~15V to protect against spikes, but will get dimmer based on battery voltage.
My cruise control still worked in my truck after the install, however i wont guarantee it'll still work in yours
Installation
Cut out the middle reflectors for the factory bulbs. Use a dremel or soldering iron with plastic cutting tip. A olfa knife would probably work too, be careful of the lens tho, its real close on the one side. Use a knife and shave off all the ridges or stray pieces, the board should sit flat on it after.
drop in panel, attach to third brake light with rtv silicone. use a neutral cure silicone, the vinegar smelling stuff can eat the copper. You may have to trim off a touch of the foam gasket off the one side to make room. You can use superglue for the initial tack but be careful not to use much or get any inside the light, it off gas's for awhile and could fog it up. Allow the silicone to cure fully before re-installing.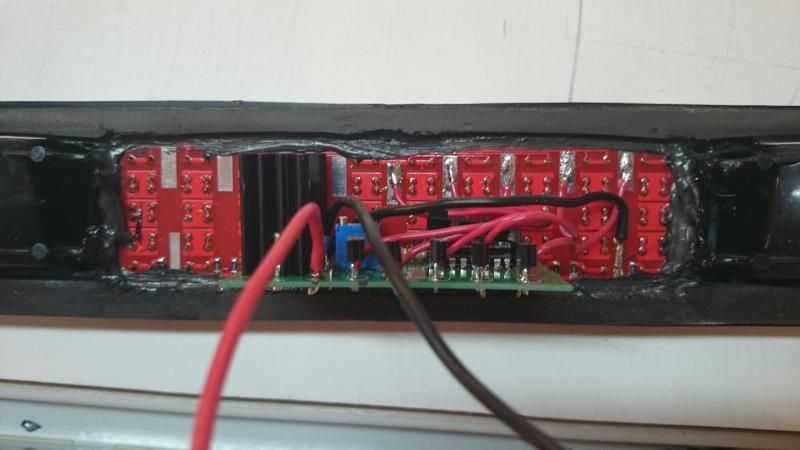 Cut out the factory brake bulbs, Attach the Red wire from the new led panel to the Brown wire, and tie the black wire from the new led panel into the black/white stripe wire. Make sure your harness colors are the same, brown is brake (positive) and black/white stripe is negative.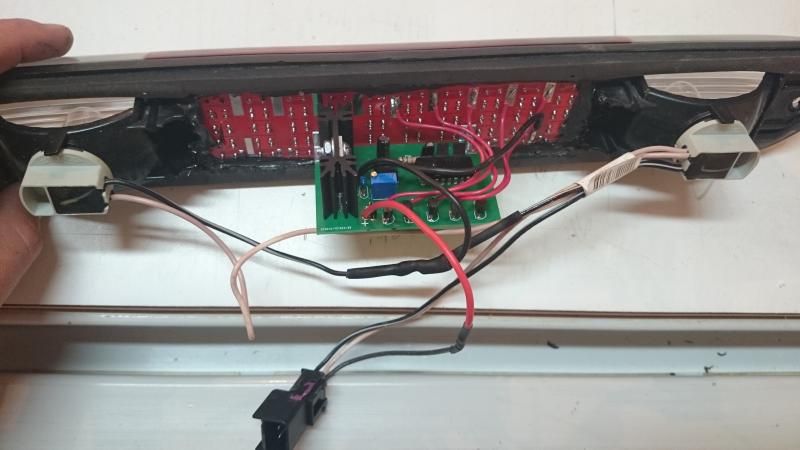 Tape everything up
Its a good idea to throw a bead of silicone around the gasket before you re install the light, you don't want water in there