For all the photos that were taken before, during and after the meet, follow the following links:
Friday Night pics
SESM2010 Meet Pictures
Post Meet Photos
SESM2010 from the low viewpoint of Jess (Widow)
SESM2010 from the rooftops by Billy (Thethein11)
SESM2010 from the beer toting DJ, Matt (gunnyboy)
SESM2010 from the hiding and seeking Scott (scochatm)
SESM2010 from the Nation's legal illegal, Ed (edvocho)
SESM2010 from the WoW Dwarf DeathKnight Jody (Slo86GT)
So, the last count I saw was about 55 trucks total that showed up. Pretty good turnout if I do say so myself.
I will populate Ricky's first post with the link to ALL the pictures, but I will toss in some of the ones that turned out really good. I am going to create a photobucket account, like I did last year, that is public and will have the 1MB size pictures in there. Feel free to browse it and find your shots that you like. :thumbup:
Here is a portion of our line-up. Due to the activity in the park, we were unable to finish it AND I forgot to snap the shot of the lineup from lowest to highest, but got the highest to lowest.
And the group shot as everyone was pulling in...
And shots of the awards...
Lowest went to Ricky (WTRacing) and the award was created by Joe (JVAL). Not sure what his fender height was...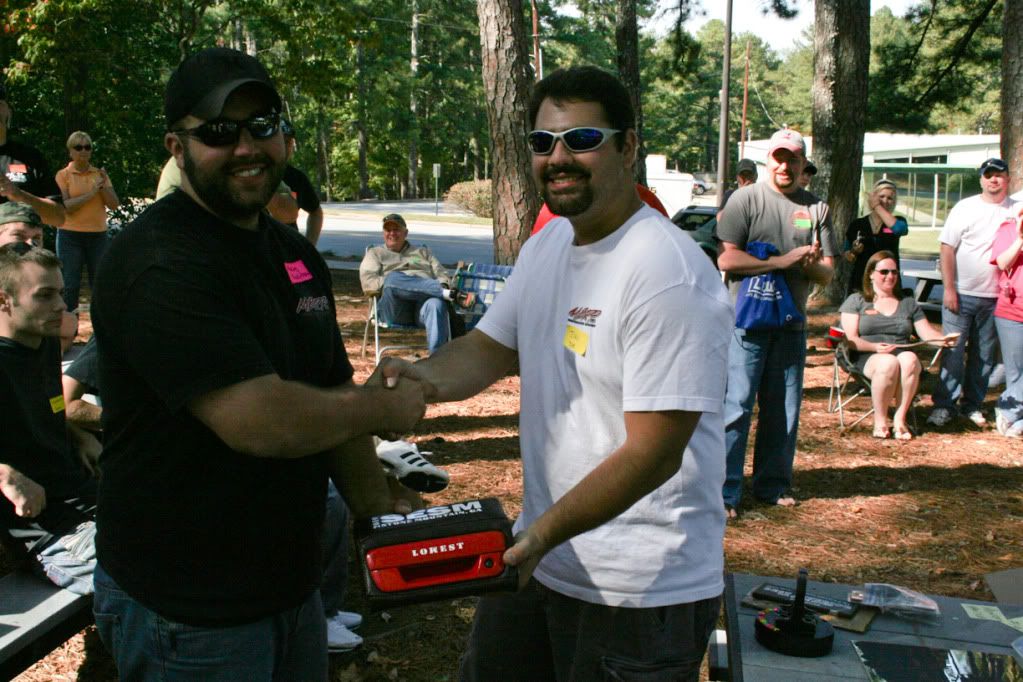 Tallest went to me at a height of 46 3/4" and the award was created by the meet attendees, Darek (kerad11) and hooks from Rob (rocketcityrado) wood from Max (trueblue) zipties from Paul (pschrags) and letter placement by mark (mwcky2204). Picture recognition goes to canyonbrian.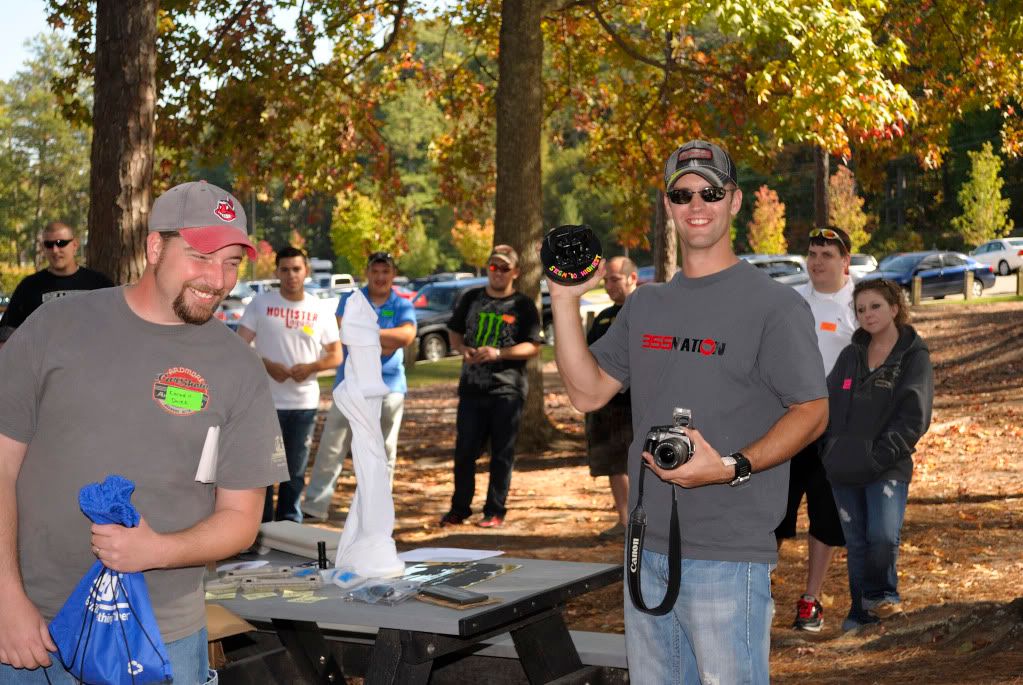 Best interior went to me as well. Rob worked with Ron (the Wolf!) to create one badass piece!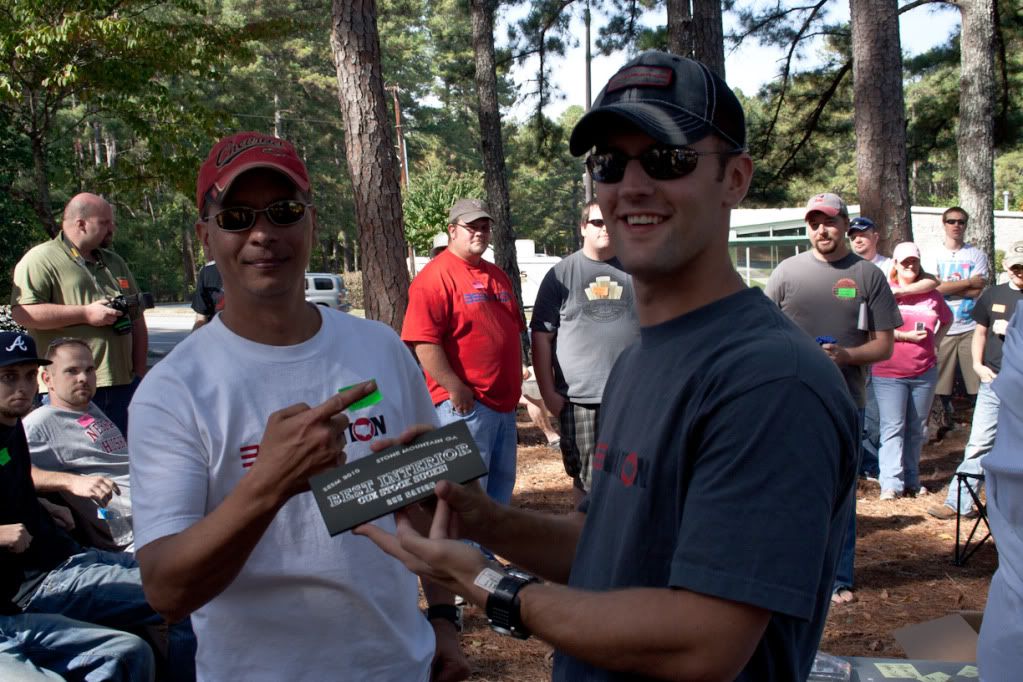 Long Haul went to Randy (oldguy) who drove over 900 miles for this trip. While some members actually drove a little further, the award was figured by the actual distance from Stone Mountain, GA to that persons home location. Randy took it home and the award was created by Max (trueblue). Also, Randy was refunded some of his lost wages in gas! Second picture recognition goes to canyonbrian.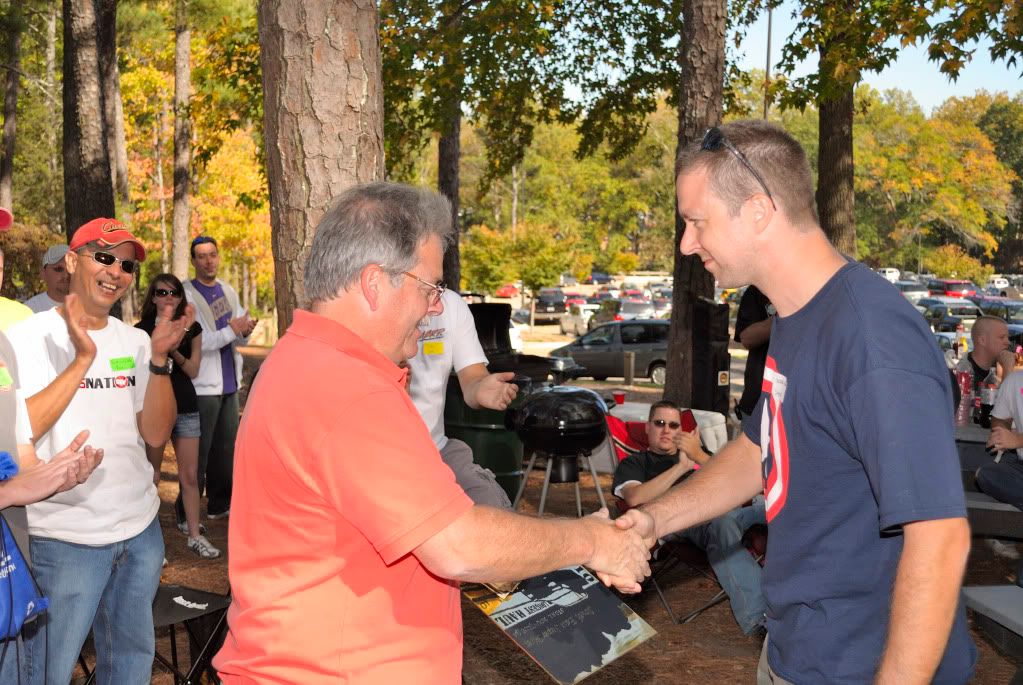 And finally, the Best of Show went to.... me. Surprised the shit out of me!! Won't ramble about it, but there were some VERY nice trucks here this year that were at the tops of my list! The award was created by Mark (mwcky2204) and couldn't have been a better BoS trophy.
As for the swag that was included in the mix, we had a ton of things on the table, from stickers, nation cards and tshirts/hats to a notch, body lift, shackles and gift certificates for $$, a bedrug, products by Lund and a free handle paint job by Brian (canyonbrian) and a set of reflectors by Billy (thethein11). Overall it was a table that a lot of people were drooling over.
As for the people in attendance, personally it was great seeing a bunch of you again and shooting the shit. Unfortunately, there are too many of you fucks to name individually, but you know who you are. It was also awesome to meet people for the first time face to face. Connie (collychick) and Stephan (Chevy), like I said, it was good to finally meet you guys! Really glad you guys could come up here. Alejandro (Hotrado), damn nice truck man! Ed (edvocho) dude, you really do look Mexican in person and you snore!!!!! :kiki:
I don't make it out to the meets very often and can't usually drive the distances, but this one is a meet that I will fight to attend every year it is put on. One hell of a weekend!