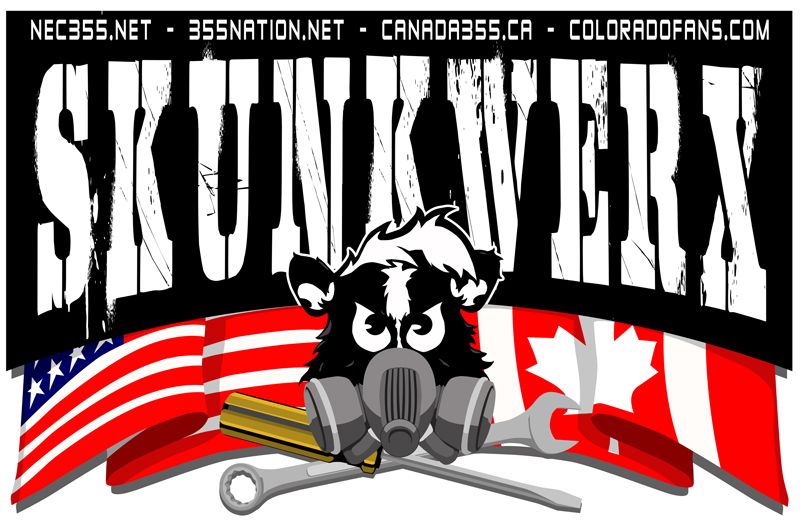 The International North East Super SkunkWerx Mod Meet (INESSMM2015) April
24th,25th & 26th.
U
S
A
& C
A
N
A
D
A
NEC355.NET, CANADA355.CA, 355NATION.NET & COLORADOFANS.COM
Event Hosted by OrangeZ71, Joe'sToy & Supermodulation
Date:
Three DAY EVENT - APRIL the 24,25,26, 27 2015.
Location:
OrangeZ71 (Mal) House, 537 locust dr. orange ct 06477
Food:
Hooters - 990 Boston Post Road Milford, CT 06460-3559 - (203) 878-6651
BBQ & Beer
Lodging:
Closet to Mals house:
Hotels in New Haven, CT | Courtyard New Haven Orange/Milford
Cheapest and closer to Hooters:
http://www.super8.com/hotels/connecticut/milford/super-8-milford-new-haven/hotel-overview
Caravan Mobile Communication:
GMRS/FRS Channel 8, code 1
Events:
The NEC pit crew is here to help you!
General maintenance
How to Install a SFAN4500 efan
LED interior and exterior
Ported Throttle Body swap
Door prizes:
50/50 raffle
Awards
Supermodulation Specials
. PM, email
[email protected]
or call 732-690-6443
HPTuning Services - contact me for prices
LED Signal your side mirrors for -
LED your cluster for -
LED door panels and dash -
Ported Throttle Body's Exchange Service
LED 3rd Brake Lights -
DRL LED Sequential Kits -
LED Dome lights -
License Plate LED's
Footwell LED's
Low cut off regulator, prevents led bleed when off
DTRL KIT
SuperSparks
Members Attendance List:
Member - Name - Origin - Date attending
1. OrangeZ71 - (Mal) - Orange CT 14th & 15th, Long Haul Award for the most foot steps to the meet.
2. Joe'sToy - (Joe) - Elora, Ont, Canada
3. SuperModulation - (James) - Middlesex, NJ
4. Blue15ColoradoLT - (Matt) - Sayreville NJ
5. Un4giv3n - (Dan) +2 (NY)
6. VinD (Vin) - CT
7. RickD - (Rick) - CT
8. gway (Shaun) FL
9. WhiteShadowZ71 (cfans)
10. Augie_90 (cfans)
11. Gassey +1 (Mark) PA355
12. 05blackcolly (Lee) PA355
13. yourgranny122 (Kyle) - MA
14. TurboAl (Al) PA355
15. har113 (Harry) PA355
16. rshadd (Rich) PA355
17. 05colorado5spd (John) - CT
18. TheFivedOutBoob (Michael) NJ
19. Yeehaw404 (Dennis) TN
20. RednecKevin (Kevin) CT
21. Ripp (Joe) NJ
22. Thethein (Billy) CT
Members Attendance Maybe List:
1. t-bone +3 +chihuahua