Discussion Starter
•
#1
•
Me, Handgunner, and Brewer attended a show here in Akron today.....
WHAT A WASTE OF FUCKING TIME!!!
We were all pumped up because we saw that they were having a Colorado Class. And not to sound concieted, but we have some nice Colorado's so we thought that any once of us had a chance at SOMETHING.
We get there and there's 2 other Colorado's there. Both with MINIMAL mods...
This Xtreme had 22's, a K&N Intake, Grille and Taillight covers....THAT'S FUCKING IT!
This one was at the summit show so I didn't take a pic of it at this show. But he had a Grille, Rims,
maybe
a drop, Custom Box, Roll Pan, and a Ricer muffler hanging out the back....THAT'S FUCKING IT! I mean a Ricer Muffler on a truck.....come the fuck on.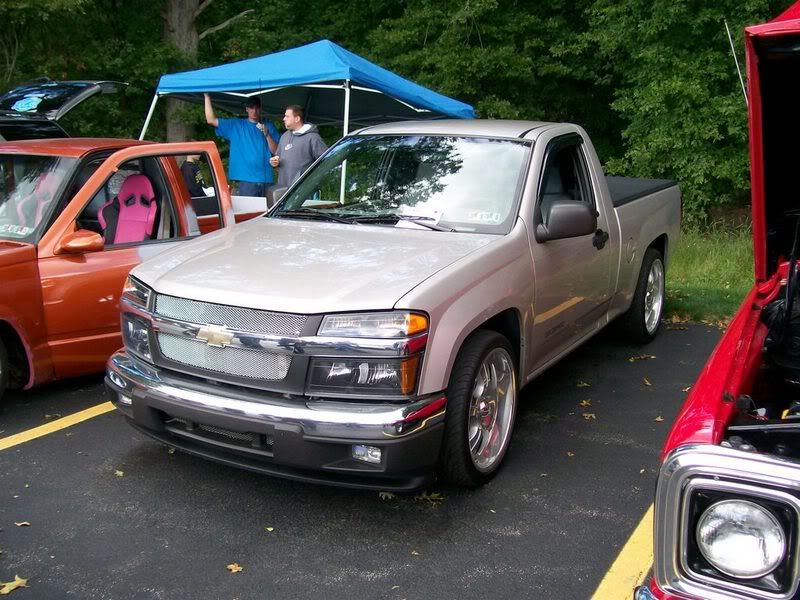 And this atrocity had a Custom paint job and Rims...THAT'S FUCKING IT! The paint looked like a 3 yr old sprayed it. It was all chipped up, rubbing compound all over it, runs, dry spots, etc.. The mother fucking interior looked like he worked on a Farm it was soo filthy. He seriously probably hadn't cleaned it in 6 mo's.
Now I know we're all friends here and you guys might side with us because of that......but I want your honest opinion....are any of those 3 trucks better than any of our 3?
And here's a Kicker to think about. As far as we knew, there was only 6 Colorado's there, us being 3 of them. So they're ready to announce the winner and they're like...."In 3rd place...." We didn't know that there was going to be a 1st, 2nd and 3rd. So we're like fuck yea, one of us has GOT to get something, the others aren't shit. Yea.....WE DIDN'T EVEN PLACE!! The champaign colored reg cab got 3rd, and we're not sure which ones got 2nd and 1st. There
might
have been a super bad ass one there on saturday that we didn't get to see, but I doubt it.
We didn't want to sound like cry babies, but we felt that we deserve to know why we didn't even place when all 3 of us had WAY more done to our trucks than the other 3. So we asked the judges how they based their judging and they couldn't even give us an answer. Dude was tripping over his words and shit. Pretty much how it went was ONE GUY judged your ride, so if he didn't care for it much....guess what, you're getting low scores! Fucking Bullshit.
I dunno. Like I said, I/We don't want to sound like sore losers, or crybabies or whatever, but we felt that at least one of us should've gotten something. We all have so much done to our trucks, only to lose to a stock truck with big rims???